Hokusai's 19th Century 'Great Wave,' So Iconic It's An Emoji, Comes Home To The MFA
Play
This article is more than 7 years old.
There's a good chance you've seen "The Great Wave," Japanese artist Katsushika Hokusai's iconic 19th century woodblock print of a towering blue ocean crest. The image has been adored, co-opted and parodied by other artists, and used in ad campaigns for Levis, Patagonia and Sapporo beer. Now "The Great Wave" is the star attraction in a new exhibition at the Museum of Fine Arts in Boston.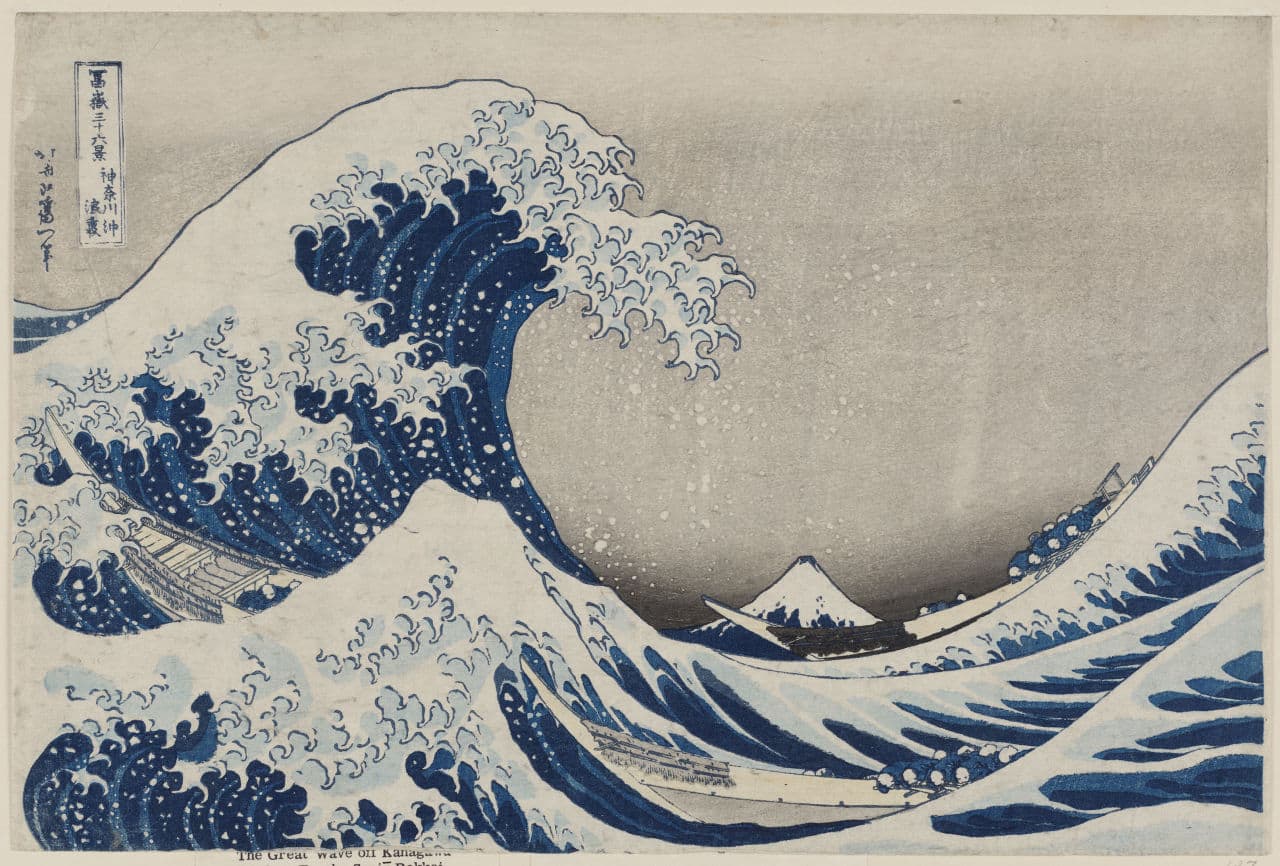 Driving music welcomes viewers to the Hokusai exhibition at Boston's MFA. Sarah Thompson, curator of Japanese prints, says it's safe to say most people would instantly recognize "The Great Wave."
"It may even be on your telephone as an emoji," she added, laughing.
Thompson says Hokusai's beautiful, terrifying image simply captures our imaginations.
"The huge, curling wave with the scary white crest coming up, it's on the left side of the picture, and then in the distance, looking small but still very distinct, is the triangular shape of Mount Fuji," she explained.
In the foreground, fishermen desperately row to escape the wild-looking wave's wrath. Its whitecaps reach out to grab their tiny forms. Thompson says that drama pulls us in.
"And so the question is: Is that wave going to come down on top of them? Or will they be able to shoot through it and get home safely?" she asked.
"The Great Wave" is a nickname for what Hokusai called, "Under the Wave off Kanagawa." It was part of his 1830s landscape series, titled "Thirty-Six Views of Mount Fuji." Thompson says the artist was inspired by a new, vibrant pigment known as Prussian blue, and jokes that Hokusai was a "late bloomer" because he created the woodblock prints when he was in his 70s.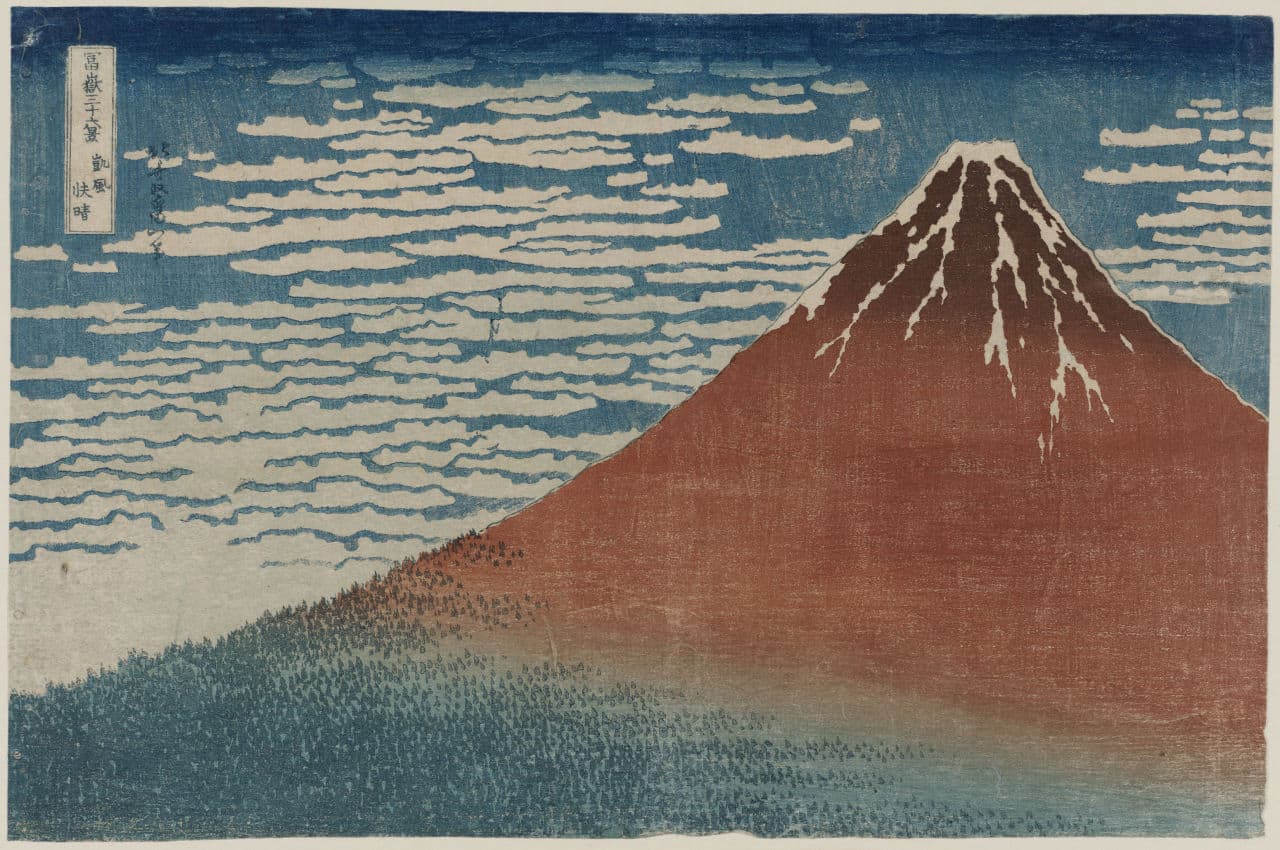 "He was already a famous artist," she said, "but this was what really made him an absolute superstar in the world of Japanese art at the time."
Hokusai first gained his fame for his illustrations, paintings and prints that captured the hedonistic urban lifestyle in Japan in the 1800s. Kabuki theater, the pursuit of sensual pleasure and sex fueled a thriving pop culture, which had its own art form.
"Ukiyo-e is the Japanese word for it," Thompson explained, "[meaning] the floating world, the ephemeral world of fads and fashions was what it meant."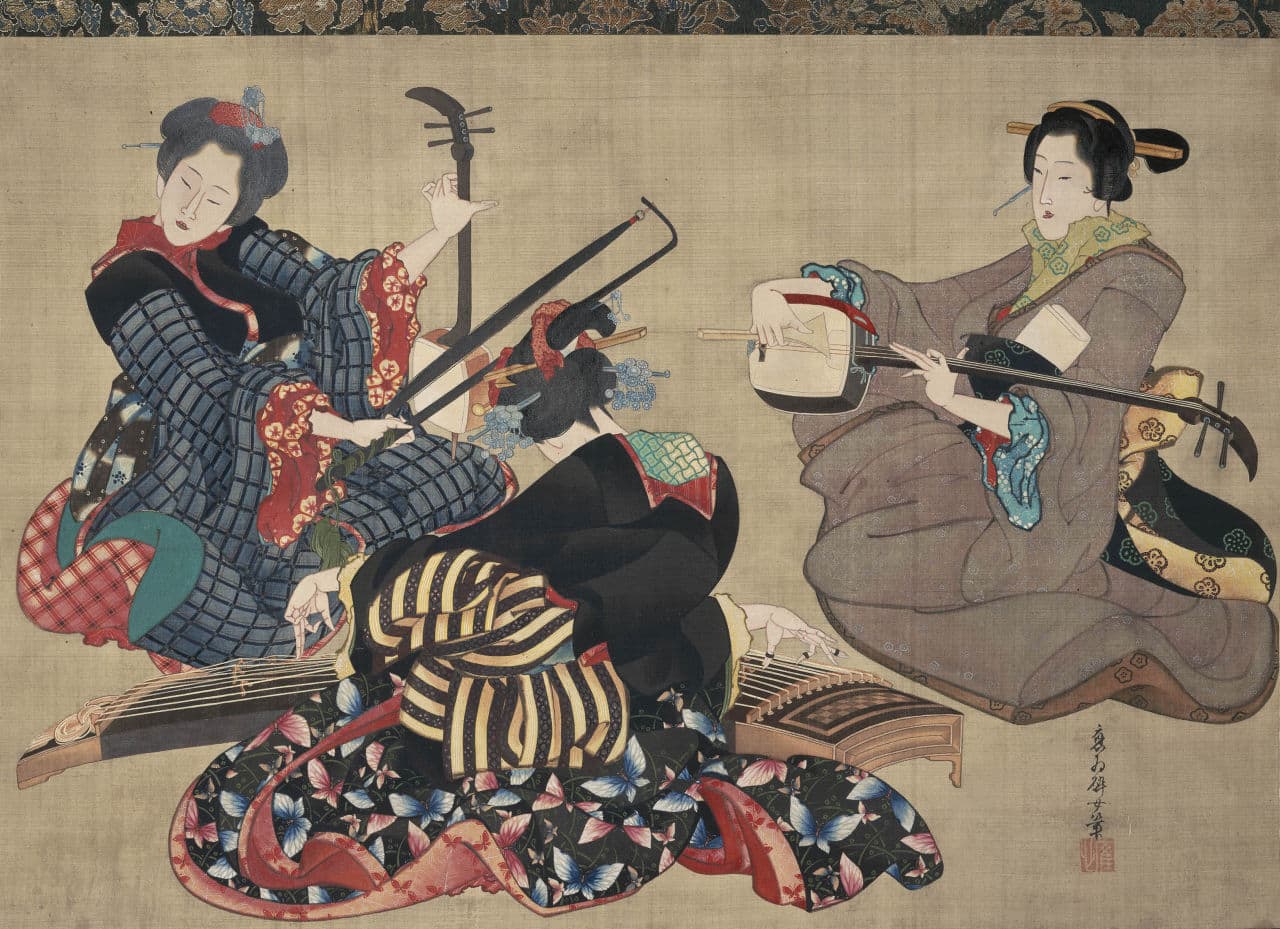 After his death in 1849, and after the Treaty of 1853 opened commerce between Japan and the West, Hokusai became a hit in Europe too. His "Great Wave" even inspired French composer Claude Debussy to write his own ode to the sea's awesome power, titled "La Mer."
Hokusai was Japan's first internationally known artist, but in his day Thompson says his works were surprisingly affordable.
"It's hard to estimate prices in modern terms, but it's thought that at this time the price of one color print was about the same as a large bowl of noodle soup," she said.
That accessibility appeals to Miles Unger, who's reviewing the MFA's Hokusai show for The Economist magazine.
"So this was not sort of art that was put on a pedestal or put in a museum," he reflected, "this is art for common folks and I think that sort of speaks a lot to modern audiences."
About 230 prints, paintings and illustrations fill the new show, which just returned from a multi-city tour in Japan. Unger looks forward to delving more deeply into Hokusai's achievements through the MFA's singular collection. The museum holds the largest collection of Japanese prints outside of Japan.
"Hokusai is one of these artists who's known for one work," Unger said, drawing a parallel to the music business by calling him a "one-hit wonder."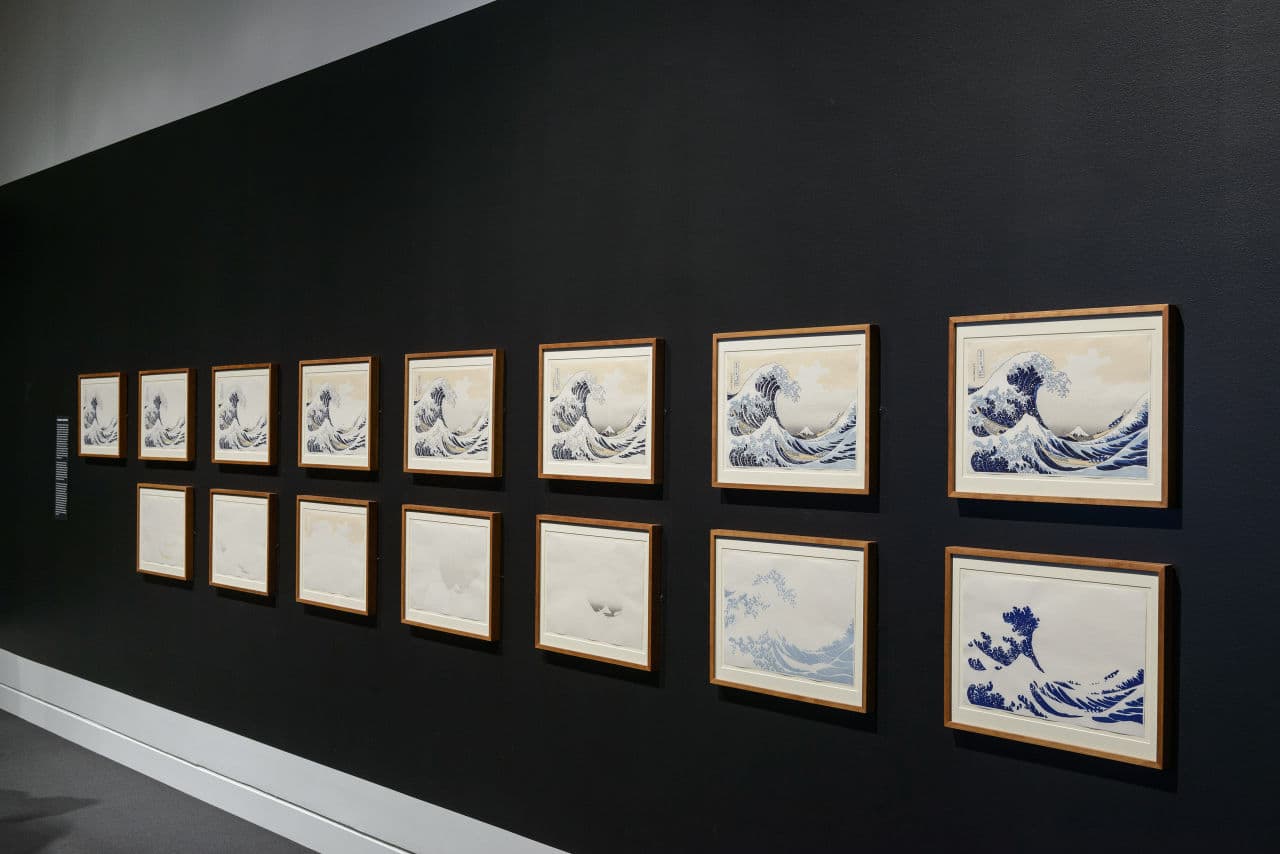 Jacki Elgar, head of the MFA's Asian conservation studio, says so many of us think we know Hokusai's hit because it's so ubiquitous — but we really don't.
"I think when you first look at it you go, 'Oh that's "The Great Wave," and it's crashing down.' If you really look at it carefully, it's the subtleties of the different blues, but also I think it's very animated, it's Hokusai's genius coming in," she said. "I mean you don't have to know anything about art history to appreciate what's going on."
And Elgar says to experience the true power of "The Great Wave," people might want to forget about emoji's on a smartphone.
"They almost think that came first!" she said, laughing. "No! It's the simplistic idea of what he was doing. You really have to see the original."
Elgar also says the original is smaller than most people think, just about 10 inches by 15 inches. The conservator hopes visitors come away from the exhibition with an understanding that Hokusai was much more than his "Great Wave." He loved painting and illustrating waterfalls, beautiful courtesans, Buddhist monks and creepy ghosts.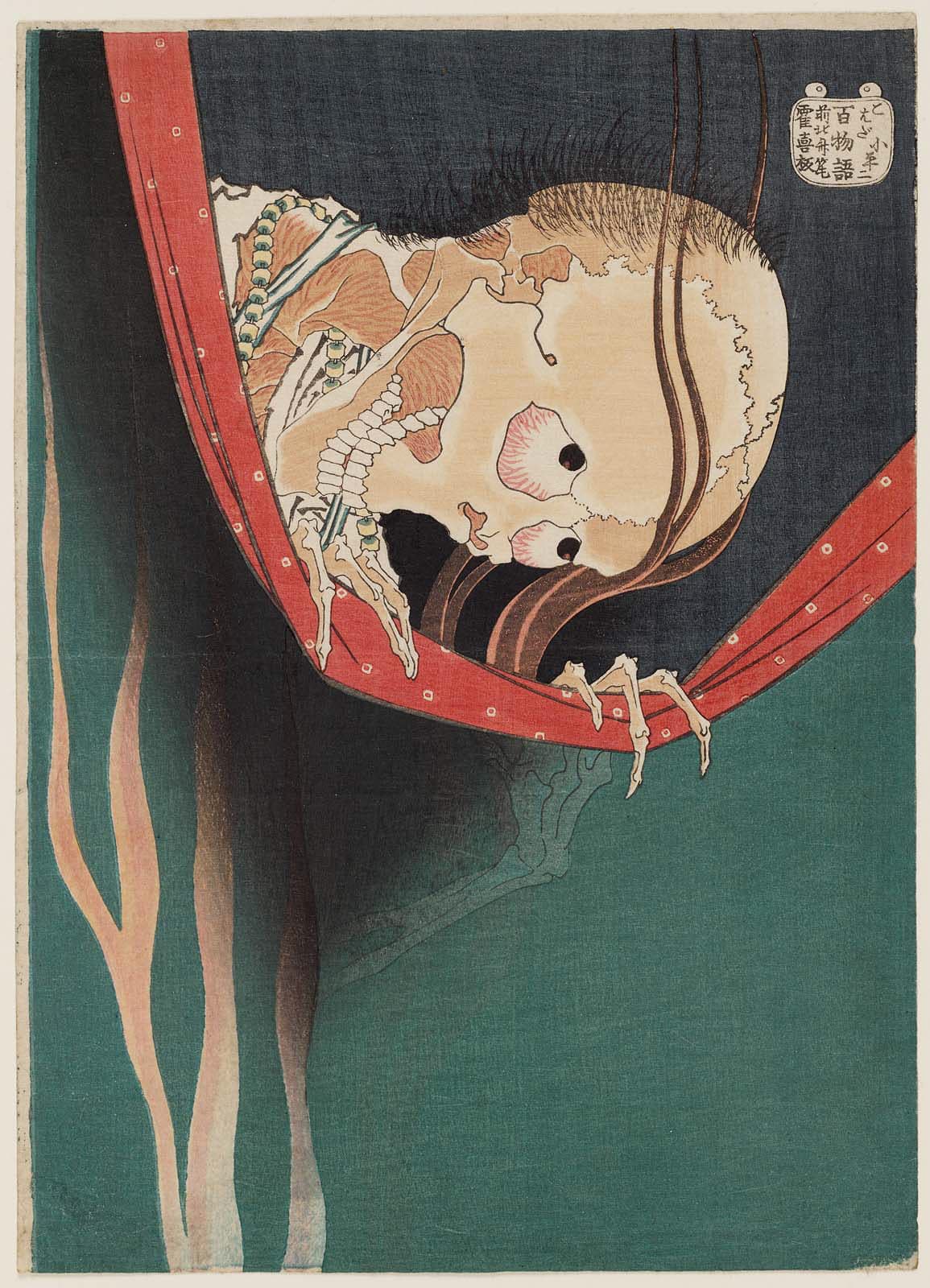 Curator Thompson muses about what the eccentric Hokusai would make of the enduring popularity of his "Great Wave."
"I think he'd get a huge kick out of it," she said.
Hokusai might also get a kick out of a recently published book, titled "Hokusai's Wave: Biography of a Global Icon," and that some of the world's top museums have been proudly displaying their own versions of his classic print. There's also the fact that so many 21st century people have "Great Wave" tattoos.
The Hokusai exhibition opens at the MFA Sunday, April 5 and runs through August 9.
This article was originally published on April 03, 2015.