Ramirez, Pedroia Hit 2 Homers Each As Red Sox Top Phillies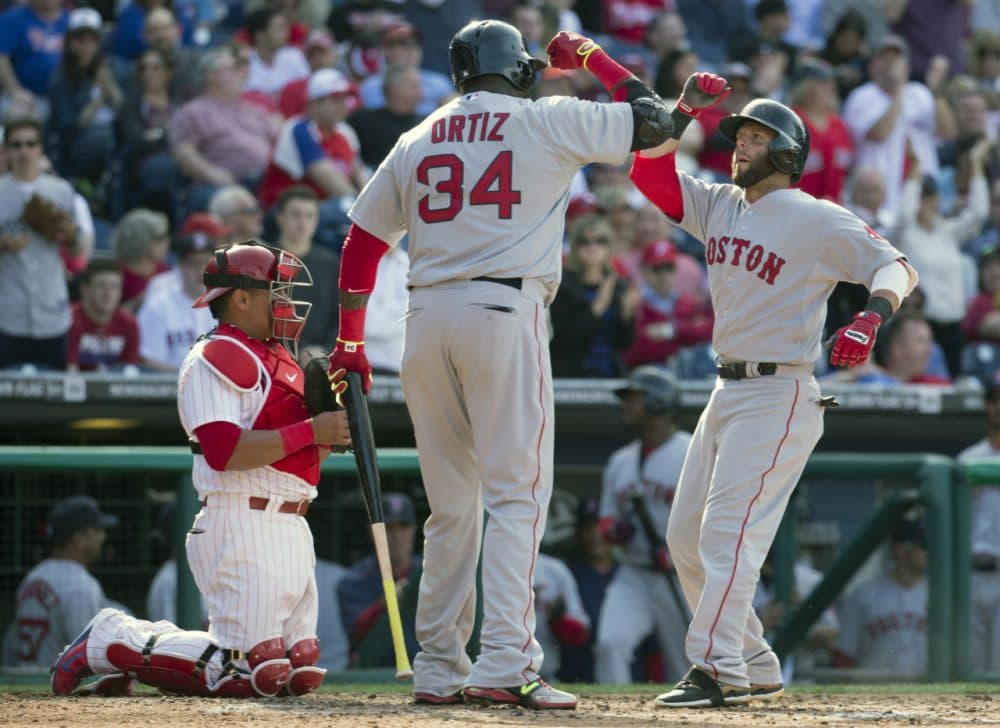 Maybe the Boston Red Sox had their ace all along.
Clay Buchholz threw three-hit ball over seven innings, Hanley Ramirez and Dustin Pedroia each hit two home runs and the Red Sox beat the Philadelphia Phillies 8-0 in an interleague opener Monday.
Buchholz (1-0) gave the Red Sox reason to believe they might not need to trade for a No. 1 pitcher - namely Cole Hamels (0-1). The right-hander struck out nine and pitched like the guy who went 12-1 in 2013.
"This is how I planned it in my head," Buchholz said. "Everybody's opinion about the rotation outside the clubhouse is different than what's in here."
Ramirez and Pedroia raved about their pitcher.
"He was awesome," Pedroia said.
"Best thing I saw was Buchholz," Ramirez said.
Ramirez made quite an impression in his first game since the free agent signed an $88 million, four-year contract. He hit a solo homer in the fifth and a grand slam off Jake Diekman in the ninth.
"This is what I expect from the team, everybody hitting home runs and scoring a lot of runs," Ramirez said.
Hamels gave up five hits in five innings, striking out six. He allowed four homers for the second time in his career.
Mookie Betts also homered for Boston.
The Red Sox have been considered front-runners to land Hamels since the rebuilding Phillies made the 2008 World Series MVP available. But Boston isn't going to trade its best prospects for this version of Hamels.
"It's discouraging," Hamels said. "You want to get the first win for your teammates and the organization. We didn't get the win and I'm the culprit."
Red Sox slugger David Ortiz kept both feet in the batter's box for nearly every pitch during his four at-bats, going 0 for 4 with three strikeouts. Ortiz made it clear in spring training he doesn't like baseball's new pace of play rules, but he adhered to them in his first game. The only time he stepped out was after fouling a ball off his foot.
Ortiz left the clubhouse before reporters were allowed inside. Plate umpire Gerry Davis said he had no issues with Big Papi.
The revamped Red Sox spent $183 million on Ramirez and Pablo Sandoval, hoping their offense can lead them to another worst-to-first season like they had when they won the World Series in 2013.
Sandoval was 0 for 5 with two strikeouts.
Buchholz didn't allow a hit until Ryan Howard lined an 0-2 pitch for a double with two outs in the fourth. Junichi Tazawa tossed a perfect eighth and Tommy Layne finished the three-hitter.
Pedroia hit a towering drive out to left-center in the first inning to give the Red Sox a 1-0 lead. Betts lined one out to left leading off the third.
In the fifth, Pedroia connected again for his first multihomer game since Sept. 13, 2011, against Toronto. One out later, Ramirez hit a deep drive to left-center.
"I'm back to who I am," said Pedroia, who had wrist surgery last year. "I could tell in the offseason I was healthy and back to normal."
Pedroia snuffed Philadelphia's rally in the seventh inning. After consecutive one-hit hits, he made an excellent play at second base on Cody Asche's hard one-hopper and turned it into a fielder's choice. Buchholz then struck out Freddy Galvis to end the inning.
This article was originally published on April 06, 2015.