BU Holds Off North Dakota 5-3 In Frozen Four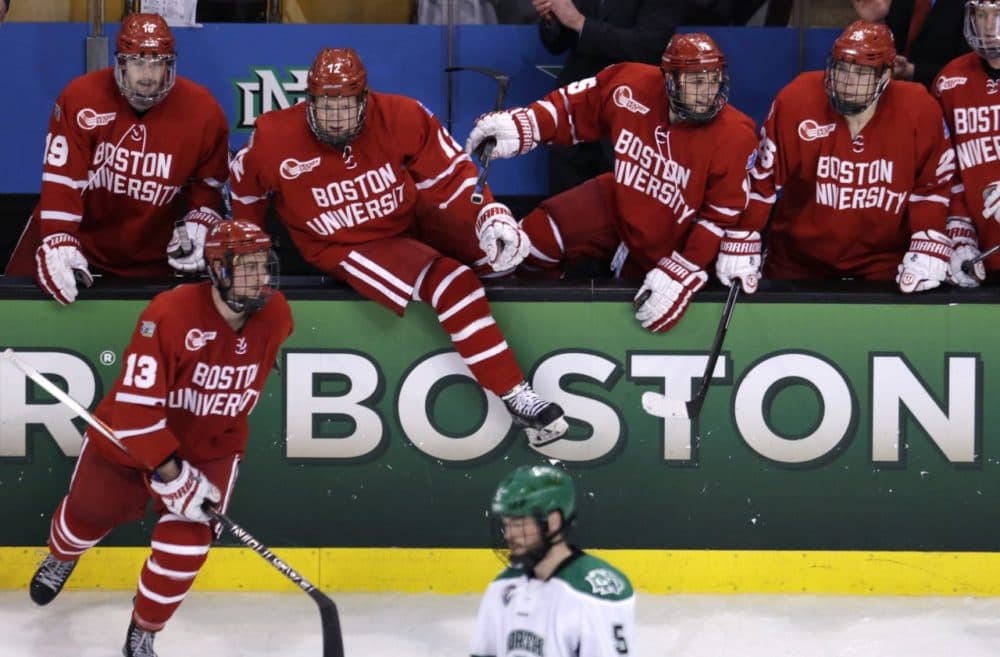 This article is more than 6 years old.
Boston University coach David Quinn wanted freshman star Jack Eichel back on the ice - again.
"It was a change and coach started yelling late, `Eichel! Eichel, Eichel line!"' the Hobey Baker finalist said about a play that led to the opening goal in the Terriers' 5-3 victory over North Dakota on Thursday night in their Frozen Four semifinal.
"I do that a lot," Quinn said, breaking into a grin. "I do it in my sleep."
Eichel scored two goals to help Boston University advance to the championship game.
The Terriers (28-7-5) will face Hockey East rival Providence (25-13-2) in the title game Saturday night at TD Garden. The Friars beat Nebraska-Omaha 4-1 in the first semifinal.
Eichel scored on a power play in the first period, Brandon Hickey also had a power-play score and A.J. Greer and Doyle Somerby had second-period goals.
"One more. We wanted to be in this position at the beginning of the year," Eichel said. "We've made a lot of sacrifices. The guys in this room, I can't say enough about them. We've worked so hard to get in this position. But like our coach said, you don't want to tell somebody someday that you made it to the Frozen Four, you want to tell them you won it."
Matt O'Connor made 36 saves for the Terriers, seeking their sixth NCAA title. Providence, making its second trip to the championship, is trying to win for the first time in school history.
"Every goal we put our mind to, we seem to perform in the moment," O'Connor said. "A great freshman class led by great leadership on the other end is paying great dividends."
Luke Johnson, Troy Stecher and Connor Gaarder scored for North Dakota (29-10-3). Zane McIntyre stopped 22 shots.
The Terriers reached the title game for the first time since capturing the crown in 2009. BU is playing about 2 miles from its campus and where it won the Beanpot and league tournaments this year.
BU led 4-1 entering the final period, but Gaarder's power-play goal cut it to 4-3 with 3:43 to play.
"It was impressive," McIntyre said of the comeback. "Every situation that we've been in this year, tough situations, guys have persevered."
But it didn't happen this time because of Eichel.
North Dakota pulled McIntyre with 1:33 left, and Eichel sealed it with an empty-netter.
"It's a tough way to go out," North Dakota forward Wade Murphy said.
BU used its power play to take a 2-0 lead in the first. The Terriers have 33 power-play goals in their last 25 games.
The Terriers opened the scoring 5 minutes into the game when Eichel shoveled in a backhander from the bottom of the left circle. They made it 2-0 when Hickey fired a slap shot as he was falling to one knee that slipped behind McIntyre.
"A couple of calls early and then they capitalized on those penalties," North Dakota captain Stephane Pattyn said.
In a second period filled with wide-open play and numerous scoring opportunities, North Dakota sliced it to 2-1 when Johnson slipped a tough-angle shot by O'Connor from the bottom of the right circle.
After the goal, North Dakota kept the puck in BU's zone for extended stretches, hit a post and had a number of good chances, but couldn't get it past O'Connor.
The Terriers then took control by scoring the next two goals to take a 4-1 lead into the third period. They tightened up defensively and slowed play.
Greer one-timed Eichel's shot inside the right post, making it 3-1 with 8:40 left in the second.
Less than 2 minutes later, Somerby's first goal of the season and just the second of his collegiate career made it 4-1. The 6-foot-5 sophomore defenseman fired a shot through a maze of players that slipped between the pads of McIntyre, also a Hobey Baker finalist.