Commentary: The Republican Party Is Afraid Of Rand Paul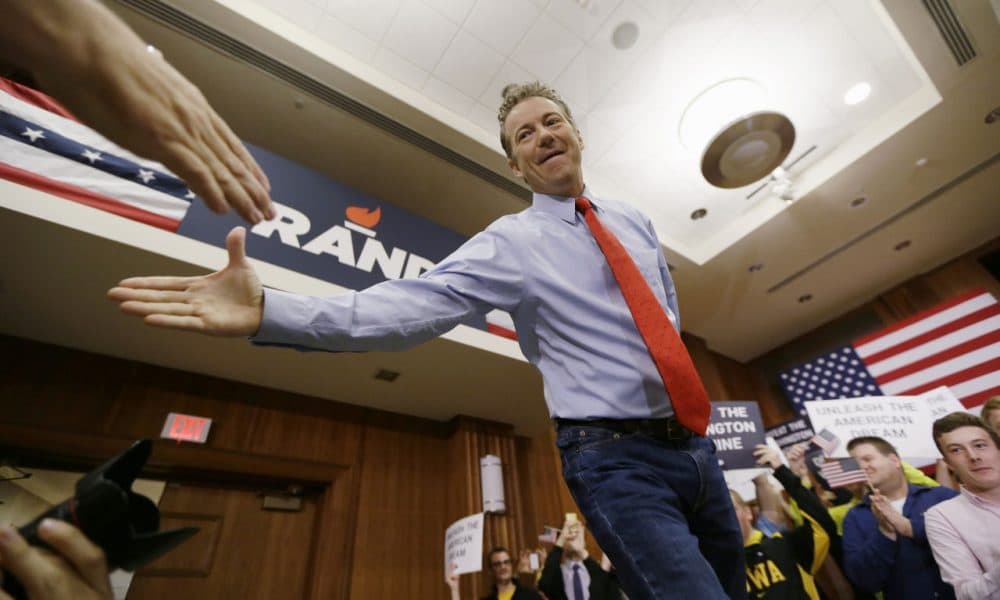 This article is more than 6 years old.
As Kentucky Sen. Rand Paul announced his candidacy for president on Tuesday, a group of right-wing Republican forces launched a $1 million ad campaign attacking him. Paul was attacked by his own party for siding with President Obama on sanctions against Iran. The ad and the group running it declared that Paul is wrong and dangerous.
Swiftboat Veterans for Truth. The ad is running on broadcast networks and Fox News in the first four GOP primary contest states — Iowa, New Hampshire, Nevada and South Carolina. The sponsor, according to the New York Times, is "the Foundation for a Secure and Prosperous America, that doesn't have to disclose its donors and is led by Rick Reed, a strategist involved in the 'Swiftboat Veterans for Truth' against John Kerry in the 2004 presidential campaign."
"Rand Paul has been mugged by reality, and he's adjusting a bit — but only a bit," Weekly Standard editor Bill Kristol said. "From my point of view, he's not really come to grips with the world as it is."
Highest floor, lowest ceiling. Mostly Paul is dangerous to both "moderate" and conservative Republicans because he starts with a firm and energetic volunteer base of mostly young people who, if they're like his father's workers, will walk on hot coals to help elect him. What his opponents fear is this: According to a CBS News poll in late March, 39 percent of Republicans would consider voting for him, while 23 percent would not. The only candidates with larger potential are Jeb Bush, with 51 percent and Mike Huckabee at 42 percent. The wisecrack is he's got the highest floor and the lowest ceiling. He starts with his father's followers, but his growth potential is limited.
A Gallup poll shows that nearly 7 in 10 Republicans are familiar with him and his overall favorable rating is 51 percent to 17 percent unfavorable. The Tea Party remains a major source of his voting strength, with half saying they'd consider him.
The Gold Standard, ahead or behind. Republican advisers who fear a Paul candidacy include the occasional Republican who once helped Bill Clinton triangulate, Dick Morris, who has so many lives that to silence him a stake must be driven through his heart while he's lying in his coffin.
Here are Morris'recent thoughts on Paul in The Hill newspaper: "His views seem to predate 1941. While his proposals to reduce the power of the Federal Reserve and his crusade against crony capitalism will win adherents, his support for legalization of drugs, though popular on campus, will turn off voters," Morris said. "His advocacy of a gold standard is either very much behind the times or very much ahead of them. His tepid opposition to abortion and same-sex marriage will appeal to nobody."
Tea Party energy. Not all GOP observers agree. Benjamin Domenech is editor of The Transom, a right–leaning newsletter and news aggregator. He says of Paul, the Republican "party's elite are [afraid] of the rising coalition of libertarian youngsters and the populist middle class. Since 2010, almost all the intellectual energy in the Senate has come from Tea Party lawmakers like Rand Paul and Mike Lee, who tend to be relatively dovish, skeptical of foreign aid, concerned about civil liberties, and contemptuous of neoconservatives." Paul won libertarian points for his 13-hour filibuster on the Senate floor protesting the potential use of drones being used to attack American citizens in the U.S.
Winning the CPAC straw poll. Rand Paul won the 2015 Conservative Political Action Conference straw poll for potential presidential candidates for the third straight year. He got 26 percent of the vote, beating Wisconsin Gov. Scott Walker's 21 percent. Insiders' favorite, Jeb Bush, came in fifth place with just 8 percent.
Snubbed by the NRA. The National Rifle Association mysteriously didn't invite him to address their national conference. Paul has an A-rating from the NRA, but the internal politics of the pro-gun lobby and extremist groups tied to his father have alienated some in NRA leadership.
Problems with women. Another thing that worries the GOP is Paul's apparent condescension toward female TV interviewers. He got into a heated, televised exchange with Savannah Guthrie of NBC on the "Today" show. He accused her of "editorializing" by grilling him on changing his positions on foreign aid. That exchange was similar to his shushing CNBC reporter Kelly Evans, telling her to "calm down" on the air.
"Libertarian dormitory" views. He's for sending money to Israel for now, but believes Israel will be better off without foreign assistance in the long run, he'd eliminate the cabinet offices of commerce, education, energy and housing. (Unlike GOP opponent Rick Perry, he knows which ones he wants to dump.) He admits he will cut Medicare and Social Security to pay for tax cuts. The Wall Street Journal editorial page skewered his views on vaccinations causing mental disorders as "libertarian dormitory passions."
The "Star Wars" cantina. Mother Jones revealed a scandal brewing in Iowa over a $25,000 payoff to a major political figure that caused the man to jump from Michele Bachmann to Rand Paul's father's campaign. Sometimes a campaign can do damage control. But a GOP strategist calls Pauls' inner circle "a strange universe. You've got the real 'Star Wars' cantina identified -- Hammerhead, Greedo — and let's be honest, a lot of these guys would not have worked in the mainstream, even in the Tea Party."
Dan Payne is a Democratic political analyst for WBUR.