Marathon Bombing Victims Set Up Charities To 'Pay It Forward'
Resume
In the days after the Boston Marathon bombings, the One Fund charity set up for victims and their families collected more than $20 million, eventually distributing almost four times that amount.
Now those victims, including some who received more than $1 million, have formed their own charities to benefit others.
Brittany Loring, whose Brittany Fund for Trauma and Recovery was set up in late 2013, said the organization came out of her initial reluctance to accept money raised on her behalf.
"I felt very uncomfortable receiving money," she recalled, remembering the first check she received while still in the hospital. "All of the sudden I'm in the hospital and receiving money, and I felt very uncomfortable about it."
Eventually, her father explained that she needed the money.
"He was like, 'You know, this is something you need right now. I know it feels uncomfortable, but we can plan to pay it forward.' "
That conversation sparked the creation of the Brittany Fund. Established in the months just after the bombings, it raises money for people who've been injured through acts of terrorism, natural disasters or car accidents.
"I mean, what can you do when someone gives you money? You can't really give them anything in return that's enough of a thank you," she said.
Others affected by the bombing share that sentiment. Liz Norden is the mother of two men who lost legs in the blasts.
She now runs the foundation A Leg Forever, which helps amputees afford prosthetics.
She said she thought of it after seeing the price tag for one of her son's prosthetic legs.
"His leg was $140,000, and he's above the knee, and they all range. And you need different legs," she explained, "a running leg, a golf leg, a swimming leg."
Along similar lines is the Heather Abbott Foundation -- founded by Heather Abbott. It focuses on customized prosthetics for special activities, even prosthetics that look like real legs.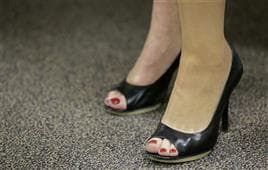 Abbott cites a statistic from the American Amputee Coalition that there are 500 new amputees in the U.S. every day. For most of those people, there is no One Fund waiting to provide a check that can pay for medical bills, a prosthetic and other life adjustments that come from a major injury.
"I had a girl call me, a 17-year-old girl from North Carolina. She had seen my high heel, high-definition leg on CNN," Abbott recalled. "She wanted to know where I got it, and how much it was. She said she had been an amputee for a few years, and she really wanted to wear a leg like that to her prom."
But the leg, Abbott said, had been donated to her for free. They normally cost about $70,000.
"She said 'Well, I guess I can ask my parents whether I can get that or go to college.' "
The Abbott Foundation is just getting off the ground and is due to hold a launch fundraiser the day before the 2015 Boston Marathon.
But all of these organizations have challenges. They're relatively young, and donations have generally reflected that.
But there's also the difficulty of finding people who qualify. There's no Yellow Pages of people who've had amputations or suffered a crippling injury.
Those running the funds and foundations are encouraging anyone who might need help, or know someone in need to contact them so they can, in their own words, pass along some of the kindness they've received.
This segment aired on April 13, 2015.