Red Sox Ready For Opening Day At Fenway Park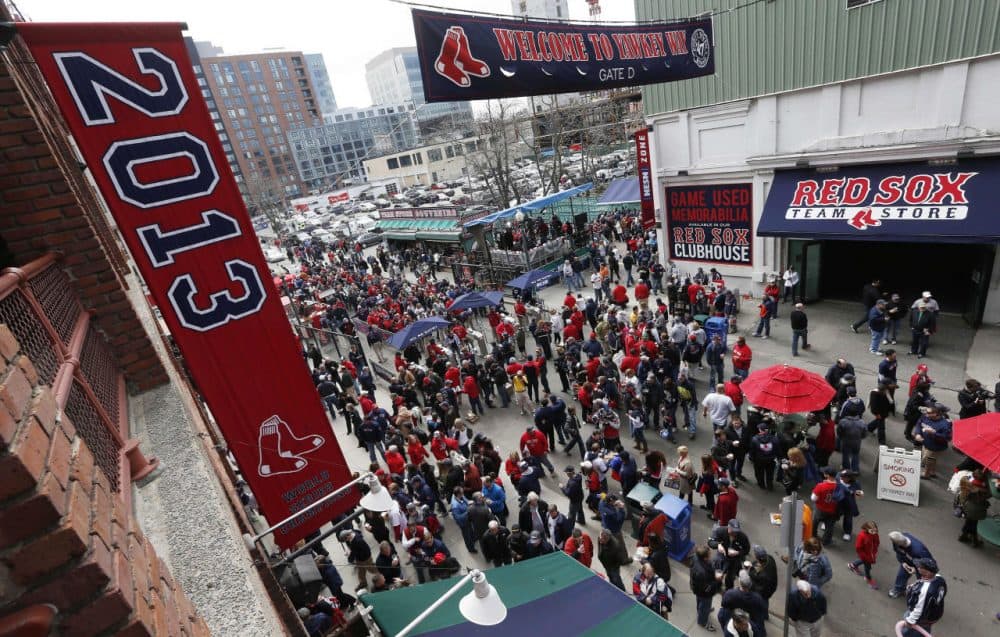 This article is more than 6 years old.
A sign the harsh winter is behind us: Opening Day at Fenway Park.
The Red Sox will host the Washington Nationals at 3 p.m. following a pregame ceremony that will include a flyover of two F-16 fighter jets.
"We wait all winter long for this very moment," fan Nick Manning told WBUR's Curt Nickisch before the game. "It's Opening Day. It's Fenway Park. Bring on the peanuts, bring on the fully-loaded street sausage, bring on the good times."
The Sox are advising fans to arrive at games a little earlier this year. As part of a league-wide security initiative, anyone entering the park will have to go through a security checkpoint and metal detectors.
The Sox come home with a 4-2 record after losing to the Yankees Monday night in the Bronx, 14-4.
Sox newcomer Rick Porcello will make his first start in a Boston uniform at Fenway Park. The Red Sox traded for the 26-year-old righthander in the offseason and recently signed him to a four-year, $82.5 million extension.
Temperatures are expected to be in the 60s for first pitch.

Shorts are back. T-shirts are back. Spring is back. The #RedSox are back. pic.twitter.com/v8tQ1TudFf

— Curt Nickisch (@CurtNickisch) April 13, 2015

Fans driving to the game should be mindful of where they park, as fines for using resident-only spots have bumped up from $40 to $100 on game days.