Ex-Patriots Star Aaron Hernandez Gets Life In Prison For Murder
03:07
Play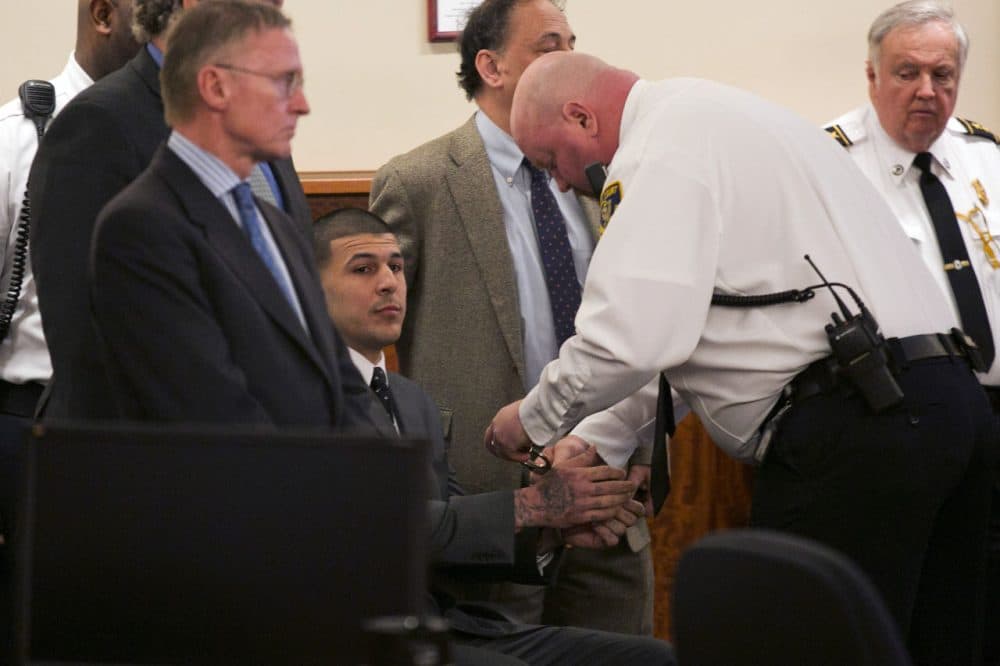 This article is more than 6 years old.
A onetime star for the New England Patriots is waking up Thursday morning in a maximum security prison just a mile and a half from where the team plays.
Aaron Hernandez is beginning a life sentence with no chance of parole, following his conviction Wednesday on a first-degree murder charge for the shooting death of 27-year-old Odin Lloyd.
The case against Hernandez was circumstantial, with neither a murder weapon or an eyewitness testimony. Instead, lengthy testimony on cellphone records traced Hernandez's steps as he moved about southeastern Massachusetts on and around the night of Lloyd's murder.
"Aaron Hernandez may have been a well-known New England Patriots football player. However, in the end, the jury found that he was just a man who committed a brutal murder."

Bristol County DA Thomas Quinn
Then, there was the surveillance footage that prosecutors argued showed Hernandez handling the Glock .45 used to kill Lloyd. But the gun itself has never been found.
By the seventh day of jury deliberations, many observers wondered how much of the government's case jurors accepted.
Steve Sabra is a defense lawyer from Somerset who has been watching the case closely.
"It was one of those cases where I wouldn't have been surprised if it was not guilty or guilty, because it really wasn't a classic, clear-cut case where you have an eyewitness and you have a murder weapon and you have a clear motive," Sabra said.
But for the jury, it was clear cut enough.
"What say you, Madame Foreperson? Is the defendant not guilty, guilty of murder in the first degree, or guilty of murder in the second degree?"
"Guilty of murder in the first degree." The courtroom gasped.
Hernandez's reaction to the verdicts was minimal. His fiancee sobbed onto the shoulder of Hernandez's mother.
Bristol County District Attorney Thomas Quinn said he's grateful the jury was not influenced by Hernandez's fame.
"Aaron Hernandez may have been a well-known New England Patriots football player," he said. "However, in the end, the jury found that he was just a man who committed a brutal murder."
Jurors say their deliberations took more than a week because it was such a complicated case, but that they're confident in their verdict.
Juror Jon Carlson, of Attleboro, says that includes the decision to convict Hernandez of the top count — first-degree murder.
"There were seven different sectors or bullet points that comprised the extreme atrocity or cruelty, and I think some of us got there for different reasons, but still reached ultimately the same conclusion," he said.
Lloyd's mother, Ursula Ward, expressed gratitude for the conclusion reached by the jury, though his sister said there's nothing that will replace him. Lloyd's mother thanked God, and told the court she forgives Hernandez.
"I forgive the hands of the people that had a hand in my son's murder, either before or after. And I pray and hope that someday everyone out there will forgive them also," she said.
The other two men accused of taking part in the murder of Ward's son are still awaiting trial.
Meanwhile, Hernandez is now awaiting trial for the 2012 double murder of Daniel de Abreu and Safiro Furtado outside a Boston night club. He faces two counts of first-degree murder and other offenses in that case.
This segment aired on April 16, 2015.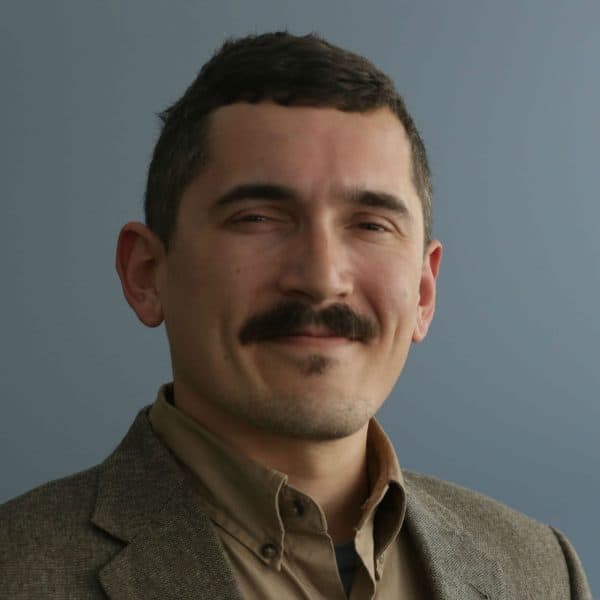 Simón Rios Reporter
Simón Ríos is an award-winning bilingual reporter in WBUR's newsroom.