Commentary: Hillary's Hope: The More Candidates, The Merrier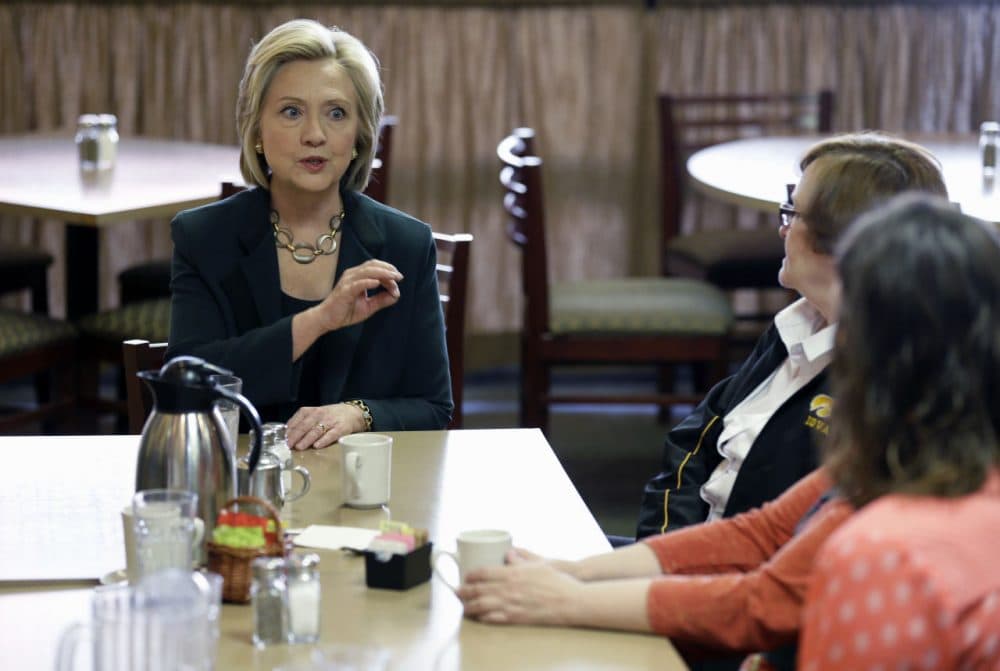 This article is more than 6 years old.
It's commonly understood that Hillary Clinton and her allies must be happy to see so many Republicans running for president. They assume that the GOP primary contest will become a demolition derby. Plus, they figure there'll be less media scrutiny and criticism of Hillary if the spotlight is on the Republicans.
But it's safe to say, too, that Hillary and her strategists also hope that three to four Democrats will compete with her for the party's presidential nomination, not just one.
If several challengers split the unhappy-with-Hillary vote, it would be hard for any of them to quickly emerge as the clear alternative. The choice as framed by the media would be: expected winner vs. a bunch of unknown, unexciting, underfunded white guys.
So Hillary must be privately rooting for all four of the Democrats considering a run: Vermont Sen. Bernie Sanders, former Maryland Gov. Martin O'Malley, former Rhode Island Sen. Lincoln Chafee and former Virginia Sen. Jim Webb.
Lincoln Davenport Chafee declared "I'm running" on CNN, but his spokesperson later clarified that he is still officially exploring and would announce later. When? Chafee said, "I'll come up with some kind of date at the appropriate time." Wow, that kind of decisiveness must have the Hillary campaign all the more eager for him to enter the race.
In his TV interview, Chafee criticized Clinton on foreign policy. He contended that as secretary of state she botched U.S. relations with Russia, and he reminded viewers that as a senator she voted to authorize military force in Iraq. Hillary is a hawk in the view of many antiwar Democrats, and she learned in her 2008 nomination battle with Barack Obama that she pays a price for that. But if she has several opponents, it's harder for the antiwar opposition to coalesce.
Some politicians dream of being all things to all people, but Chafee has a better claim to that fantasy because he was once a Republican senator, then elected governor as an independent, then switched registration to be a Democrat.
But — like the GOP's Lindsey Graham, the senator from South Carolina who is also exploring a presidential run — Chafee has strong rhetoric, but a weak personality. That may seem unfair — after all, there's a wide spectrum of personality types in past presidents. Let's just say that Hillary would come across as having more gravitas.
James Henry Webb Jr. has as much gravitas as Hillary, which is not surprising since he was a Marine Corps officer who received a Navy Cross, Silver Star, Bronze Star and Purple Heart. He was secretary of the Navy and assistant secretary of defense. And he has intellectual heft, having taught literature at the U.S. Naval Academy and authored 10 books. But as a Virginia Democratic senator he was more of a centrist, so he doesn't threaten Hillary on the left — and that's where most Democratic primary voters are.
Martin Joseph O'Malley just finished his second term as governor of Maryland. Before that, he was the mayor of Baltimore, winning acclaim as an outstanding big-city mayor and a rising Democratic star. (He was one of the inspirations for the fictional mayor of Baltimore for writers of HBO's great series, "The Wire.")
In 2004 O'Malley spoke at the Democratic National Convention, arguing that Sen. John Kerry would be better on homeland security than President George W. Bush, but he did not impress the viewing audience the way a new senator from Illinois did, Obama. That continues to be the problem for O'Malley: He's not an exciting orator. While Hillary is not a great orator, either, she excites the imagination of many Democrats because she'd be the first woman president.
O'Malley has been semi-running for president for months, yet he is still quite unknown. I doubt that Conan O'Brien had him in mind when he made this joke two days ago: "The president of Armenia met with the Kardashians. He asked them to change their name to O'Malley."
Bernard "Bernie" Sanders calls himself a socialist, but if Republicans call him that, it's considered name-calling. Anyway, he's a true leftist and populist. Recently, while talking about income inequality, he criticized Hillary's record, saying she was not "prepared to take on the billionaire class." Since many progressives consider her too friendly to Wall Street interests, Bernie could get traction on that issue — especially with the revelations that foreign governments like Saudi Arabia donated millions to the Clinton Foundation during her tenure as secretary of state, obviously hoping for influence.
Sanders was elected senator as an independent, yet because he caucuses with the Democrats there doesn't seem to be any problem if he declares as a Democratic candidate. Like Gene McCarthy's challenge to President Lyndon Johnson in 1968, Sanders appeals to young, idealistic liberals — and like McCarthy, seems professorial and sincere.
As a Vermonter, Bernie would be comfortable campaigning in New Hampshire. Yes, New Hampshire is not as liberal in its culture, but he knows how to relate to small crowds and connect federal issues to local and personal interests. (He was also a three-term mayor of Burlington, Vermont.)
Hillary will be campaigning in New Hampshire this Monday and Tuesday. She's wise not to take the Granite State for granted. By the way, you can't blame Hillary if she's a bit paranoid about New England at this point. She has had to worry about a possible Massachusetts candidate, Sen. Elizabeth Warren, as well as a Vermonter and Rhode Islander.
"America loves an underdog," said Chafee in his accidental-announcement interview. That may be true, but Americans can only vote for one underdog. That's why Hillary is hoping for a pack of underdogs.
Todd Domke is a Republican political analyst for WBUR.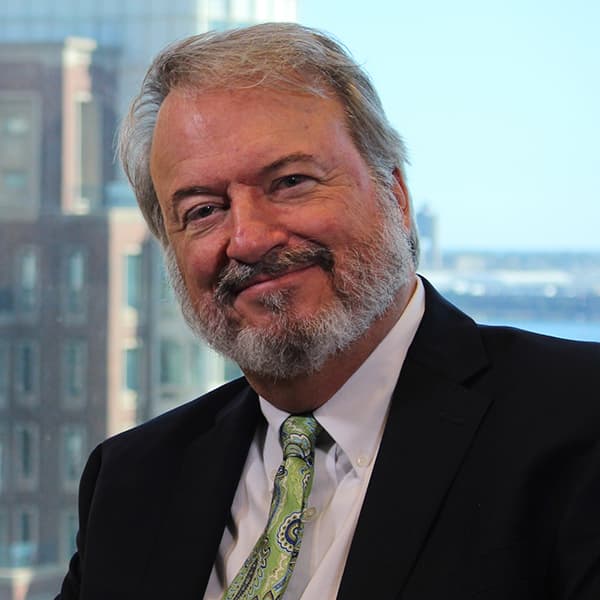 Todd Domke Republican Political Analyst
Todd Domke is a Republican political analyst for WBUR.