5 Kids Books To Remember 'Harry The Dirty Dog' Artist Margaret Bloy Graham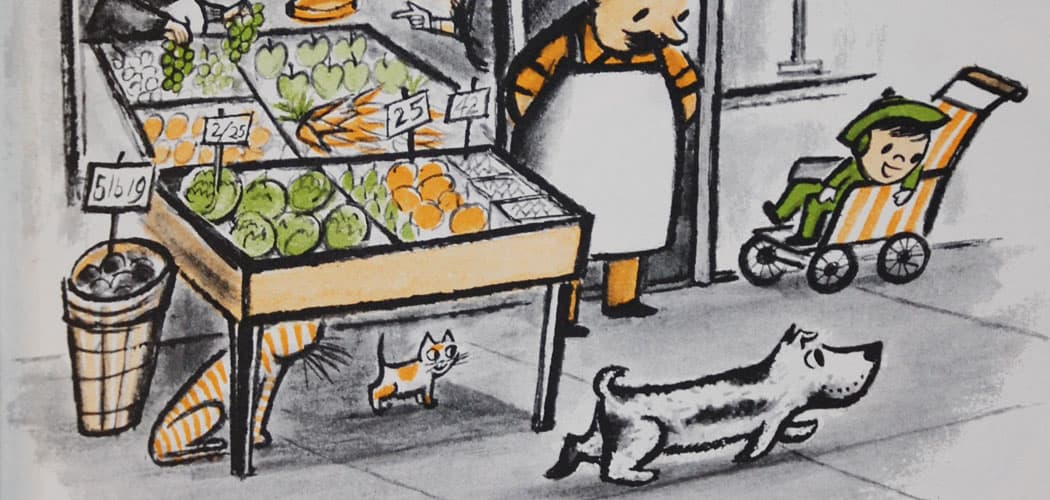 This article is more than 7 years old.
It could be easy to not recognize that Margaret Bloy Graham was the illustrator of "Harry The Dirty Dog" (HarperCollins Publishers), one of the most beloved children's books of the past century.

The Cambridge artist, who died in Jan. 22 at age 94, seems to have not generally made a big deal of her accomplishments. And because marriages had changed the name she went by (she published under her maiden name, but kept her second husband's last name even after their split), even fellow attendees of a sketch group she participated in at the Blacksmith House Art Studio near Harvard Square could miss who exactly was drawing beside them.
"I knew her books before I knew her," says Doris Hagen, who became friends with Graham as they were neighbors in Cambridge for nearly four decades. "I knew her as Margaret Holmes. … She was very modest."
"Her books are very humorous. Her drawings are very humorous. She was a very serious person," Hagen says. "She was a voracious reader, mostly nonfiction. She loved to talk about books that she read, theater, movies."
Here are five books to remember Graham by:

"The Summer Snowman," words by Gene Zion, 1955.
In this early book, a boy hatches a plan to save a winter snowman from melting.
Graham had studied in her native Toronto and then New York, before finding work at Conde Nast Publications. There she met Gene Zion, who had arrived from the art department of CBS. They married in 1948—and began collaborating on kids books.

Graham won a Caldecott Honor (a runner up to the top Caldecott Medal prize for American picture books) for her first two kids books: "All Falling Down," words by Zion, in 1951, and "The Storm Book," words by Charlotte Zolotow, in 1952. "The Summer Snowman" is typical of the wit and invention of Graham and Zion's collaborations.
Graham's earliest books were drawn with fine, delicate lines. In this book, you see her transitioning to her signature style of heavy, dark outlines—representative of the more stylized contemporary illustration of the era that's come to be called "cartoon modern."
"She had an eye," Hagen says. "She always did."

"Harry the Dirty Dog," words by Gene Zion, 1956.
The great classic. Harry hates baths. To escape a wash, the white dog with black spots buries the scrub brush and runs away from home. And gets delightfully dirty—playing around construction sites, near the train station, sliding down a coal chute. Loneliness (as well as hunger and exhaustion), bring him back home. But he's so dirty that his family doesn't recognize him—until he insists upon a bath. It's a child's fantasy of escape from adult rules, with a return to the safe embrace of family at the end.

"She always had dogs growing up. She loved pets. And she was very generous with the Animal Rescue," Hagen says. "She invented [Harry] from two of her favorite dogs. She kind of put them together."
New York apartment life, however, had Graham turn to cats (which turn up as lead characters in her 1987 book "What If?," words by Else Holmelund Minarik). "She usually had Abyssinian cats," Hagen says. "Except for the last one, which was a big white cat that someone had given her."

"Dear Garbage Man," words by Gene Zion, 1957.
A new garbage man proposes the crew on his truck try recycling. "Let's save it and make someone happy," he says of a discarded sofa, and then a mirror, a baby carriage, a bird cage. He dreams of "all the useful things he would save and give away" to other neighbors.
Graham's books often feature visionaries who bump up against business as usual—at least for a while—including her illustrations for a 1954 children's biography of Henry David Thoreau, "To a Different Drum," authored by Charles Norman.
The focus in "Dear Garbage Man" on recycling might be seen as pioneering, but in this particular case it doesn't end well. The neighborhood's interest in reuse is short-lived—and they end up using the junk to "fill in swampland."

"The Plant Sitter," words by Gene Zion, 1959.
A boy cares for all the neighbors' plants while they're away on summer vacations—and in the process turns his home into a leafy paradise. Though, initially, his parents' don't quite see it that way: "In the morning when the family had breakfast, they were surrounded by plants in the kitchen. It was like having a picnic in the woods! But Tommy's father didn't seem to enjoy it at all."
Love of nature was a recurrent theme in Graham's books—from "The Storm Book" (words by Charlotte Zolotow, 1952), an ode to rain, lightning and rainbows, to "Really Spring" (words by Zion, 1956), about a city so anxious for the arrival of the season that everyone paints the town with green leaves.

"Be Nice to Spiders," words by Margaret Bloy Graham, 1967.

A spider makes a home at the zoo, eating up all the flies, which makes the animals "happy and contented." Until the Zoo Keeper orders the spider webs removed to clean the place up for a visit by the mayor. Flies again overrun the zoo, until the zoo staff adopt a new rule: "Be nice to spiders."
In nearly all of her books, Graham drew the pictures while a collaborator authored the words. This book stands out because she wrote and illustrated it all herself, after separating from Zion in the 1960s and moving to Cambridge. At first, she stayed here with friends Margret and Hans Rey, creators of the "Curious George" books. "She spent the summer with them while she was looking for a place of her own," Hagen says. Graham would marry—and divorce—a second time, but continued to live and draw here.
Follow Greg Cook, co-founder of WBUR's ARTery, on Twitter @AestheticResear or the Facebook.