Walsh Creates Office Of Olympic Planning To Examine Boston 2024 Bid
The city has hired a former Goldman Sachs analyst to examine Boston's bid for the 2024 Summer Olympics.
Sara Myerson, 31, will become the executive director of a newly-established Office of Olympic Planning, Mayor Marty Walsh announced Friday. Myerson will begin the new position on April 27.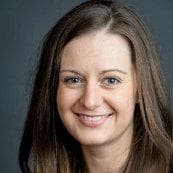 In a statement, Walsh said Myerson's focus will be to "build a bridge" between the city's planning and development efforts and the development of the Olympic bid proposal.
"Her top priority will be to ensure that Boston will benefit in the long-term from holding the Games and that any planning efforts are in line with the City's overall goals," Walsh said.
The Office of Olympic Planning will work with Boston 2024, the private nonprofit overseeing the city's bid. Part of the new office's work will include conducting economic analysis, mitigation analysis, public health and safety studies and transportation planning.
All costs associated with the new office will be reimbursed to the city by Boston 2024, according to the mayor's office.
The creation of the new office comes on the heels of a WBUR poll released this week that found support for bringing the Olympics to Boston had rebounded slightly in April after months of decline.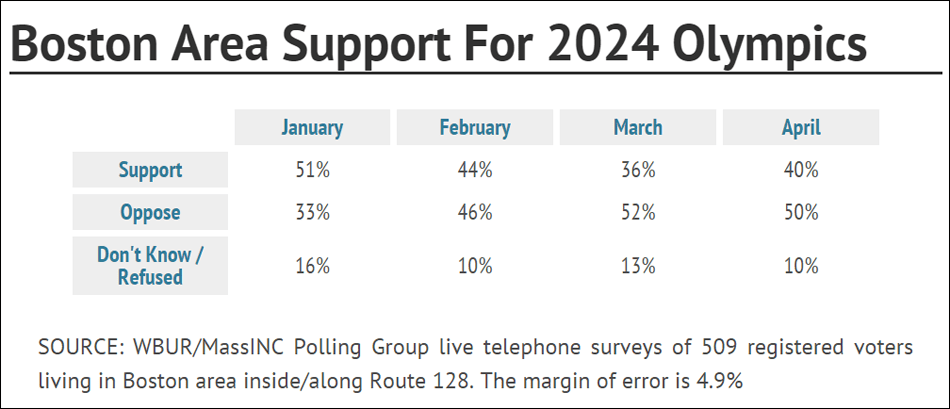 The city's Olympic bid has been under increased scrutiny in recent months after the high salaries of Boston 2024 staffers were released and a brutal winter season — and MBTA meltdown — left many questioning the city's infrastructure and ability to handle such an event.
Former Gov. Deval Patrick later said he would forgo a $7,500-a-day fee to help promote the Games. And after WBUR's March poll, Boston 2024 said it would support a statewide referendum on bringing the Games to the city.
This month's WBUR poll shows Boston area residents are very much concerned about the overall price tag of the Olympics — 90 percent of poll respondents believe it is likely the Games will cost "much more" than currently estimated. Poll respondents were also split on whether the Olympics would leave Boston with a better transit system.
In a statement, Boston 2024 CEO Richard Davey said Myerson would help them deliver a bid in line with the city's planning.
"This is an important step in our mutual efforts to leave a lasting legacy for the city of Boston, and align with broader planning goals for the future," Davey said.
Most recently, Myerson worked as chief of staff and policy director at Preservation of Affordable Housing, an organization that works to provide affordable rental housing. Previously she worked as an associate in the urban investment group at Goldman Sachs and as an analyst in the company's merchant banking and investment banking divisions. She attended Middlebury College and holds a master's degree in urban planning from Harvard University.