Irving Scores 30, LeBron 20 As Cavs Beat Celtics 113-100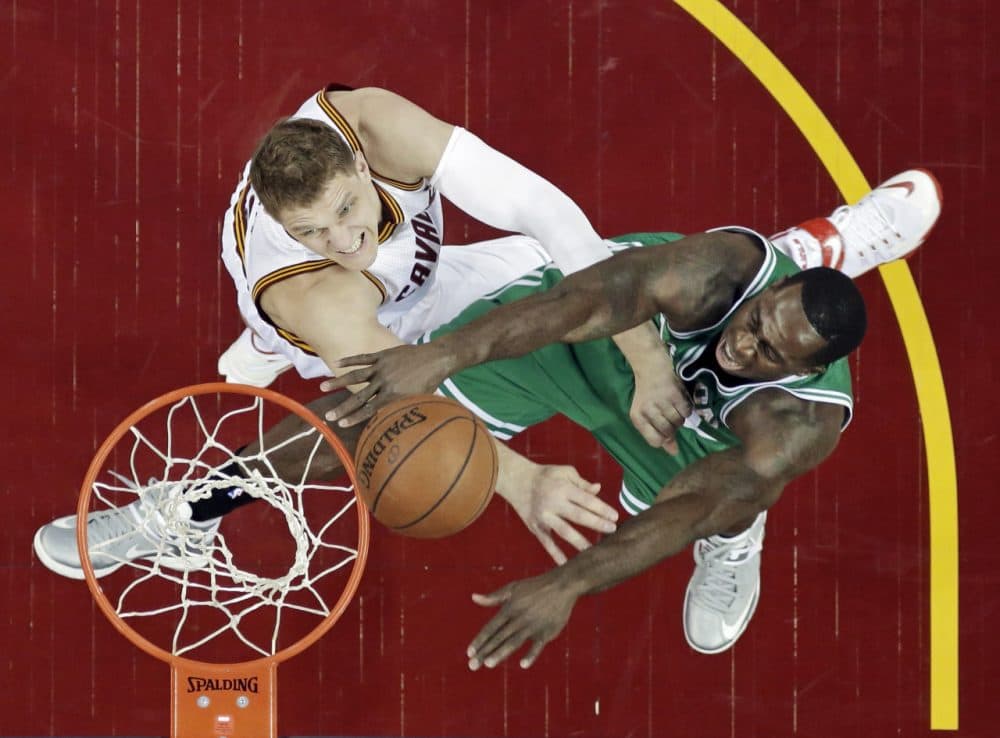 This article is more than 6 years old.
Kyrie Irving scored 30 points in his playoff debut, LeBron James added 20 in his first postseason game with Cleveland in five years and the Cavaliers opened a run toward an NBA title with a 113-100 victory over the Boston Celtics on Sunday.
Irving made five 3-pointers and Kevin Love, another postseason rookie, added 19 points and 12 rebounds.
It was Cleveland's first home playoff game since May 11, 2010, when the Celtics won Game 5 and James left the floor to some boos from Cavaliers fans. He departed for Miami two months later, but he's home now, all is forgiven and Cleveland is aiming to end a championship drought dating to 1964.
Isaiah Thomas scored 22 points to lead the seventh-seeded Celtics. They will try to even the best-of-7 series in Game 2 on Tuesday night.
The Cavs built a 20-point lead in the third quarter, let the Celtics get as close as six and then finished the quarter with a 9-0 run - capped a 3-pointer by James Jones - to take a 15-point lead into the fourth.
Boston climbed within 10 in the final 12 minutes, but Love made a crucial 3-pointer with 3:32 left to slow Boston.
James was confident Irving and Love would be up for the playoffs, but added "you never know," perhaps the superstar's way of motivating his teammates. They were ready as Cleveland's "Big 3" combined for 69 points.
James came in with more playoff experience - 158 games - than Boston's entire roster, an inequality that seemed to favor the Cavaliers. However, the young Celtics weren't overwhelmed on the bigger stage or intimidated by Cleveland's towel-waving fans sporting T-shirts that said, "All In," the team's postseason slogan.
Boston led by eight in the first quarter before the Cavs found their shooting touch and got a huge lift from reserve Tristan Thompson, who grabbed five rebounds - four offensive - in the first half.
Irving's 3-pointer at the horn gave the Cavs a 62-54 lead at the half.
Cavs coach David Blatt may have grown up in the Boston area pulling for the great Celtics teams led by Bill Russell, but his allegiance has changed. "I'm not a Celtics fan anymore, I can guarantee you," he said. "That has long, long since passed. I'm in a different place now but I certainly appreciate the rich history and the great things that franchise did for the NBA and for this game."