A 123-Year-Old Women's Club Keeps Tradition Alive Over Tea In Stockbridge
06:22
Play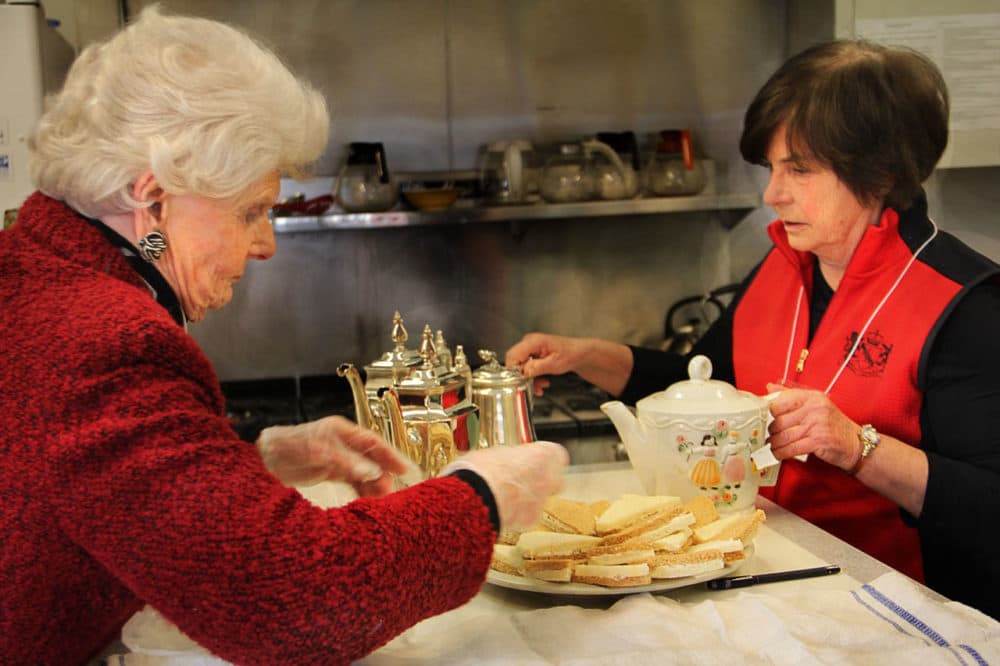 This article is more than 6 years old.
A hundred years ago social networking meant something very different than what it means now. But a social networking group that began in 1892 is still meeting today, with its members still gathering face-to-face over formal tea.
It's the invitation-only women's group called The Tuesday Club of Stockbridge. Its members say their focus hasn't changed much in more than a century — they want to educate, enlighten and promote a sense of community.
"Keep us oh God from pettiness, let us be large in thought, in word and in deed; may we put away all pretense and meet each other face to face, without self-pity or prejudice," the women chanted at a recent meeting.
Carole Owens, second vice president of the Tuesday Club of Stockbridge, starts the monthly meeting at a Congregational church in town by leading the group in reciting that message — the group's mission.
"Those really are the values of this group," she said. "Yeah, that's pretty old-fashioned, but ain't it grand. Newfangled isn't all there is."
Owens has been in the Tuesday Club for about 20 years, after a member invited her to join.
"It's the 19th century protocol," she said. "In order to be a member you have to be invited, and you cannot be black-balled. That nomination goes before the board and the entire membership."
She says the club started as a group of women meeting a few times a month in their homes to discuss topical issues. In the early days the women would perform plays, share travel stories and invite speakers.
Values And Traditions, Like Tea Time, Stay Strong
Barbara Allen, curator of the Stockbridge Library's archival collection and keeper of the club's records, has been a Tuesday Club member for 15 years. Allen says the earliest records of the club were destroyed in a fire, but it appears the founders' main objective of further educating women has not changed.
"The main purposes really haven't changed that much," Allen said. "It's surprising, considering it started in 1892, but the topics that they deal with have changed with the times. So that in the beginning it was, let's say, a little bit more lightweight than it is now. They are definitely farther reaching than just Stockbridge."
Another staple of Tuesday Club meetings that hasn't changed much is the tea service, with a sterling silver set. Although, tea time no longer requires the women to wear gloves and hats, it does involve an amazing spread — desserts of all kinds and traditional tea sandwiches.
Alice Wilmont has been a club member for 35 years.
"I think we're a vanishing breed, especially with our high teas," Wilmont said, laughing. "The younger generation doesn't even have sterling silver ... they would think that this is an abomination."
The Tight-Knit Group Maintains It's Scandal-Free
There doesn't appear to be many of the younger generation among the club's roughly 100 members. The women are all from the Berkshires and take pride in the club — and they maintain there has never been a rift or a controversy.
"Now, I can't imagine that for all these decades a group of women who get together every month would not have a scandal?" I asked.
"Scandal? Oooh," said Allen. "Arguments, yes definitely, they can argue about -- you name it and they can argue about it. But scandal?
"I agree there has to be some there, but let's just say they don't show up in the records, let's put it that way," Allen continued. "They are very discreet."
"Did you ever hear about a scandal?" I asked.
She paused. "I don't think I'm going to answer that one," she said, smirking.
Maybe there are no scandals on the record, but an often-repeated story in the Berkshires is that author Edith Wharton, who lived in nearby Lenox, may not have been a fan of club.
In fact, Wharton's short story "Xinghu" is a blistering critique of a women's social club she called The Lunch Club, composed of, as Wharton wrote, "several indomitable huntresses of erudition."
"It is said, although not substantiated, that Wharton may have drawn her inspiration for The Lunch Club in Xinghu from this club," said Kelsey Mullen, director of education at The Mount, Wharton's home that is now a museum. "It's impossible to tell whether the Tuesday Club was her specific inspiration. She was certainly surrounded by these groups and would have had strong opinions, as Wharton always did."
Popularity Of Social Clubs Dates Back More Than A Century
These types of social clubs were popular — for both men and women — during the 19th century.
"I know every woman and every face in this room, and they know me. I don't think that ever gets old, and I don't think that ever goes out of style."

Carole Owens, the club's second vice president
Some historians credit the idea of such clubs to journalist Margaret Fuller, who was known for her weekly so-called "conversations" held in Boston around 1840. It's estimated that at one point there were hundreds of these clubs across the country — made up mostly of middle-class women who often had had an incomplete education and were eager to learn and to socialize with other women.
That, Owens said, is the main reason behind The Tuesday Club's longevity.
"I have a PhD, every woman in this room has an advanced degree. We have social connections that go beyond the Berkshires, beyond the state of Massachusetts," Owens said. "You can Skype, text, email, telephone, anybody, anywhere and yet, this holds together.
"I know every woman and every face in this room, and they know me. I don't think that ever gets old, and I don't think that ever goes out of style," she continued.
In fact, there are at least a half dozen of these clubs still meeting in Massachusetts. The Tuesday Club meets today in Stockbridge.
This segment aired on April 21, 2015.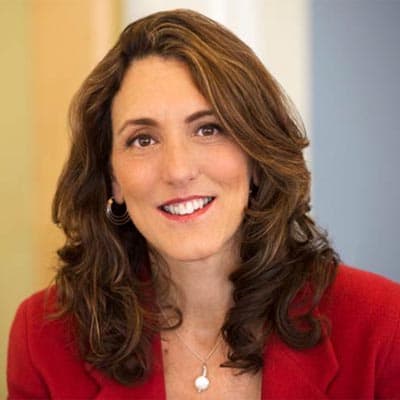 Deborah Becker Host/Reporter
Deborah Becker is a senior correspondent and host at WBUR. Her reporting focuses on mental health, criminal justice and education.