Anti-Tobacco Advocates Back Healey's E-Cigs Regulations While Retailers Seek Changes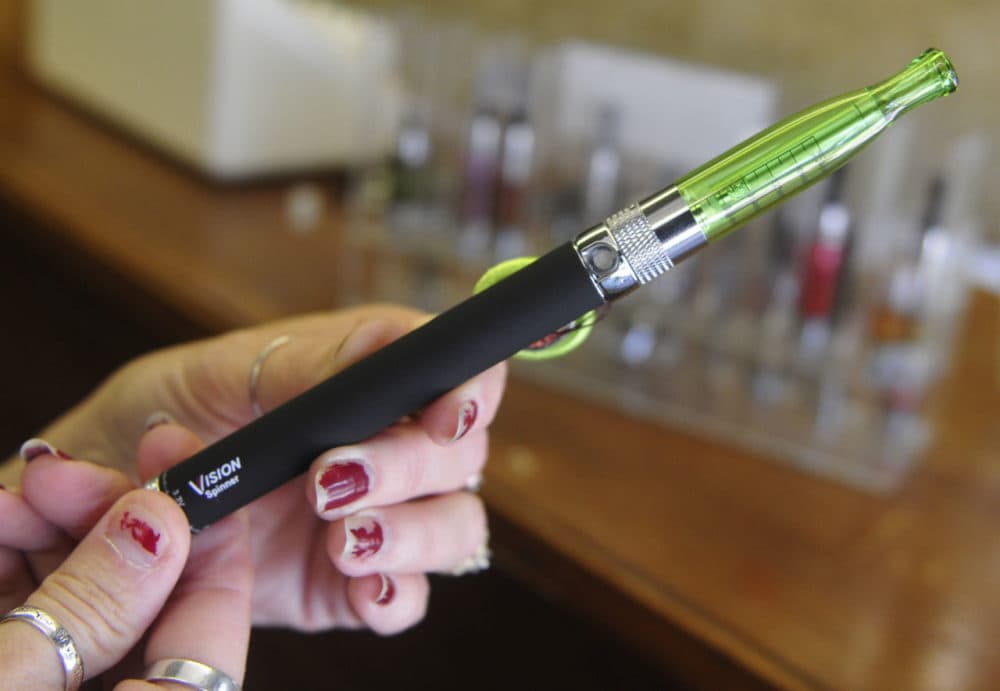 This article is more than 5 years old.
Proposed restrictions on free samples of e-cigarettes for adults would harm retailers ability help smokers quit, "vaping" advocates argued Thursday to the attorney general's office.
Numerous e-cigarette specialty shop owners, supporters and anti-tobacco activists filled a hearing room to sound off on Attorney General Maura Healey's proposal to increase regulations on smoking alternatives.
Under Healey's proposed regulations, electronic devices used to deliver hits of nicotine would be treated like cigarettes. Free samples of nicotine vapor products would be banned, child-proof packaging on nicotine liquids would be mandatory and a minimum purchasing age of 18 would be put in place by the regulations.
The retailers agreed with most of the planned regulations and voiced support for child-proof packaging and the age limit. Retailers are concerned the prohibition on samples would limit their ability to market different flavors or delivery methods to smokers looking to quit cigarettes and pick up an alternative.
"Every little barrier to adult access is going to mean that one or ten or a hundred people who would have quit smoking don't quit smoking and that's going to kill people," Carl Phillips, scientific director for the retailer trade group Consumer Advocates for Smoke-free Alternatives Association, told the panel.
Anti-tobacco advocates praised the proposal as a first step in combatting e-cigarette use among young people.
Sen. Jason Lewis (D-Winchester) cited statistics from the Center for Disease Control that e-cigarette use among middle and high school students tripled from 2013 to 2014. Another study from the National Youth Tobacco Survey, Lewis said, shows that approximately 660,000 students used e-cigarettes in 2013 and 2 million did in 2014. Rep. Jonathan Hecht (D-Watertown) also testified in support of the plan.
Erica Pike from the anti-smoking group The 84, testified that many teens see vapor products very differently from traditional cigarettes.
"From talking to the many youth in our program they've told me that peers think that smoking cigarettes is gross but e-cigarettes are cool. Instead they see the sweet flavors that e-cigarettes come in, like strawberry bubblegum or cherry limeade, and are more willing to pick one up and try it," Pike said.
"Currently, e-cigarettes are not regulated at the state or federal level. This means we have no way of knowing just what is in these products," Lewis said.
Senate Majority Leader Harriette Chandler (D-Worcester) and House Health Care Financing Chairman Jeffrey Sanchez (D-Boston) back the proposed regulations. In March when the proposed regulations were publicized Gov. Charlie Baker said he generally supports the concept behind Healey's effort.
When she rolled out the regulation plan, Healey said that her plan would generally apply the same restrictions already on combustible cigarettes to electronic forms, and she said her proposal is "squarely within" the office's consumer protection authority.
"These regulations make it clear that in Massachusetts an e-cigarette is a cigarette when it comes to protecting our kids," Healey said at a State House press conference after announcing the plan.
The Massachusetts Medical Society supports Healey's proposal. Dr. David Crandell, Vice Chair of the Medical Society's Committee on Student Health and Sports Medicine said in prepared testimony that the strategies of e-cigarette manufacturers producing flavors "such as 'Bubble Gum' and 'Popstar' appear to be a replication of strategies used by cigarette manufacturers a generation ago, intended to target vulnerable youth to their addictive, harmful products."