Baltimore Prosecutor Marilyn Mosby Grew Up In Boston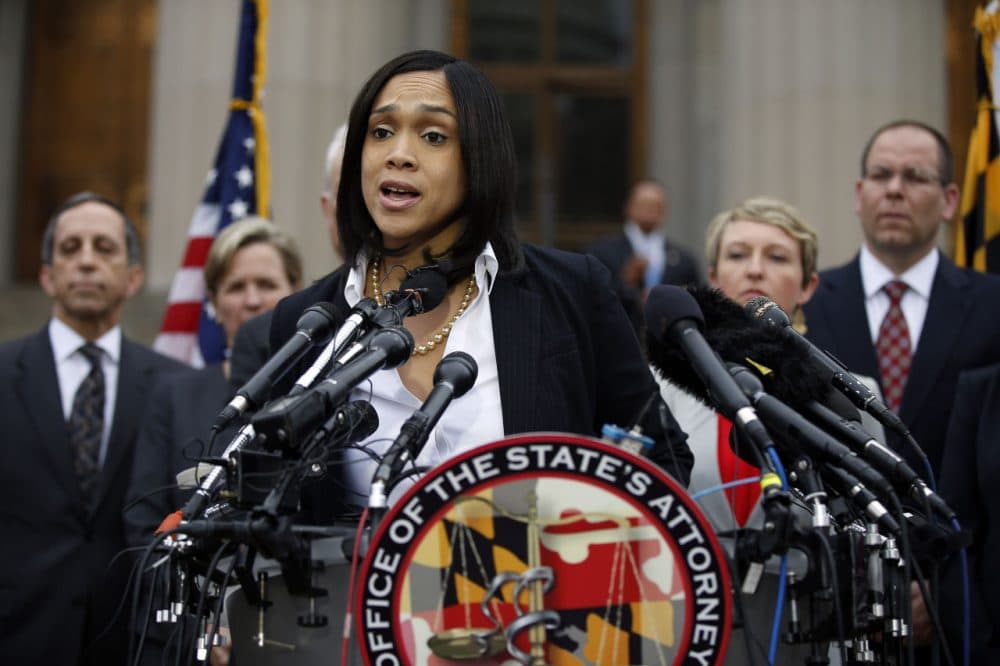 Baltimore's chief prosecutor, just 35 years old and on the job for less than four months, moved swiftly Friday to address the biggest challenge of her career when she announced charges including second-degree murder against six officers in the death of Freddie Gray.
State's Attorney Marilyn Mosby surprised legal observers by filing charges against the officers herself, rather than seeking a grand jury indictment, a day after receiving the results of the internal police investigation and an official autopsy report.
The decision, however, was consistent with her campaign pledge to hold police accountable.
Mosby ousted an established white opponent last year, accusing him of being too cozy with police officers and too out of touch with the citizens of Baltimore. Mosby and her husband, a Baltimore city councilman, are black and live just blocks from the poverty-stricken community where riots broke out Monday following Gray's funeral.
"She better be ready. It's going to be baptism by fire. How she will handle this will define her administration and the future of that office."
"She better be ready. It's going to be baptism by fire," said J. Wyndal Gordon, a longtime defense attorney in Baltimore who has litigated against officers in excessive-force cases. "How she will handle this will define her administration and the future of that office."
Before the charges were announced, the Baltimore police union president told Mosby in a letter that none of the six officers were responsible for Gray's death. The union requested a special prosecutor in the case, saying Mosby had conflicts of interest including a friendship with the Gray family's lawyer, who contributed to her campaign.
Mosby grew up in Boston and told Baltimore Magazine that her grandfather was one of the founding members of a black police organization in Massachusetts. She met her husband, Councilor Nick Mosby, as an undergraduate at Tuskegee University in Alabama.
Her official biography says she's a graduate of Boston College Law School and that she clerked for the homicide unit of the Suffolk County District Attorney's Office, as well as U.S. Attorney's offices in Boston and Washington. She joined the Baltimore State's Attorney's Office in 2005 and moved up the ranks before leaving to work for an insurance company. She defeated incumbent Gregg Bernstein, who outraised her three-to-one, in last June's Democratic primary, and faced only write-in opposition in the general election.
Her official biography also declares that "she is the youngest chief prosecutor of any major city in America."
"I think it's very unique that a chief prosecutor who — as young as she is, who lives in a community that has a high amount of violence — that's very unique and she's probably the only one in the entire country," Nick Mosby said. "She's from the inner city, she lives in the inner city, she knows the inner city."
Some of her critics, however, say her campaign pledges and political success could compromise justice in the Gray case.
Warren Brown, a veteran Baltimore defense attorney who supported Mosby's opponent, said Mosby's handling of the Gray case would be inextricably linked to her and her husband's political aspirations. He said Mosby was being pressured to charge the officers with murder, which he doesn't think the evidence supports.
"She is a politician; her husband is a politician. This is a watershed event," Brown said.
Brown and Ivan Bates, a former prosecutor and a current defense attorney in Baltimore, both expressed concerns about Mosby's ties to the attorney representing Gray's family, Billy Murphy.
Murphy was among Mosby's biggest campaign contributors last year, donating the maximum individual amount allowed, $4,000, in June. He was also on Mosby's transition team after the election, and Bates described him as a mentor to her.
"I think she has too much pressure to not indict, from the pressure of her husband's constituents, of her mentor Billy Murphy, and of the pressure of making sure she wants to hold on to her job in four years," Bates said.
When she was elected in November, Mosby told The Daily Record newspaper she was excited for the opportunity "to change what has happened in the community."
"I'm living out my dream to reform the criminal justice system," said Mosby, whose parents and grandfather were police officers.
Mosby's record in high-profile cases has been mixed thus far.
In January, the morning after she was sworn into office, she announced manslaughter charges against an Episcopal bishop in the hit-and-run death of a cyclist. The bishop, Heather Cook, had not even been arrested when Mosby told a packed news conference that Cook had been drunkenly text-messaging at the time of the crash.
Mosby failed, however, to obtain a third trial for a man accused in the slaying of a teenage honor student from North Carolina. Defense attorneys said the re-indictment violated Constitutional protections against double jeopardy, and a judge threw it out. Her office is pursuing an appeal.
Mosby was also criticized for firing several veteran prosecutors, some of them in the middle of trials. But she drew praise from lawyers for her leadership team.
Clergy protesting at her office Wednesday afternoon said they have faith in the prosecutor, but they were demanding swift justice and transparency.
"I support Marilyn Mosby. But now we have to step up and do what we ran on," said the Rev. Delman Coates, a liberal activist who ran last year for Maryland lieutenant governor. "It's about substance, not symbolism. It's not about campaign slogans. It's about delivering for the people."
With additional reporting by the WBUR Newsroom