Marty Meehan, UMass Lowell Chancellor And Ex-Congressman, Named Next UMass President
02:45
Play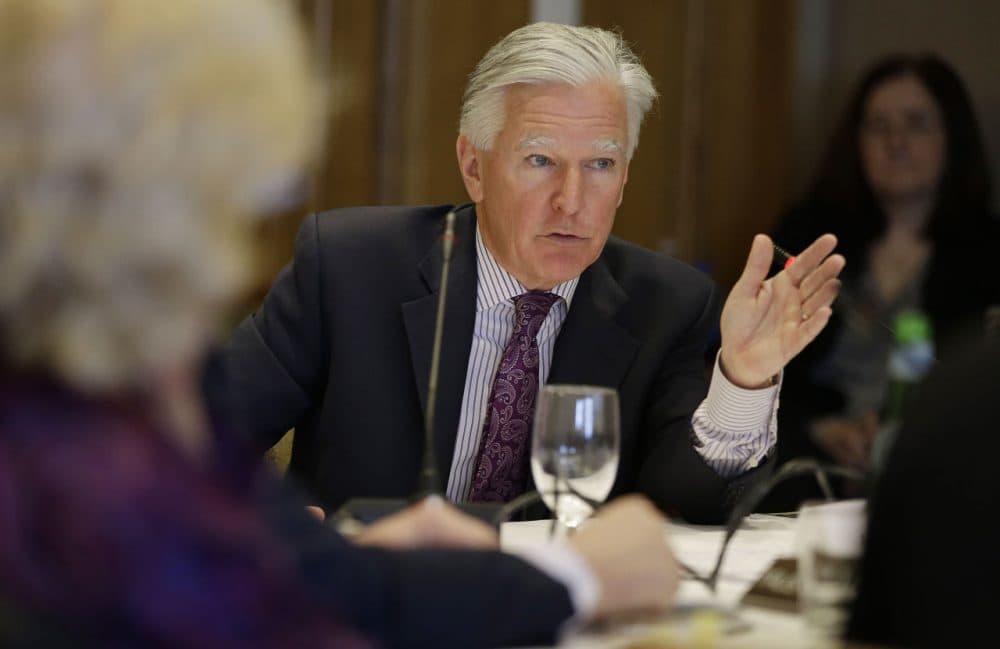 University of Massachusetts Lowell Chancellor Marty Meehan will be the 27th president of the five-campus UMass system.
The university's board of trustees unanimously voted for his appointment after interviewing Meehan and a second finalist Friday morning.
"I thank the UMass Board of Trustees and the Presidential Search Committee for their confidence," Meehan said in a statement released by UMass soon after the vote. "Massachusetts is synonymous with the best in higher education. We will seek to strengthen our position as a world-class public university system that is accessible, affordable and a catalyst for innovation and economic development in the Commonwealth."
Meehan has led UMass Lowell, his alma mater, since 2007, and before that he served seven full terms in Congress from 1993 to 2007. He will be the first UMass undergraduate alumnus to serve as president of the system.
"Chancellor Meehan's successful tenure at UMass Lowell has shown that he has what it takes to move the University of Massachusetts system forward," Victor Woolridge, chair of the trustees, said in the statement. "His results-driven, visionary leadership has opened up new frontiers for UMass Lowell, and we fully expect the same to happen for the entire University in the course of his presidency."
It was clear from the trustees' deliberations that they trusted Meehan more than they did the other finalist, Harvard Business School professor John Quelch, because they had worked with Meehan for so many years.
Trustee Edward Collins, of the International Brotherhood of Electrical Workers, said he has a bias for strong internal candidates. Another trustee said he'd rather run with a horse he knows. And attorney Richard Campbell took issue with Quelch saying the university was not a gas station for the state economy, and said Quelch did not appreciate the status of the UMass Medical School.
Quelch, who's a former chair of the Massachusetts Port Authority, had called it pretty good, but not premier league. The student trustee from UMass Medical, Patrick Lowe, did not like that.
"I'm grateful to be at such a well-regarded institution," Lowe said. "I think where we are is in a good position, and I think in fact some aspects of our university are in a great position."
Another trustee, Henry Thomas, president of the Urban League of Springfield, praised Meehan's work for UMass Lowell.
"He's an excellent fundraiser," Thomas said. "One of the big things that I think was important for me is, when I look at how he's managed Lowell, he has always engaged and included students in the process of change as well as the process of operating the campus."
Meehan sees financing UMass as his greatest challenge and promised to raise more money for the school than any president before him.
"Difficult economic times have created real pressure on state budgets around the country," Meehan said. "I think it's one of the reasons why trustees are looking for leaders to look at innovative ways to raise more money privately, innovative ways to develop a business strategy that increases revenue."
Meehan will succeed President Robert Caret, who is stepping down in June to become chancellor of the University of Maryland system.
Caret surprised the UMass community when he took the position in Maryland after only four years at UMass. This time around the search committee said all finalists had to commit to staying for 10 years. Meehan said he's willing to make that commitment.
"If I were interested in doing anything else, I would not be taking on this challenge at the University of Massachusetts," Meehan said. "I am committed to it."
This article was originally published on May 01, 2015.
This segment aired on May 1, 2015.