Tufts Students Continue Hunger Strike Over Proposed Janitor Layoffs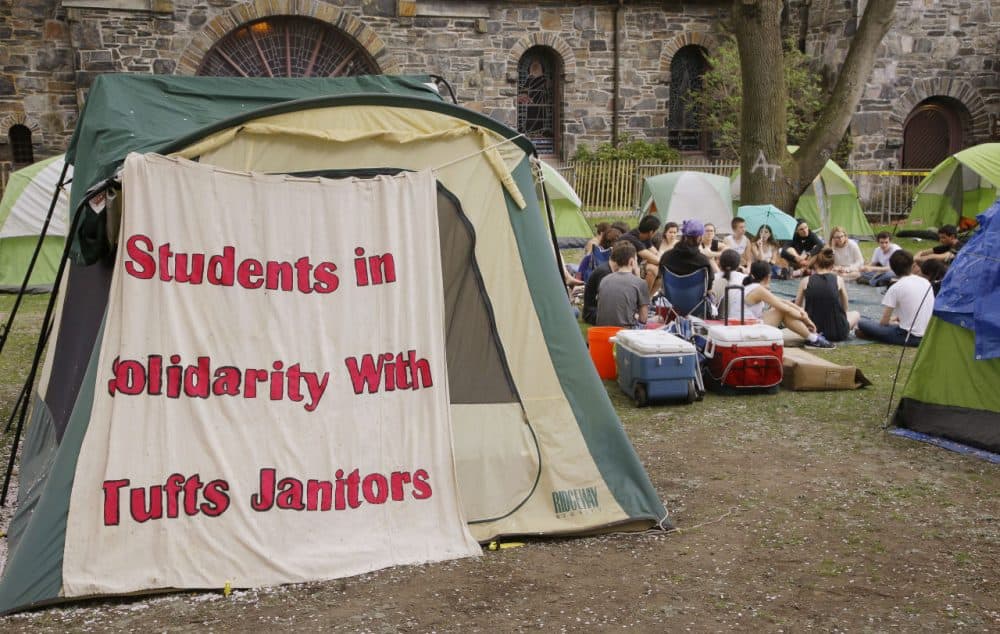 This article is more than 7 years old.
More than 120 Tufts University students, faculty and janitors who are opposed to school's plan to cut some janitorial jobs held a protest on campus Friday afternoon, alongside several students who are on a hunger strike.
Two Tufts students at the protest, both freshmen, have been taking only water, zero-calorie Powerade and a solution of salt, baking soda and lemon juice since Sunday.
"I'm like fatigued and tired," said Ander Pierce, one of the freshmen. "When I stand up, I get dizzy, but I've been supported by the people around me. They're incredible. And this needs to be done. The administration needs to hear us."
Pierce and fellow freshman Riz Angeles have been camping out in front of Ballou Hall, the administration building at Tufts. They started with three other hunger strikers who are now receiving medical attention. One of those students has dropped out of the hunger strike.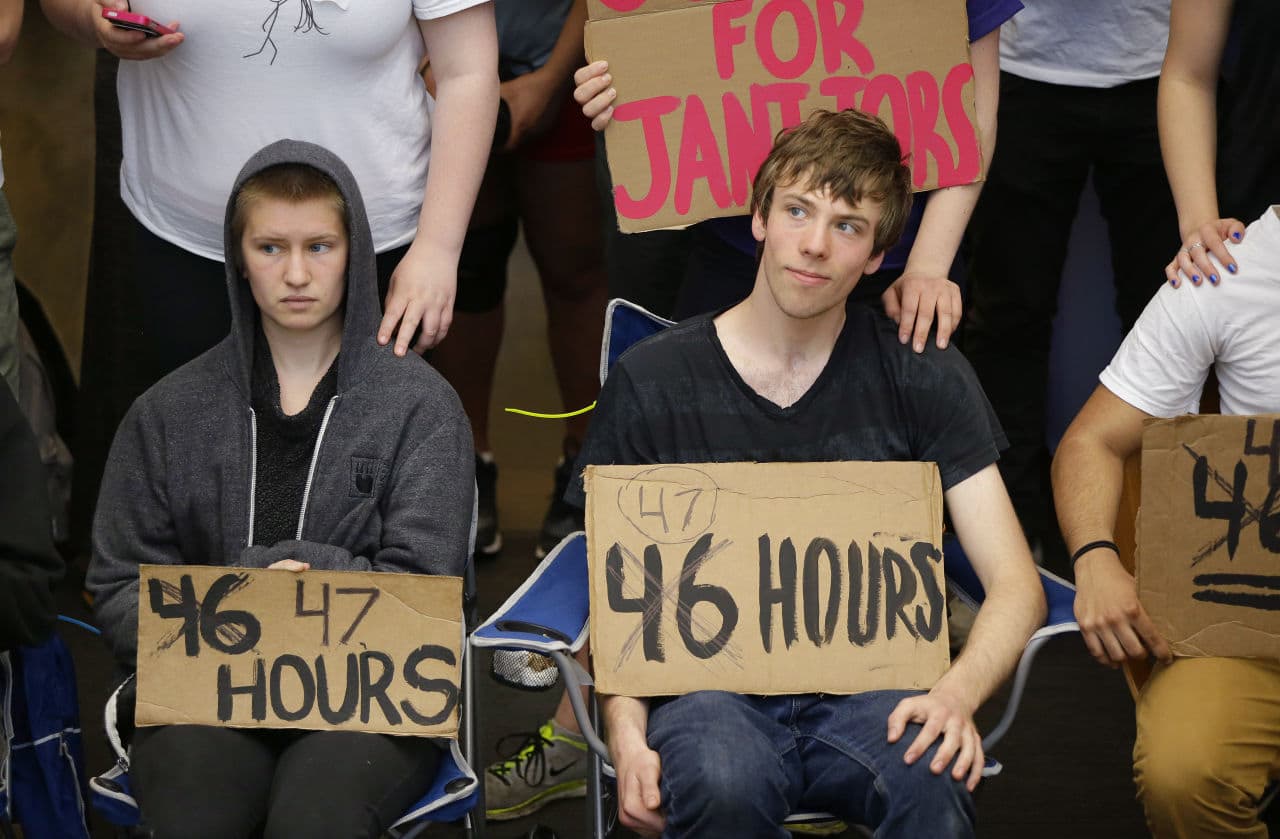 According to a Tufts spokeswoman, the company with which the university contracts for janitorial services, DTZ, is cutting 20 or fewer positions at Tufts. The union representing the workers, SEIU Local 32BJ, says DTZ plans to cut 35 workers.
Tufts projects that laying off the janitors will enable it spend $900,000 a year on other priorities.
"On faculty, on financial aid, on various kinds of academic support services," Tufts Executive Vice President Patricia Campbell said in a telephone interview.
Campbell says Tufts discovered it spends more per square foot on cleaning than other universities, and asked its contractor to redeploy custodial staff more effectively. Tufts did not provide its data on how much it and other universities are paying.
But WBUR did obtain maintenance contracts for Tufts, Harvard, MIT, Boston College and Boston University. They show that Tufts is already paying its janitors a starting salary at the low end. Tufts janitors start at $18/hour, more than the $16 paid by BC, but less than Harvard at $20, MIT at $21, and BU at $22.
With the exception of BC, Tufts already employs fewer janitors than the other universities, at about 200 janitors. BC employs 159 custodians, while MIT has more than 400, BU has 700, and Harvard has 800.
The Service Employees International Union says the other universities also offer health insurance and retirement benefits for both full-time and part-time employees, while Tufts covers only full-time employees, and the other schools also have more generous leave and tuition benefits for children of employees.
5/11 Correction: An earlier version of this article incorrectly reported the number of janitors at Boston and Harvard universities. We regret the error.
5/27 Clarification: This post was updated to include the university's estimate of potential job cuts.
This article was originally published on May 08, 2015.
This segment aired on May 8, 2015. The audio for this segment is not available.