Patriots Fire Back At NFL 'DeflateGate' Report With A Report Of Their Own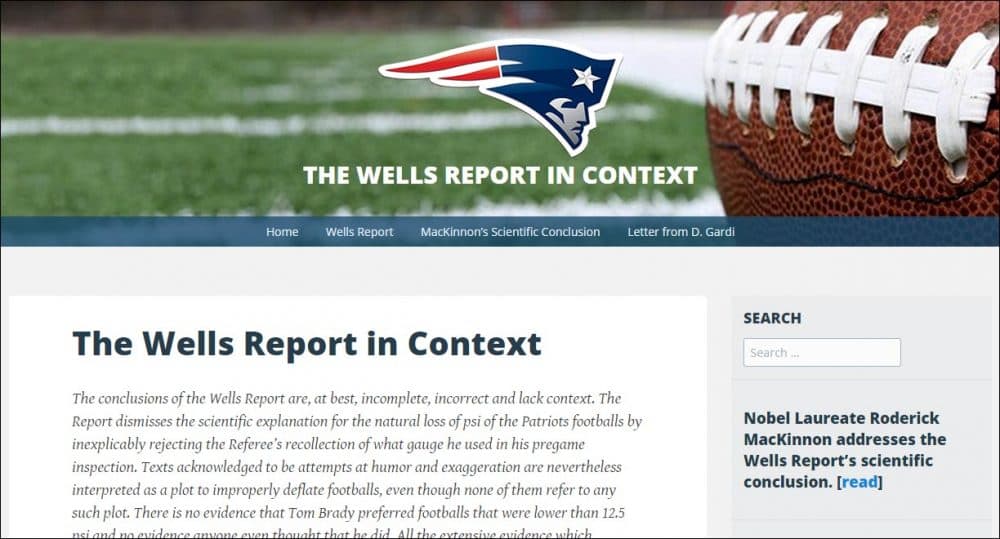 This article is more than 6 years old.
The New England Patriots are firing back at the NFL report that implicated quarterback Tom Brady in the so called "DeflateGate" scandal.
In an extensive report of their own published on wellsreportcontext.com, lawyers for the Patriots rebut the executive summary of the so-called Wells Report line by line, saying the NFL's findings are "at best, incomplete, incorrect and lack context."
They argue the NFL report, conducted by attorney Ted Wells, misinterpreted incriminating text messages and ignored possible scientific explanations for why the Patriots' footballs became underinflated during January's AFC Championship game against the Indianapolis Colts.
The website also includes a "scientific conclusion" for how the balls may have lost air pressure, written by Nobel Prize-winning chemist Roderick MacKinnon. MacKinnon says the NFL report based its scientific analysis on insufficient data.
The NFL investigation, released last week, found that two team equipment staffers likely deflated the footballs and that Brady was "at least generally aware."
The NFL handed Brady a four-game suspension as punishment, and fined the Patriots $1 million and took away two draft picks.
The organization has defended Brady and the quarterback, who led his team to a Super Bowl win in February, is expected to appeal the suspension before Thursday's 5 p.m. deadline.