Commentary: JibJab Jeb — Is Bush Turning Into A Cartoon Character?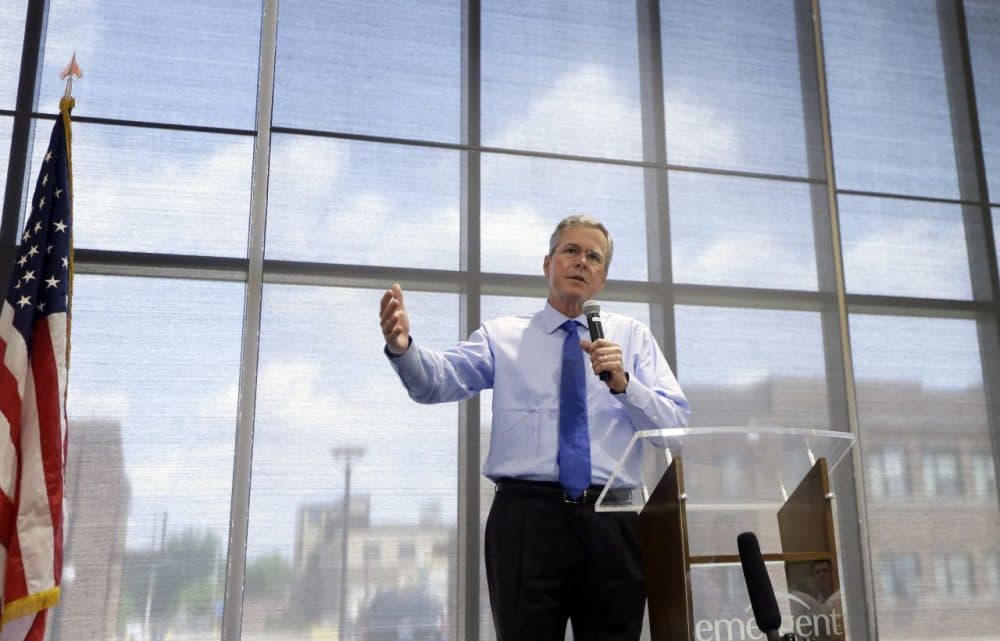 This article is more than 5 years old.
As you probably know, JibJab is a fun website where you can put the faces of your family and friends into hilarious animation. You then see them dancing and singing to hits like Pharrell Williams' song, "Happy."
JibJab first caught fire because of an animation parody of President George W. Bush and his challenger, Sen. John Kerry. If you're feeling nostalgic about 2004, you might view it again.
A new Bush is now running for president, unofficially. And while Jeb was reputed to be smarter and savvier than his brother, he is at risk of becoming a caricature himself.
He started out as more than a frontrunner; many considered him almost inevitable for the GOP nomination. But recent polls show he's been slipping. He's tied with four other candidates at 10 percent: Florida Sen. Marco Rubio, Wisconsin Gov. Scott Walker, former Arkansas Gov. Mike Huckabee and first-time candidate Dr. Ben Carson.
Most political candidates can be easily parodied, but some bring it on themselves. The latest example of that is Hillary Clinton putting on a southern accent in addressing a southern audience. She's done that before, so it reinforces the perception that she tries to be all things to all people, however phony that may seem.
Jeb Bush risks becoming a caricature of himself — "JibJab Jeb" — for several reasons:
W The Second. His repeated fumbling about Iraq — whether he would have invaded if he'd known what we know now — shows he is reluctant to distance himself from his brother's policies, which makes it easy for critics to depict him as "W the Second." Most Republicans want a nominee who can promise new policies in contrast to Clinton.
Money Man. Republican strategists believe Clinton can be defeated because a majority of voters in polls say she isn't honest or trustworthy. As Michael Gerson wrote in The Washington Post, "In the five weeks since Clinton announced her candidacy, she has had a normal politician's lifetime quota of scandals." And most of her scandals have to do with special interest contributions, many of them from foreign governments and businesses. Jeb is the Big Money candidate in the Republican field. His strategy hinges on the premise that money is more important than message; that advertising can offset negative news coverage and conservative grassroots opposition.
Out Of Touch. The Clinton campaign has been keeping the media at a distance because: a) she doesn't have good answers for the myriad questions raised by investigative journalists, like David Sirota of the International Business Times asking "about the nexus of arms sales and Clinton Foundation donors" during her tenure as secretary of state; and b) the campaign wants to stage events where she's supposedly listening to "everyday Americans" who happen to be supporters handpicked by the campaign. They even announced a contest giving "everyday Americans" a chance to win an opportunity to chat with Hillary.
While Jeb has been accessible in campaigning, taking questions from "regular folks" and irregular folks known as reporters, he too is widely seen as one of the elite, less in touch with those struggling. This issue rose again recently when it was reported he'd be paying $600,000 to build a vacation home (a "cabin" according to planning documents) in Maine on "a 1.3 acre site assessed by the town at $1.4 million… initiated for him by his mother and father." There's nothing wrong with that, but as noted by The Boston Globe, "his opponents are emphasizing his last name — and the old-money New England clan that helped build the Republican Party establishment — as a way to highlight a brand that has fallen out of favor with the newly empowered, anti-elite activists."
Straddling. Bush has to worry about other candidates seizing his turf as an establishment moderate. Former New York Gov. George Pataki and Ohio Gov. John Kasich could give him a run for his money. Bush is trying to sharpen his contrast with opponents, arguing that the GOP nominee should be "hopeful and optimistic, instead of grumpy and kind of reactionary." But if Jeb is jabbing, he's going to be vulnerable to charges of flip-flopping if he continues to redefine his views on immigration and Common Core standards in education. Bush doesn't want to be seen as so mushy on issues that he is seen as many saw his father who famously read to an audience a campaign cue card saying "Message: I care" instead of expressing that sentiment in his own words.
Politicians are going to be parodied, and sometimes it is appearance or body language that is mocked — like Jeb Bush having certain gestures and posture that remind one of George W. Bush. Candidates can't do anything about that. But Jeb can do something about the message and meaning of his candidacy. If he doesn't get that right, he'll be the incredible shrinking candidate. And we'll be seeing the best of him on JibJab.
Todd Domke is a Republican political analyst for WBUR.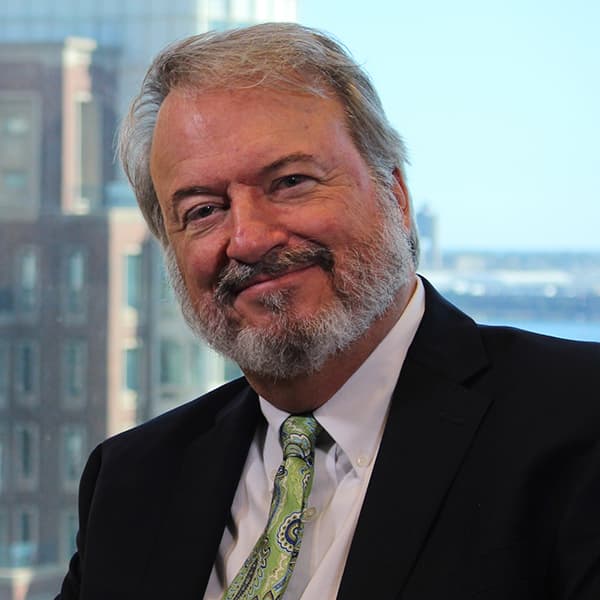 Todd Domke Republican Political Analyst
Todd Domke is a Republican political analyst for WBUR.