Commentary: The People Running The Republicans Who Are Running For President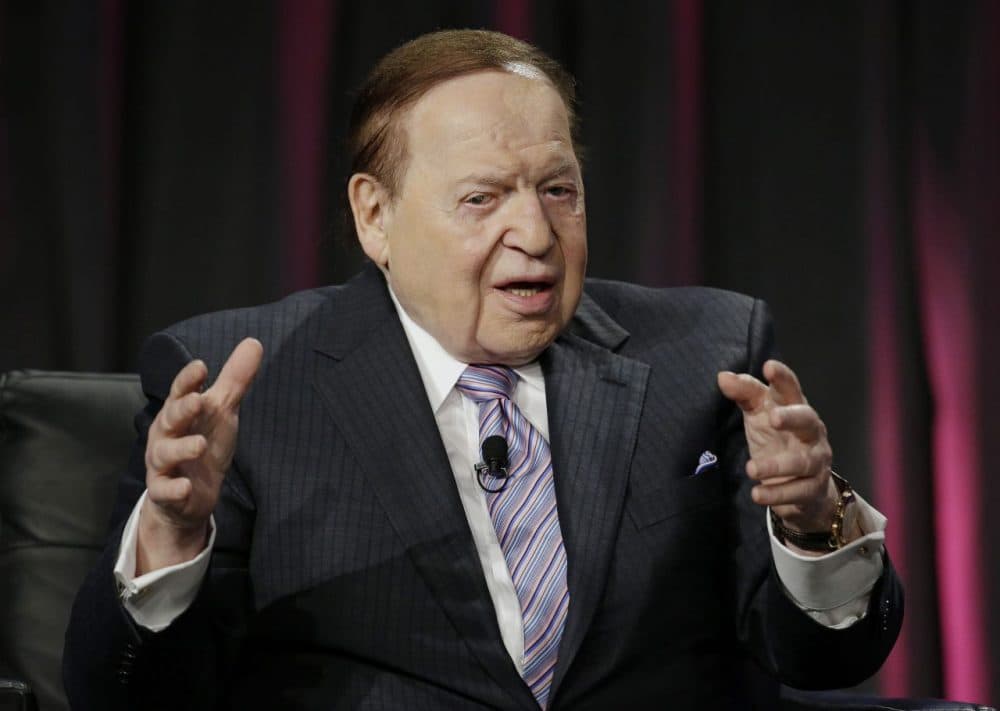 This article is more than 5 years old.
These are the deciders: Sheldon Adelson, Charles and David Koch, Harry Bettis, Mike Murphy, John Menard, Rick Wiley, Ken Langone, Robert Mercer, Foster Friess, Jesse Benton.
They are just some of the major donors to or top operatives for Republican candidates' super PACs, political action committees. These committees can raise and spend unlimited sums of money, thanks to the Supreme Court's Citizens United decision. Campaigns themselves can raise only $2,700 per donor for the primary and $2,700 for the general election. But super PACs have no limits. Together and separately, they will have a significant impact on the 2016 campaign for president in ways we cannot tell. As long as they are not coordinated with a candidate's campaign — a loose definition — super PACs can and do pay for advertising, phone banks, turnout efforts — just about anything.
Mother's milk. If, as was once said, money is the mother's milk of politics, super PACs deliver the milk by tanker truck.
In 2012, super PACs spent over $609 million, according to Open Secrets, which tracks campaign money. Super PACs kept the campaigns of Newt Gingrich, Rick Santorum and Mitt Romney afloat for months. Four years ago, Gingrich and Santorum might have dropped out much sooner, ending their torture of Romney, had it not been for super PAC money and televised debates. At the rate the 2016 campaign is going, combined super PAC spending will easy exceed $1 billion.
This season, super PACs are part of the reason the GOP field is so large. Just about every candidate has a super PAC sugar daddy. Previously you needed a lot of relatively small donors to fund your campaign. Not today.
Five will get you 10. A new Quinnipiac University poll of Republican voters revealed a five-way tie for first place — each had only 10 percent; the list included Jeb Bush, Ben Carson, Mike Huckabee, Marco Rubio and Scott Walker. Let's look at their PACs.
Jeb's Right to Hide. The name of Bush's super PAC is Right to Rise; it's so odd it drew this wisecrack from possible presidential candidate and Ohio Gov. John Kasich: "What's Right to Rise? Getting up in the morning?"
Bush's candidacy may be stuck in neutral, but his fundraising is in overdrive. Right to Rise has not revealed how much it has raised, but senior Republicans said they think it will raise more in just the first quarter of 2015 — nearly $100 million — than any Republican campaign organization ever. Right to Rise does not have to file donor names with the Federal Election Commission. A former staffer to Bush set up the group, which can raise money without disclosing its donors, a loophole that has drawn criticism from groups that track campaign finances.
Politico says: "Watchdog groups want the Justice Department to investigate whether Jeb Bush is improperly coordinating with his Right to Rise super PAC, launched with the goal of giving his campaign an unprecedented financial advantage once he makes it official."
Motown's Ben Carson, the retired pediatric neurosurgeon from Detroit, is backed by the National Draft Ben Carson for President Committee, which has raised $10.6 million, slightly more than the $10.2 million taken in since January 2013 by Ready for Hillary. Federal regulation stipulates that no candidate's name can be in the super PAC title; so Carson's will have to be changed. His super PAC's major givers include San Diego's Caster Family Trust ($50,000), whose family members contributed over $500,000 to Proposition 8, the California anti-gay marriage amendment; Idaho rancher Harry Bettis ($30,000) who gave $95 million to various Republican candidates, and Texas physician Robert Burlingame ($10,000).
Marco Rubio, Adelsons' choice. The senator from Florida seems to have landed a major Republican whale, Sheldon Adelson, the casino baron who, along with his wife, gave more than $92 million to conservative super PACs in 2012. The Rubio Victory Fund shows donations from Adelson and his wife. According to Open Secrets, last fall Adelson's daughter Shelly Adelson and son-in-law Patrick Dumont both donated to Rubio's leadership PAC, which is more limited by law than superPAC contributions. Open Secrets found "just days before Rubio first signaled he would likely run for president, Sheldon and Miriam Adelson each contributed $10,200 to the Rubio Victory Fund."
Scott Walker, Koch Brothers' choice. The Wisconsin governor is currently running another not-officially-ready presidential campaign. The New York Times revealed, "Billionaire brothers Charles and David Koch, the influential conservative donors, have settled on Wisconsin Governor Scott Walker as their top choice to win the 2016 Republican nomination." Two of his former campaign managers have formed a super PAC to support Walker. It's called Unintimidated PAC; Walker's other fundraising arm, Our American Revival political committee — you gotta love the names — can collect unlimited donations like a super PAC, but reports contributions to IRS, not the Federal Election Commission.
Recalling trouble. Previously, in a recall campaign that drew national attention after Walker had stripped public employees of their right to collective bargaining, the governor received money that revealed hidden business contributions. A bipartisan state investigation found that a $700,000 donation given by the Wisconsin Club for Growth had originated with Gogebic Taconite, a mining company trying to weaken mining and environmental laws. Another big donor to the save-Walker campaign was John Menard Jr., considered the wealthiest man in Wisconsin. Menard gave $1.5 million to the Wisconsin Club for Growth, after his company received $1.8 million in tax credits from a state economic development office and got help in fighting the state's department of natural resources. Other donors to the coordinated Walker effort include the Koch brothers, Adelson and, ironically, Donald Trump. But the full list of contributors to the stop-recall effort is largely unknown.
Huckabee: "God, Guns, Grits, and Gravy" is the title of the former Arkansas governor's new book. Huckabee claims "I will be funded and fueled not by the billionaires, but by working people across America." The former guitar-strumming host of a Fox News TV program ($500,000 salary) divides the country into two groups: those who take a secular view of the world vs. those with a religion-based approach. (In case you're wondering, you live in the part occupied by "self-aggrandizing, out-of-touch coastal elitists.") Huckabee and his fans live in the other. Besides his Fox salary, he's been a highly paid public speaker, and Politico discovered he "racked up at least $253,000 in private air travel bills." On 14 occasions, Politico said, Huckabee's political action committee has also directly paid for private air travel expenses, reporting $30,000 in disbursements to MDH Group (his initials) for charter travel to "PAC events" and a dozen additional outlays to chartered air travel companies. In March, a Huckabee-supporting Pursuing America's Greatness filed with the Federal Election Commission. On its Facebook page, the group notes Huckabee has called for abolishing both the IRS and federal income tax, and he brags that he's the only candidate licensed to carry a concealed weapon. This could have a chilling effect on campaign debates.
More to come. In the days ahead, I'll look at the super PACs for the Democrats as well as rest of the GOP field, which the Quinnipiac poll tabulated as follows: Rand Paul 7 percent, Ted Cruz 6 percent, Chris Christie 4 percent, Carly Fiorina and John Kasich 2 percent each. Rick Perry, Lindsay Graham and Bobby Jindal 1 percent apiece. Brand-new candidates Rick Santorum and George Pataki have squadoosh.
Dan Payne is a Democratic analyst for WBUR and a contributor to The Boston Globe.