What Boston Universities Could Take From Atlanta's Olympics Experience
Resume
Second in a three-part series. Here's Part 1 and Part 3.
ATLANTA — Boston-area universities might want to get their pencils ready, because the experience of Atlanta universities may offer the most direct lesson for Boston from the 1996 Summer Olympics.
When those games came to a close, G. Wayne Clough was taken aback as he walked across the campus of Georgia Institute of Technology.
"Everything was broken!" Clough remembers. "Trees were cut down. The Israelis put steel doors and barricaded themselves inside one of these residence halls. We never expected that. Some of the people who came from these poor, poor countries basically took things with them. You know, these were brand-new residence halls. We knew we had a lot of work to restore them."
This was exactly what Clough had been afraid of — of holding the bag when the games were over. But he had a plan. After all, the civil engineer by training had became Georgia Tech's president just two years before the Olympics. He was there to see the project through.
"The challenge was the time, how much time you had to do it," he recalls. "That's very quick to spend that much money and do it well."
Georgia Tech housed the athlete village, boxing competitions and the aquatics center with the swimming and diving events. Atlanta's Olympics committee gave Georgia Tech $20 million for hosting the athlete village, which housed 16,000 people on campus during the Olympics.
Exactly how to do that was up to the school.
"To anyone thinking about the Olympics in the future, you have to realize this is not a free ride," Clough says. "The Olympics puts up the bare minimum they can put up."
Georgia Tech decided to leverage that $20 million and borrow another $140 million and build modern residence halls.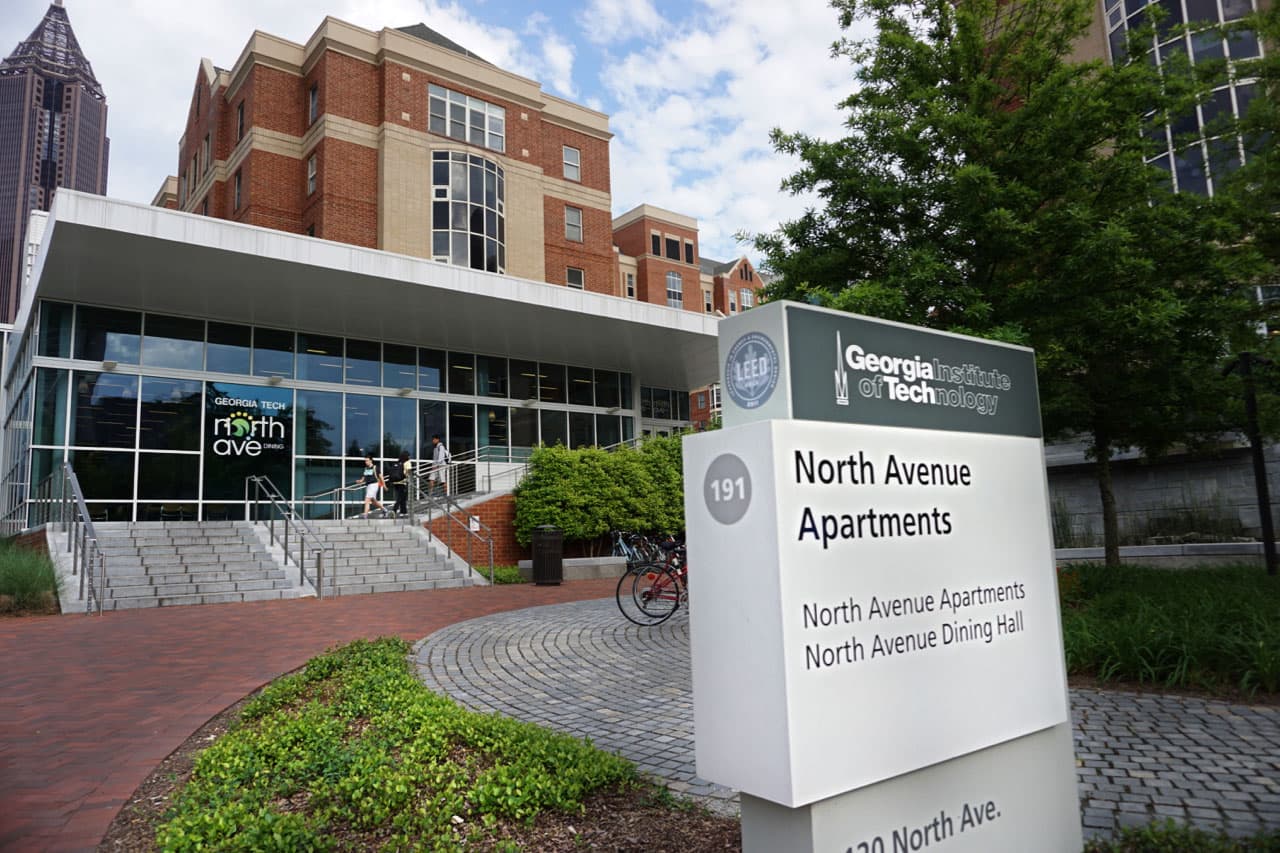 "By putting all this extra money into it, we could build high-quality housing," Clough says of the decision. "We could move to the point where Georgia Tech could go from housing about 60 percent of its students to housing 85 percent of its students on campus. And so that proved to be a plus for us."
Creating Venues That Work Long Term
The aquatics center was harder to turn into a plus.
"It was outdoors, with a roof structure over the top," says campus recreation director Mike Edwards. "It was the world's largest carport."
During the 1996 games, Edwards managed the venue. He said the Olympics gave Georgia Tech $20 million to build the aquatics center. But Olympic swimming is an outdoor event. Collegiate swimming takes place during the winter, indoors. Edwards says as it was, the venue wasn't going to work long term.
"We didn't know exactly what it was we were going to do," Edwards admits. "We knew we were going to expand recreation and athletic facilities. How we were going to do it, we weren't exactly sure at the time."
After the Olympics were over, Georgia Tech raised an additional $45 million to expand the aquatics center into a campus recreation center designed to serve the growing on-campus population. Thousands of bleacher seats on one side were removed to close the facility to the elements. Then engineers built another level below the roof, but above the entire swimming and diving facility.
"Six basketball courts, three dance studios, an inline skating rink and an elevated four-lane running track with one of the best views in town," Edwards says, showing off the venue.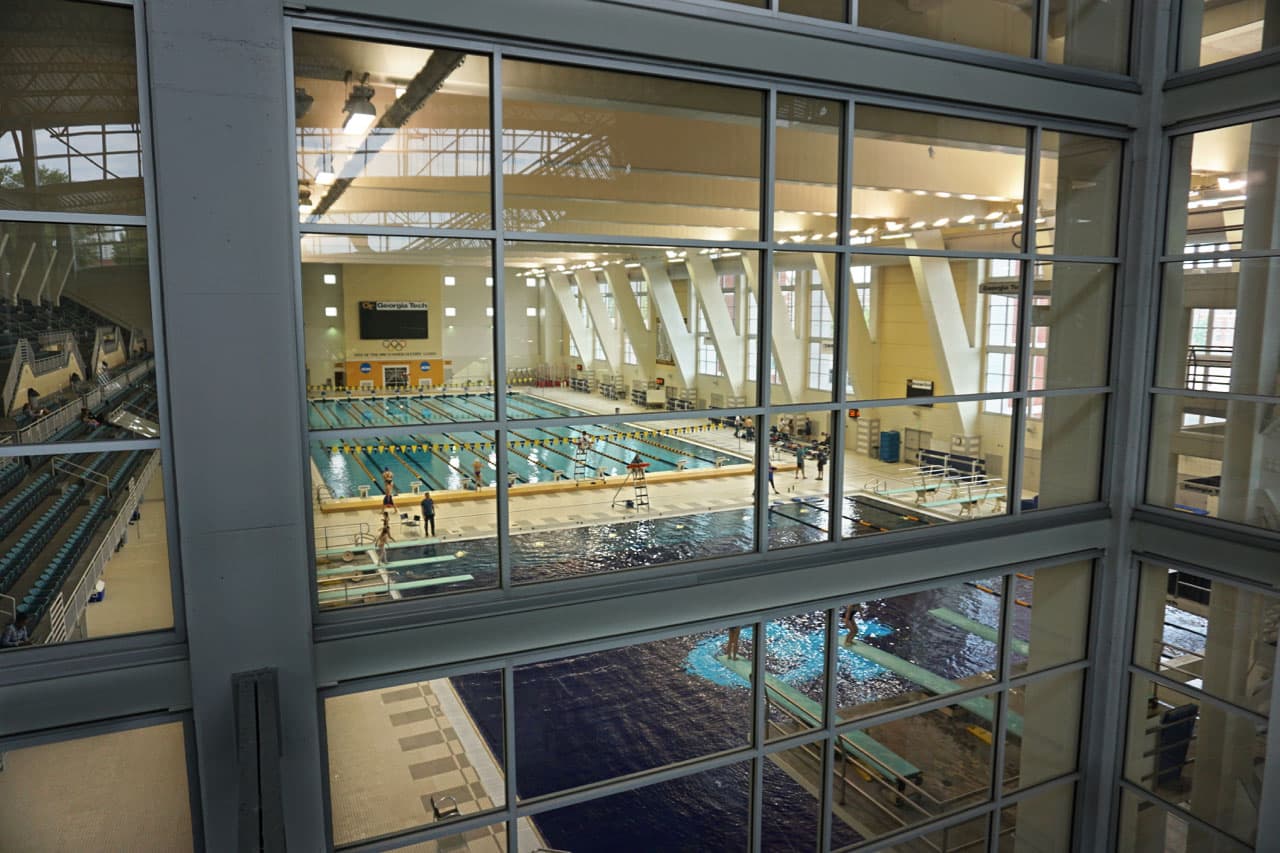 The facility has held field intramural basketball competitions at the same time as NCAA swimming championships. When not in use by Georgia Tech student and athletic programs, local Atlanta sports clubs rent out the pools and diving platforms.
"If you put all of those things together and look at the return on our investment, I believe we got a pretty good return," Edwards says.
Other Atlanta universities took part in the Olympics, too. Morehouse College held basketball games. Clark Atlanta University and Morris Brown College held field hockey matches. But there was one other Atlanta college that came away with a lasting legacy from the '96 games.
"The Olympics had such a dramatic effect on Georgia State," says Tim Crimmins, history professor at the university.
In the early 1990s, GSU was similar to UMass Boston nowadays, which wants to host the athlete village for the 2024 Summer Olympic Games.
Before the Atlanta Olympics, Georgia State, like UMass Boston, was a commuter school. It had no dormitories. So GSU built residence halls that were used during the Olympics. Ever since, the size and quality of Georgia State's student body and academic programs have gone up.
"We've created from that a whole residential core, which supports this dramatic increase," Crimmins says. "It's almost impossible, if you think about it, to go from having a first-time freshman class of 1,200 with the SAT scores that we had, to a freshman class of 3,200 with much higher SAT scores."
'And Then They're Gone'
Over at Georgia Tech, remember that big mess that Clough discovered his campus in after the Olympics were over? He says the big cleanup was beginning just as Atlanta Olympics organizers were disbanding.
"And then they're gone," Clough remembers. "I mean, everybody is gone! You know, it's like, you go from this bustling, big, get-it-done thing, and all of a sudden, there's nobody to answer the phone anymore!"
Clough had prepared for this. He had negotiated with Olympics organizers to make the university whole after the games were over, including replacing those campus trees that were chopped down for security reasons.
"We had trees that had been here for a long time," Clough says. "And we said: 'Well, we want a tree, when it comes back, we don't want it to be one year old.' We actually, that was one way we benefited. We got rid of some trees that we didn't want. We replaced them with better trees."
Georgia Tech didn't get everything it wanted. The International Olympic Committee gave the city of Atlanta the right to call its 21 acres downtown Centennial Olympic Park. But the IOC did not give Georgia Tech any naming rights.
"I mean, we were the village," Clough says. "We hosted two venues. We about killed ourselves to make this thing work. And not to be able to use the word 'Olympics' anywhere was a little bit disappointing. We survived it."
Clough says Georgia Tech came out ahead from the Olympics, with better campus housing and wellness facilities and better relationships with its neighbors. And it used the Olympics to win more global recognition and encourage its students to think more broadly. Still, Clough has cautionary advice for Boston-area universities thinking about the 2024 games.
"The Olympics does not think long term," he says. "And they walk. You've got to think about how you transition this experience for the next hundred years into something that's valuable. And you have to define it yourself."
This segment aired on June 4, 2015.