Boston's Bats Silenced By May; Split DH With Twins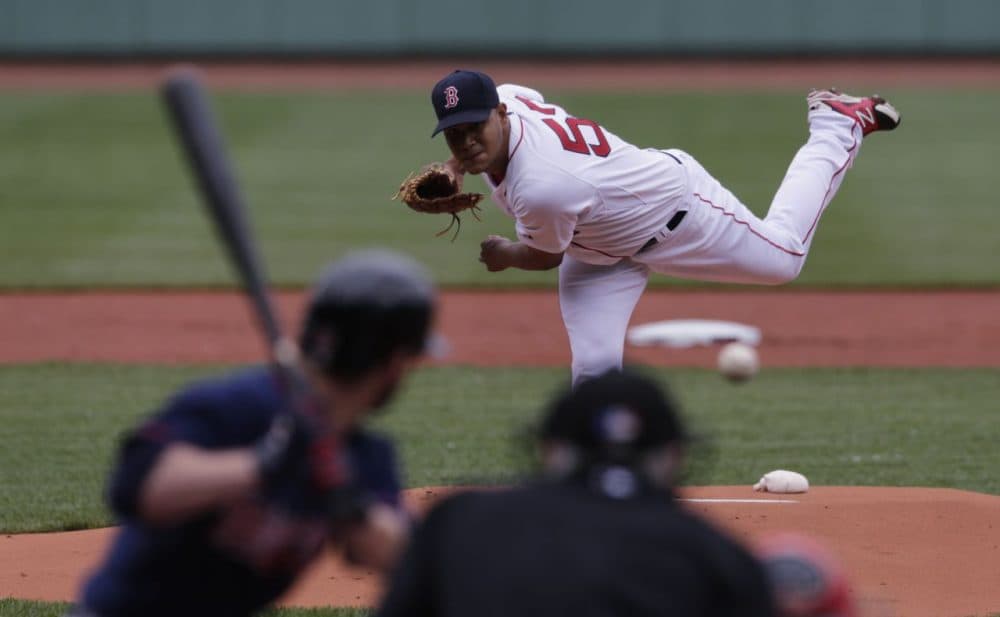 This article is more than 5 years old.
Boston's excitement of a quick offensive outburst in the day game was quickly wiped away in the nightcap by Trevor May.
May held the Red Sox to two hits over seven innings, lifting the Minnesota Twins to a 2-0 victory and a split of the day-night doubleheader.
It was the fifth time in 10 games that Boston's slumbering offense was held to two or fewer runs, and the sixth time it's been shutout this season.
"Very little history with May," Boston manager John Farrell said. "We've got all the video you could want to give us a starting point, nothing beats firsthand experience and at-bats against a certain pitcher, but he was very good. He didn't miss over the middle of the plate and if he did we fouled some pitches off."
Boston's Rick Porcello (4-5) rebounded from two starts in which he gave up 13 runs in 11 1-3 innings, holding the Twins to two runs and five hits with five strikeouts and no walks in eight innings.
The bright spot on the day for Boston was rookie pitcher Eduardo Rodriguez, who was dominant in the opener when allowed one run and two hits in seven innings of a 6-3 win.
But, that was it for the offense.
May (4-3) struck out nine and allowed no walks. He's issued one walk in 26 2-3 innings over his last four starts.
Glen Perkins pitched the ninth for his major league-leading 20th save in as many chances.
Both runs came in the second. Eddie Rosario led off with a single and scored on Chris Herrmann's double. Herrmann took third on a single by Aaron Hicks and scored on a sacrifice bunt by Danny Santana.
In the opener, Rodriguez followed his major league debut with another outstanding performance. He became the first pitcher since at least 1900 to pitch at least seven innings, allow no more than three hits and no more than one run in each of his first two outings.
"He's a pleasure to watch," Farrell said, "a special kid."
Obtained from Baltimore for reliever Andrew Miller at last year's trade deadline, Rodriguez (2-0) made his debut seven days ago in a 5-1 win at Texas that he left after giving up three hits in 7 2-3 shutout innings.
He was surprised last year when the Orioles traded him, he said, "but look at where I am right now. Now I'm going to say thanks to them."
Farrell is thankful to have Rodriguez in Boston's struggling rotation and has no plans to send him back to Boston's Triple-A team in Rhode Island.
"If he goes to Pawtucket," Farrell said with a smile, "it's only on the way to Baltimore" where Boston starts a trip Monday.
Rodriguez allowed a solo homer by Brian Dozier in the third and an infield single by Santana in the sixth. Alexi Ogando gave up a two-run homer to Eduardo Escobar in the ninth.
The opener was a makeup for Monday night's rainout.
The Red Sox scored five runs in 4 1-3 innings against Phil Hughes (4-5). Mike Napoli added a solo homer, his ninth of the season, in the seventh against Michael Tonkin, making it 6-1.
Pedroia had four singles, Xander Bogaerts added three and David Ortiz had two doubles.
CLEANUP MEN
Red Sox President Larry Lucchino and general manager Ben Cherington picked up trash in the stands between games.
TRAINER'S ROOM
Twins: RHP Ricky Nolasco is expected to throw Thursday after leaving Sunday's game against Toronto in the second inning when he felt pain in his right ankle. He is not on the DL.
Red Sox: LHP Brian Johnson, a top prospect, was scratched from his Triple-A start Wednesday to get extra rest. In 10 starts with Pawtucket, he is 6-3 with a 2.60 ERA. "There's a typical approach taken with all starters there where they'll skip a start at some point," Farrell said.
UP NEXT
Red Sox: RHP Steven Wright (2-2) makes his fourth start this season for Boston in place of Justin Masterson, who is on the DL. In his last start, the knuckleballer allowed two homers to Josh Hamilton in a 7-4 loss at Texas.