WBUR Poll: Clinton Has Edge Among Mass. Voters; Gov. Baker Remains Popular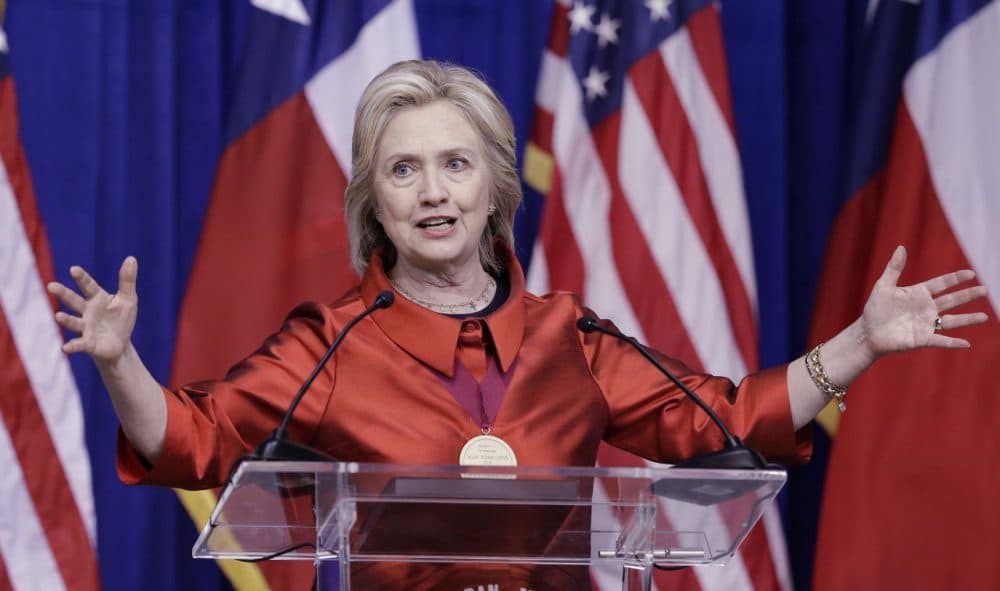 This article is more than 7 years old.
Democratic presidential candidate Hillary Clinton beat Barack Obama in the Massachusetts Democratic primary in 2008, but Massachusetts voters do not have a very high opinion of her currently, a new WBUR statewide poll (topline results, crosstabs) shows.
Of 502 registered Massachusetts voters surveyed late last week, only 48 percent of respondents have a favorable view of Clinton. That's compared to 38 percent of poll respondents who view her unfavorably.
Clinton is least popular among Republicans, as only 24 percent of Republicans view her favorably. But she's also relatively unpopular among the state's largest group of voters, the unenrolled: Only 42 percent of unenrolled voters view her favorably, compared with 43 percent who view her unfavorably. It's only among Democrats that Clinton enjoys a favorable image, with 66 percent of Democrats responding positively.
How voters view Clinton varies greatly depending on their race, the survey found. Only 44 percent of white voters view her favorably, compared with 73 percent of voters of all other races.
Clinton is most popular in the Boston area, with 54 percent of voters in Boston and surrounding cities and towns viewing her favorably. Clinton is in the Boston area Wednesday, attending a fundraiser in Newton.
She is least popular in western and central Massachusetts, where only 43 percent of voters view her favorably.

Still, by a large margin, most Democrats and unenrolled voters who say they are more likely to vote in the Democratic presidential primary than in the Republican primary say they would vote for Clinton (58 percent).
Although U.S. Sen. Elizabeth Warren remains well liked in Massachusetts -- 53 percent of respondents view her favorably -- she comes in a distant second to Clinton, with 16 percent, among voters who say they are more likely to vote in the Democratic presidential primary.
Warren has said she's not running, and 67 percent of poll respondents say they do not expect her to run.
The WBUR live phone survey was conducted by the MassINC Polling Group. Voters were interviewed last Thursday, Friday and Saturday. The poll's margin of error is 4.4 percent.
The poll also finds that Gov. Charlie Baker continues to be highly popular among Massachusetts voters.
Sixty-nine percent of respondents view Baker, a Republican, favorably, compared with just 10 percent who view him unfavorably.
He's most popular among Republicans. Seventy-eight percent of Republicans view Baker favorably. But he's also extremely popular among unenrolled voters, as 72 percent of these voters view him favorably. And even Democrats view him favorably. Sixty-three percent of Democrats have a favorable view of him.
Among women, 64 percent have a favorable view of the governor. But Baker is more popular among men, with a 75 percent favorability.

Among the state's over-60 voters, Baker remains popular with a 76 percent favorable rating. His rating is lowest among the youngest voters, 18-29, though still relatively popular among them at 57 percent favorable.
The poll, as we reported earlier Wednesday, also finds 49 percent of voters opposing Boston hosting the Olympics in 2024, with only 39 percent supporting the idea.
This segment aired on June 10, 2015. The audio for this segment is not available.