Regrets Linger 30 Years After Gay Couple Had Their Foster Children Taken Away
07:12
Play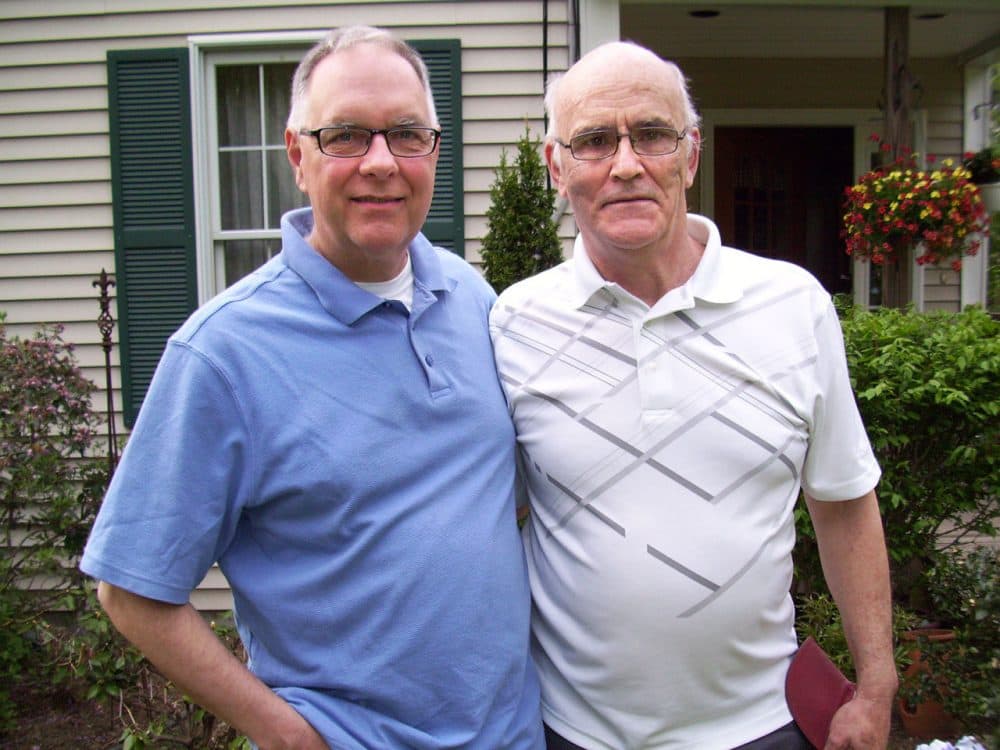 This article is more than 5 years old.
Many view Massachusetts as the catalyst that led to Friday's Supreme Court decision legalizing same-sex marriage in all 50 states.
But the state's trajectory on gay rights issues has not always been upward.
Thirty years ago, an attempt by two gay Boston men to become foster parents ignited a media and political firestorm — leaving regret that still smolders today.
'Daddy Don' And 'Daddy Dave'
Don Babets and David Jean, like others in the gay community, had become urban pioneers, buying a house on Fort Hill in Boston's Roxbury neighborhood. Babets, who worked for the city, had grown up the oldest of five. Jean, who worked for a nonprofit and was music director at his church, grew up as one of six. So it was only natural, after being together for seven years, that they thought about kids of their own. They applied to be foster parents.
"I had no agenda when I went in to do this. I just wanted to be a parent," Jean said. "I wasn't trying to prove anything. I wasn't trying to stir up the pot."
Babets and Jean were not the first gay foster parents; there had quietly been others — there was no policy prohibiting it at the time, the only guideline was the "best interest of the child" — but, by all accounts, Babets and Jean were the first foster parents who were openly gay.
The screening to become a foster parent was rigorous. Babets remembers a lengthy application and home visits with social workers. Character references came from Babets' priest and Jean's pastor.
They were approved. Still, nothing happened for a year, until April 1985.
"They called and said, 'We have two kids and they're 3 years old and one was 18 months old, and would you be open to taking them in?' " recalled Babets.
The boys' mother knew the placement was with a gay couple, and she had no problem with it.
"In those days, we were somewhat practicing Catholics, and we took the kids to church and she had thought that was wonderful 'cause she hadn't been taking them," Babets said.
"I had no agenda when I went in to do this. I just wanted to be a parent."

David Jean
"We did have to buy clothes and buy toys, and that's what I'd do with my lunch hours," Babets remembered of their first days with the boys. "In fact, Woolworths in downtown Boston became the place to find Don Babets."
There was a pet rabbit, outings to the New England Aquarium and potlucks so neighbors could get to know the toddlers.
"I was 'Daddy Don,' and he was 'Daddy Dave,' " Babets said.
After A News Article, Backlash
Soon they slid into the rhythms of everyday life until one evening, about two and a half weeks into the placement, the telephone rang. It was Ken Cooper, a young reporter from The Boston Globe. He had gotten a tip that the first openly gay foster couple had taken in two kids, and he was writing under deadline for the morning paper.
Cooper remembers Babets asking him not to run the story, saying he was afraid the kids would be taken away. Turns out there was reason to worry.
Cooper had already interviewed a prominent lawyer from the neighborhood, Fletcher Wiley.
"I knew Fletcher Wiley lived in Fort Hill — and to try to get reaction from neighbors, and I didn't have a lot of time — I called him up," Cooper said.
Wiley remembered: "Ken called me and said, 'Did you know that the Department of Social Services had given custody of two foster children ... in your neighborhood to two gay guys?' And I said 'What? Are they crazy?' "
That quote, and others, appeared in the morning paper, and the backlash was immediate. That very afternoon, Babets and Jean got the call: Social workers were on their way over to take the boys away.
Babets asked for a moment with them first: "I sat down and I said to the oldest, 'They're going to be taking you to a new home where there's some kids that you will be able to play with ... and he didn't understand, I don't think, what was totally happening. They got into the car — the oldest one — this breaks my heart to think about this 'cause ... the window was partially open and his hands were up against the car window, and he was crying, 'Where are we going? Why are they taking us? Where are we going?' and they pulled away. And that was the last time we saw them."
The next day, supporters rallied around Babets and Jean. Up on Beacon Hill, legislators overwhelmingly took a stand against gay foster parenting. So did editorials in the two major dailies.
Two days after the boys were taken, then-Gov. Michael Dukakis, whose administration had otherwise championed gay rights, called for a written policy. The policy then created a hierarchy for foster placement: Family members topped that list, then straight married couples, and then single people. Going forward, everybody, except relatives, would be asked about their sexual orientation. That's when Babets and Jean took a stand.
"Suing didn't even occur to me and that actually wasn't about having the kids taken. That was about that policy that says, basically, that gay people would not be foster parents," Jean said.
So Babets and Jean did sue. Nearly five years later, that suit was finally settled. Babets and Jean prevailed. Questions about sexual orientation were out.
'Big Regret'
Now, 30 years later, Phil Johnston, Dukakis' head of human services at the time who was named in the suit, says the whole thing was mishandled.
"In my public career, it is my one regret — big regret. I feel that we should have handled that better, and we should have handled that more fairly, and we should have stood up to the people who were demonizing gays and lesbians, and we should have told them to get lost," Johnston said.
Dukakis declined to be interviewed for this story.
Wiley remembers being contacted by Babets and Jean just after being quoted in that original Boston Globe article.
"Back then I was ignorant and prejudiced, I thought gays would be likely to [be] child molesters. I respected their willingness to deal with a bigot like me and help educate me on what it was all about," Wiley said.
As for Babets and Jean, they now live in western Massachusetts in a large house they built at the end of a dirt road. They needed the extra space for the four brothers, all under age 8, that they later adopted.
Standing in his living room, Jean pulls out a certificate. It's from the Massachusetts Legislature, the same body that voted overwhelmingly to support a ban on gay foster parenting in May 1985.
In florid terms, it congratulates Babets and Jean on the occasion of the adoption of their four boys. It's dated May 1995.
"It was 10 years later, almost to the day that this was issued," Jean said. "It is a bit ironic, isn't it?"
After 37 years together and raising four boys of their own to adulthood, Babets and Jean were married last year in Massachusetts.
This article was originally published on June 30, 2015.
This segment aired on June 30, 2015.