'Hard To Imagine': Gay Couple Among 1st Married In Mass. Reflects On How Far Things Have Come
03:25
Play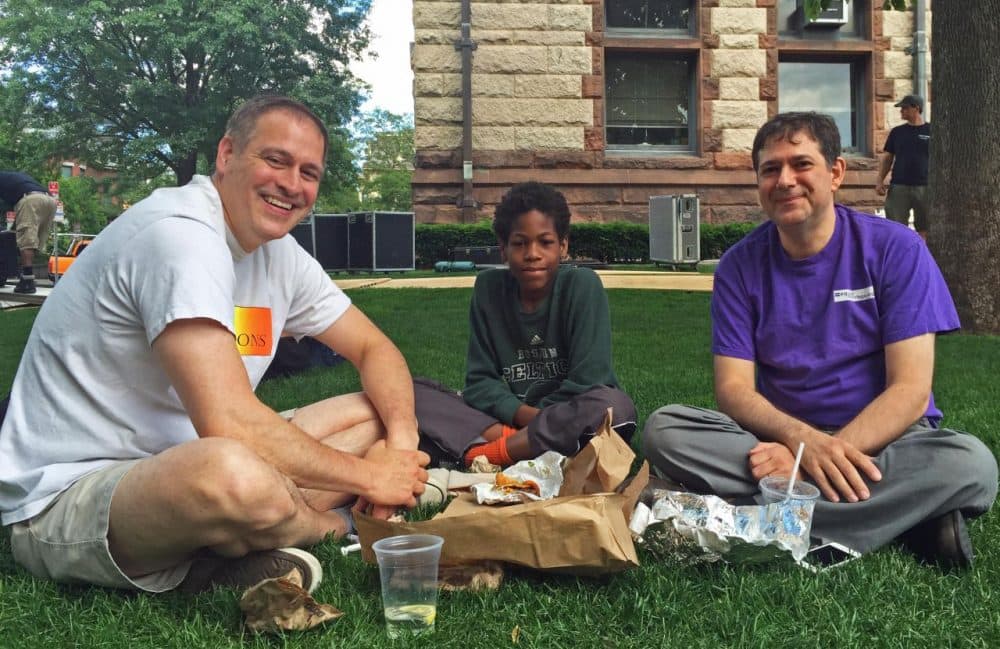 This article is more than 5 years old.
While supporters of gay marriage reveled on the steps of the Supreme Court after Friday's ruling making same-sex marriage legal in all 50 states, many in Massachusetts took the news in stride — like Don Picard and Robert DeBenedictis, a same-sex couple with a special place in history.
'Pretty Hard To Imagine'
With burgers wrappers and napkins spread in front of them, Picard and DeBenedictis shared lunch Friday afternoon in front of Cambridge City Hall. It's a special place for them. After Massachusetts' highest court made same-sex marriage legal, it was here at about 3 a.m. on May 17, 2004, that they applied for a marriage license. DeBenedictis says they were number 82 out of 262 couples applying that night.
"When we walked out, all these people were cheering! And I'm like, 'Are they cheering for us?!' But they were cheering for every single couple that walked out," DeBenedictis recalled. "When you walked out on the steps it was like the steps weren't there. It was like you were floating."
"It was like cheering each couple exiting the building. I had no idea. I was really so unprepared," Picard said. "When we came that night I was thinking: 'Oh, we're just getting paperwork.' But it was so much more than paperwork."
Just a few hours later, as the sun rose, they were wed on the steps of Cambridge City Hall — the first gay male couple to be married here, just minutes after the nation's first legal same-sex marriage between two women.
With them back then was their 23-month-old adopted son James. Now James is munching on French fries with his parents. He just turned 13. Don Picard just shakes his head at how time has changed. Same-sex marriage is no longer predicated on the state you're in.
"It's both amazing that it happened so quickly and yet it took such a long time," Picard said.
After all, these two married men, now 53, were born at a time when few gay people were out, at least publicly. Picard says they went through some pretty tough years.
"You know, the idea that marriage would be legal in my lifetime was pretty hard to imagine," he said.
Same goes for DeBenedictis.
"Back in the late 1990s, some friends and I were trying to wonder if it would happen in our lifetime. Some friends thought it would. Some of us thought it would take 50 years or 40 years," DeBenedictis said. "And it turns out it was less than 20 years. And I'm happy."
A sudden shift like this has happened before. One hundred years ago, in 1915, Cambridge and all of Massachusetts voted 2 to 1 to deny women the right to vote. But just five years later, a constitutional amendment made universal suffrage a reality. It can seem like progress will never come. But the efforts of millions of people can change history in what seems like overnight.
In 2004, hundreds of people cheered these two men after one court in one state gave them the right to marry. Now another court has given that right in all 50 states. This time, there are no crowds cheering on the steps of Cambridge City Hall.
"I think that's great," Picard said. "In some sense, you know, it's, it's like it's another day."
What not that long ago was so novel, now is incredibly normal.
This segment aired on June 26, 2015.