Astros Lose Second Straight, 5-4 To Red Sox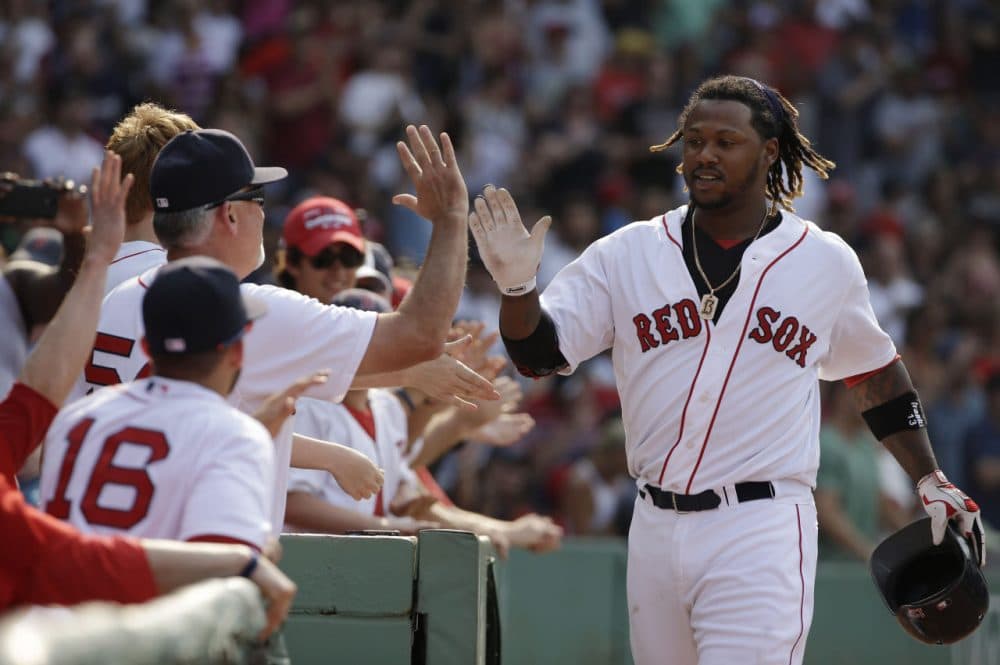 This article is more than 5 years old.
Hanley Ramirez's one-handed, two-run homer put an end to a rough two-day stretch for the Houston Astros.
Ramirez hooked a low pitch from Tony Sipp into the first row of the Green Monster seats to drive in the go-ahead run in the seventh inning in Sunday's 5-4 loss to the Boston Red Sox.
"We didn't finish plays or at-bats really like we normally do," Astros manager A.J. Hinch said. "We had a lot of walks. We gave them a couple extra opportunities, and they took full advantage, and get beat on a front-foot, one-handed home run or a one-arm home run, so it's a tough day."
Jose Altuve extended his hitting streak to 13 games with a single as Houston lost its second in a row after a five-game winning streak.
Trailing 3-1 in the seventh, the Astros went ahead on the back-to-back homers over the Monster off Alexi Ogando. Rookie Carlos Correa's drive went to left-center before Evan Gattis' barely cleared the wall.
Astros starter Lance McCullers gave up one run and seven hits in five innings.
"I don't know for sure, but I feel like something a little mechanically may have been off in my windup," McCullers said, "because I was a little all over the place in my windup, not being able to real consistent with my stuff.
Ryan Hanigan and Pablo Sandoval each had three hits for the Red Sox, who have won three straight series for the first time since their first three this season.
Matt Barnes (3-2) struck out the only batter he faced, and Koji Uehara pitched the ninth for his 19th save in 21 chances. Sipp (2-4) was the loser.
Boston was aided by errors on consecutive plays in taking a 3-1 lead against Will Harris. Ramirez reached on Correa's wild throw from shortstop and scored when Gattis bobbled Sandoval's double into the left-field corner. Hanigan added his second RBI single.
Boston rookie left-hander Eduardo Rodriguez struck out eight over five innings, allowing one run, six hits and two walks. It was the sixth time in eight starts he gave up one run or none.
WHAT A CATCH
CF Jake Marisnick came running full speed from straightaway center before making a jumping catch as he banged into the Monster in left-center, robbing Brock Holt of at least a double with two runners on. He got a standing ovation from the crowd.
PLATE SURPRISE
Houston's Colby Rasmus fouled off a bunt with two strikes for the second out in the ninth.
"It was surprise to anybody," Hinch said. "I didn't call it."