Arlington Police Trying New Approach To Stem Drug Addiction
Play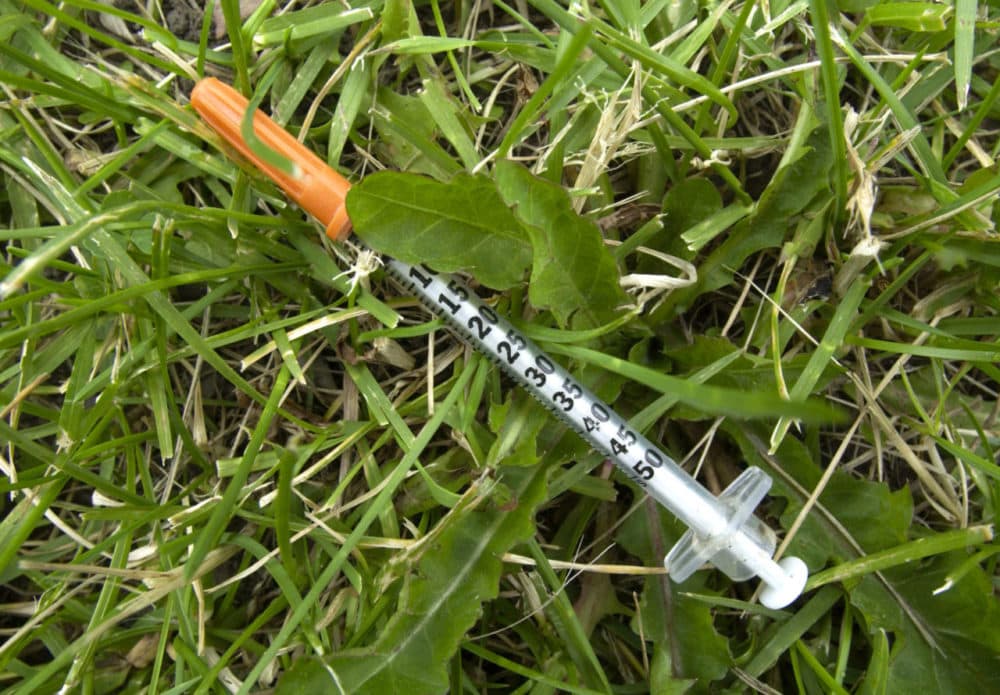 This article is more than 7 years old.
The town of Arlington is trying a new approach aimed at stemming the growing drug addiction problem there.
The Arlington Police Department is working with a public health clinician to reach out to drug addicts, including going door to door. The clinician asks the addict if he or she wants substance abuse help and offers access to the overdose reversal drug Narcan.
The program, known as the Arlington Outreach Initiative, is being funded by a $5,000 grant from the Police Assisted Addiction and Recovery Initiative, which was created by Gloucester Police Chief Leonard Campanello after his department's unique efforts to deal with drug addiction received national attention.
WBUR's Lisa Mullins spoke with Arlington Police Chief Fred Ryan about the program at a busy intersection in Arlington right off Massachusetts Avenue, where Chief Ryan says there was a drug bust late last month.
INTERVIEW HIGHLIGHTS
On the goal of the Arlington Outreach Initiative
"Prior to grant, we did nothing with the identities of the addicts. Frankly, we waited for them to go find a new dealer. The difference now is that we've got the resources to partner up with a substance abuse organization along with our police department clinician to do some outreach with all these people who we know are suffering from addiction. I have a whole list right here in front of me of people who we know are suffering from addiction. We're now going to work with them and their families to ensure their survival."
On what happens when they identify an addict
"Some people tell us to go away, we're not interested in talking ... We'll knock on doors, we'll email, we'll text, we'll phone. We'll do what we have to do to reach these addicts and families to ensure their survival. That's what this is about.
"In one instance, one of the addicts told her [an officer] to go away. So she left her business card and went away. Several days later, he's now reached out to her and asked to be placed in an inpatient addiction and recovery program."
After encountering two Arlington locals — a young addict and an older woman — on the street
"You know, we couldn't have choreographed this any better if we wanted to. One moment we saw a young man who's been charged with and alleged to have been dealing heroin at this very street corner. He admits to being a heroin addict. And moments later, I bumped into a woman, who is known to me on a personal level, who lost a granddaughter to addiction. This is precisely what's facing communities like Arlington."
On police offering social services
"The overwhelming majority of these addicts are going to tell us to go away. The small minority of the addicts who decide to work with us, or like the gentleman who, like earlier this week, reach back out to us when they're ready to go into a recovery program ... I am convinced will result in the saving of lives.
"If anyone wants to talk about police being social workers, our officers and officers throughout this Commonwealth, are providing social services in an informal way every day and have been doing so since the beginning of time. It's abundantly clear that at the conclusion of a criminal investigation that we have information that others don't have. And that is the identity of addicts. As far as I'm concerned, we have an obligation to do everything we can to prevent any of those addicts from a fatal overdose."
On police visiting the homes of addicts
"If they ask us to go away, we'll go away.
"It absolutely is an experiment. It's going to be difficult to measure the absence of a death and difficult to make a determination of whose life we saved, but I'm absolutely convinced that this will result in the saving of human life."
This article was originally published on July 10, 2015.
This segment aired on July 10, 2015.