Commentary: What To Make Of Bernie Sanders — Haven't We Seen This Act Before?
Why are so many people — mostly young people — turning out to hear Bernie Sanders speak?  In Portland, Maine, 7,500 showed up; in Madison, Wisconsin, 10,000; in Council Bluffs, Iowa, 2,500; in Denver, 5,500; in Minneapolis, 3,500. Hillary Clinton drew 5,500 to her speech on Roosevelt Island in New York City, but "Feel the Bern," is the hot new political slogan of 2015.
Here are a few likely reasons behind Sanders' rising popularity:
Being The Unchallenged Challenger
Part of Sanders' appeal is the sheer joy of being against whoever happens to be the front-runner, in this case Clinton. It's not that she's bad on issues that Democrats care about; it's that she seems old-hat, (she's 67, he's 73); she ran before and lost to Barack Obama, and her husband was president in the last century. Backed by every major elected Democrat, she is the Establishment.
Hillary's Helping
Clinton advisers are finally admitting Sanders has made gains, as they try to lower expectations. In May, she led Sanders in Iowa 60 percent to 15; last week, the same poll showed her up 52-33 percent. She lost the Iowa caucuses in 2008 and could lose them again in 2016. Her campaign has been timid, plodding and evasive. The national press is irked, because she hasn't been willing to take their questions, particularly about her private emails, her family's foundation, Benghazi and current events. In fact, the press acts as though she is already president and should answer their questions on just about anything. (However, roping off the press as she marched in a Fourth of July parade in New Hampshire was a dumb idea.)
His Socialist Goals Go Unchallenged
These days Sanders, a self-described socialist, says he's for free college, debt forgiveness for student loans, ending income inequality, halting "perpetual war" in the Middle East, spending $1 trillion in public works to create jobs, doubling the minimum wage, inter alia. Is it any wonder he's a big hit on campuses? Asked on CNBC if he thought that 90 percent was too high a tax rate on top earners, he said, "No. What I think is obscene ... [is] when you have the top one-tenth of one percent owning as much as the bottom 90."
No One's Asking 'What's That Gonna Cost?'
As long as nobody tallies the costs, all of his goals are laudable, even if they are politically impossible given Republican dominance of Congress. At this point, he hasn't been routinely attacked by Fox News, the Wall Street Journal, Rush Limbaugh, Matt Drudge or Bill Kristol's Weekly Standard. They like how he's hurting Clinton and prefer reporting on his gains in polling in Iowa and New Hampshire.
It's A Liberal Playing Field
Another factor in Sanders' favor is that the Democratic Party has become more socially and economically liberal; shifting left by 17 points since 2001, according to a Gallup poll in May. Forty-seven percent of Democrats and Democratic-leaning independents now called themselves both socially liberal and economically moderate or liberal. It was 39 percent in 2008.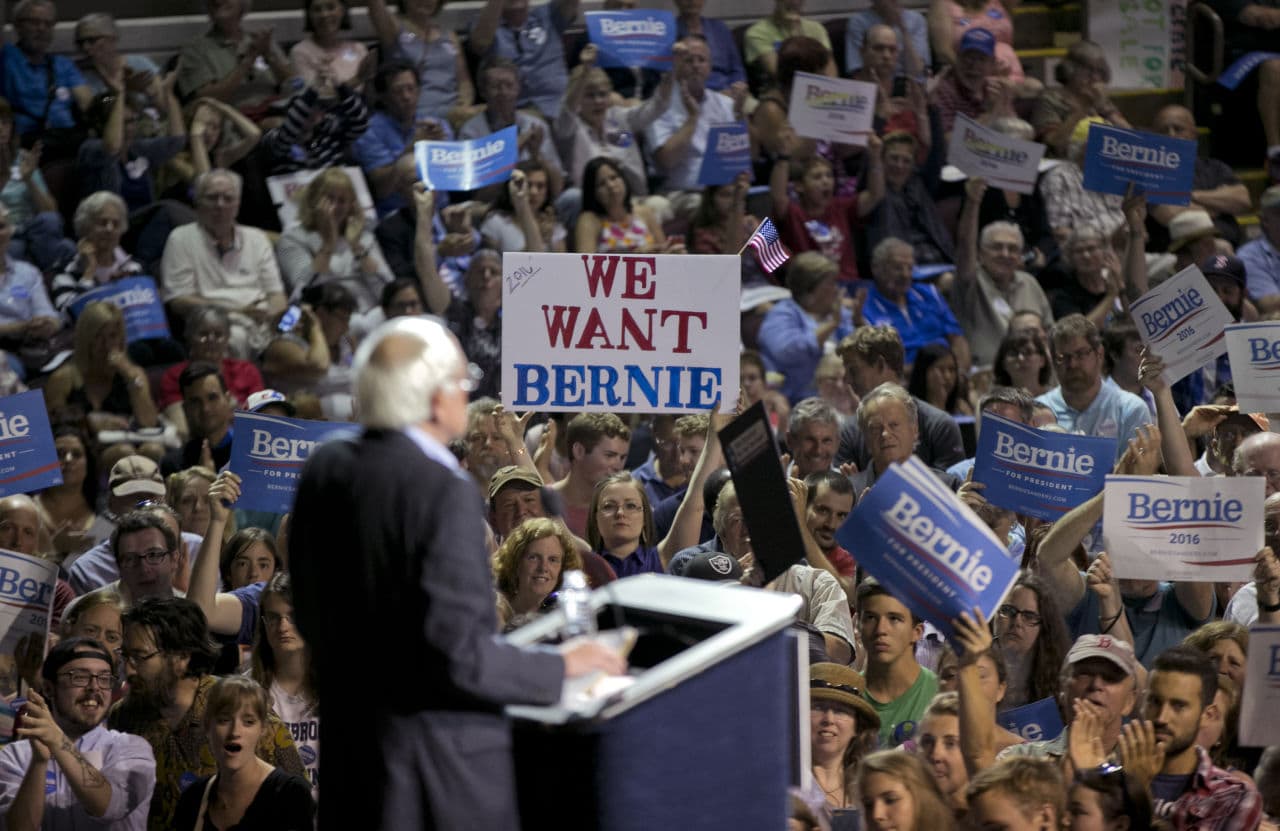 There's A Socialist In All Of Us
Scratch a Democratic activist and you'll find some support for socialist ideals, such as single-payer (government-paid) health care; taxation that forces millionaires to pay much higher taxes; an end to Wall Street maneuvers that enrich the few; stopping racism by police; free college and day care; an end to homelessness; major support for renewable energy and mass transit; public schools that are funded like private schools; a halt to overseas military adventures; and radical cuts in the Pentagon budget.
He's Soft On Guns
His position on guns is squishy, the result, he says, of his being a U.S. senator from Vermont — a hunting state. He opposed the Brady Act, supporting a GOP measure exempting the weapons industry from lawsuits when their products are used for criminal purposes. But he says he is for background checks and a ban on assault weapons.
And Channeling Leftists
As he gains, Sanders is channeling Howard Dean, Ralph Nader, Dennis Kucinich, Jesse Jackson, Jerry Brown (original recipe), Eugene McCarthy and George McGovern. McGovern actually captured the Democratic nomination 43 years ago only to lose every state in the union save one (and you know which one that was). The other candidates fell by the wayside or if they continued, as Nader did, wound up costing the nominee the presidency. Nader siphoned off just enough likely Democratic votes in Florida to throw the outcome to the Supreme Court, which handed the White House to George W. Bush in 2000.
Sanders Will Likely Be Hot Until Debates
How long will Bernie Sanders be a hot property? Perhaps until a few televised debates are held. Right now, all we see on national news is Sanders in front of huge crowds excoriating the rich and powerful. Everyone, including Sanders, looks like they're having a ball. He is effectively the sole alternative to Hillary Clinton; he's shut out an otherwise serious candidate, former Maryland Gov. Martin O'Malley. Former Rhode Island Gov. and U.S. Sen. Lincoln Chafee and former U.S. Sen. Jim Webb of Virginia are mere footnotes. In debates, that Bernie vs. Hillary dynamic could change.
But, A Socialist In The White House? There will come a day when TIME magazine asks, "Is America ready to elect a socialist president?" Living in Massachusetts, you might say it's conceivable, even with a Republican governor. But voters have put Republicans in governors' offices in 31 states and given the GOP a solid 58-seat majority in the U.S. House and eight-vote control of the U.S. Senate. I, for one, am not anxious for a replay of the George McGovern calamity.
Dan Payne is a Democratic political analyst for WBUR and a contributor to the Boston Globe.