Why A Plymouth Native Saved His Town's Historic Summer Stock Stage
Play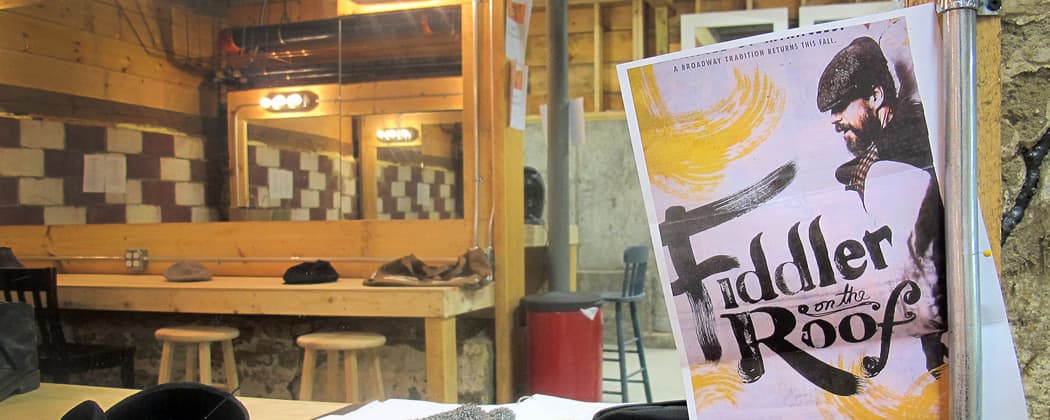 This article is more than 7 years old.
Summer stock theater — with musicals like "Damn Yankees" and "Fiddler on the Roof" — has been drawing vacationers and locals to tents and barns since the early 1900s.
Some say it's a dying form of entertainment, but one 77-year-old venue in Plymouth is celebrating a rebirth this weekend thanks to a local businessman who decided to save the historic barn at the Priscilla Beach Theatre from ruin.
'It Was Contagious'
Wearing a black, Priscilla Beach Theatre golf shirt, 52-year-old Bob Malone points up to the barn's balcony and goes back in time.
"As a kid they actually allowed us free roam over the theater, so we'd actually go up there and we'd watch the shows, and we could see what was going on on the stage," he says, adding, it was "super cool."

Dozens of actors' names are written on the rustic structure's interior walls. Malone's signature is there too, from 1977.
"I lived right down the street, and I used to come here when I was 13 and I'd just hang around," he recalls, "and I'd park cars and clean the theater. I'd do whatever they wanted me to do just to be in the environment. It was all these college kids at the top of their game — doing what they loved to do. It was contagious."
And it left an indelible imprint on Malone. He grew to love the summer theater and historic barn.
A Historic Theater Falls Into Disrepair

Originally it was part of a working farm in the 1800s. Then in 1937 a man named Franklin Trask bought the property and converted it and the rustic barn into a rigorous training ground for young actors with a 240-seat theater. Malone says many went on to forge careers in Hollywood and on Broadway.
"Paul Newman, Dan Blocker, Gene Sebert, Pat Carroll," he says. "It's a long list of people that really got their start right here at Priscilla Beach Theatre."
Also a young Rob Reiner before he starred as Meathead in "All in the Family" and directed films including "The Princess Bride."
In 1962, Geronimo Sands purchased the theater. The dyed-in-the-wool theater man lived on the property and ran Priscilla Beach's programming for 50 years. But over time the beloved barn that played host to countless rehearsals and performances each summer started to fall apart. Twelve years ago, the town of Plymouth condemned the barn, according to Malone, so Sands had to use other, smaller buildings to stage plays and run workshops for children and teens.

The company didn't make enough money to rebuild the dilapidated structure, and developers starting making offers to buy the property from Sands when he faced foreclosure — but he calls that a fate worse than death.
"We don't need any more condos, but certainly we do need good theater — for everyone," Sands says. "Theater — to imitate each other, and sit there, and be new again, you know — it's like a baptism, live theater."
Speaking from New York the 74-year-old remembers the helpful little boy who went to the store for him and cleaned the theater after the shows.
"Bobby Malone! He was so sincere in his young vision, and he loved the theater. I said, 'You get rich, and then buy the theater from me when it's time,' " Sands recalls. "Well, guess what happened? He did."
In 2013, Malone bought the theater with money he's made as CEO of the Boston technology company LeapFrog Systems. He and his wife live around the corner and paid millions to transform the ruined barn into a state-of-the-art but still rustic-looking venue that debuts this weekend.

The First Production
The first production is being directed by another Priscilla Beach alum, Ron Fassler.
"I drove away after my full three summers here in 1976, and I did not return back here until Bob invited me," he says. He thought he'd never come back. "And I showed up last summer just before the renovations on the barn started. I walked onto this stage … and the memories … I burst into tears."
Fassler has been doing TV, film and stage acting since he came out of Priscilla Beach. Back in the '70s here Fassler actually cast Malone for a small part in "Fiddler on the Roof."
"It's such a tradition that we're carrying on — and that's another reason why I chose 'Fiddler on the Roof' to inaugurate the barn after being dark for nearly a dozen years because that is what this show is about — the keeping of tradition, the breaking of tradition and the endurance of traditions," Fassler says.

Michael Bernardi is in from LA to sing the part of Tevye. His late father Herschel Bernardi played the role on Broadway, so the musical has always been mythical to him. He says bringing this historic venue back to life is heartening for a self-described jaded Hollywood actor like himself.
"You see a lot of the arts getting cut," he says, "and to actually see a generous effort to rebuild something that represents community. That it's not always about the next thing, the new thing, that's actually looking back and going, 'Hey, what do we remember that was beautiful?' "
During a brief run-through Bernardi's arms rise into the air as he sings that iconic song, "If I Were a Rich Man," as Fassler and Malone look on.
Producer Malone looks forward to helping more young people learn the lessons that come with making theater, including the value of teamwork, which he says boosted his own confidence and adaptability.
Twelve-year-old Emma Sundstrom of Duxbury will be in "Fiddler on the Roof." She's been acting in the Priscilla Beach children's workshop for five years.
"It's so crazy how it's been here for so long, and I'm going to be in the first performance after so many years of it not being in use," she says smiling.

When Malone looks at Emma you get the sense he sees his 13-year-old self — and the future.
But he knows running a summer theater will not be easy.
"It is literally the worst financial decision I'll ever make in my life," he admits, "but I know it going into it, right? I'm not doing it for that reason. You know the intangibles that come out is just through-the-roof good and that's the driving force behind it all."
For now Malone just hopes to break even, and he says it's definitely encouraging that most of the "Fiddler on the Roof" shows are already sold out.
"Fiddler on the Roof" is being performed in the Priscilla Beach Theatre's new barn through July 25.