Buchholz Hurt In Red Sox 5-1 Loss To Yankees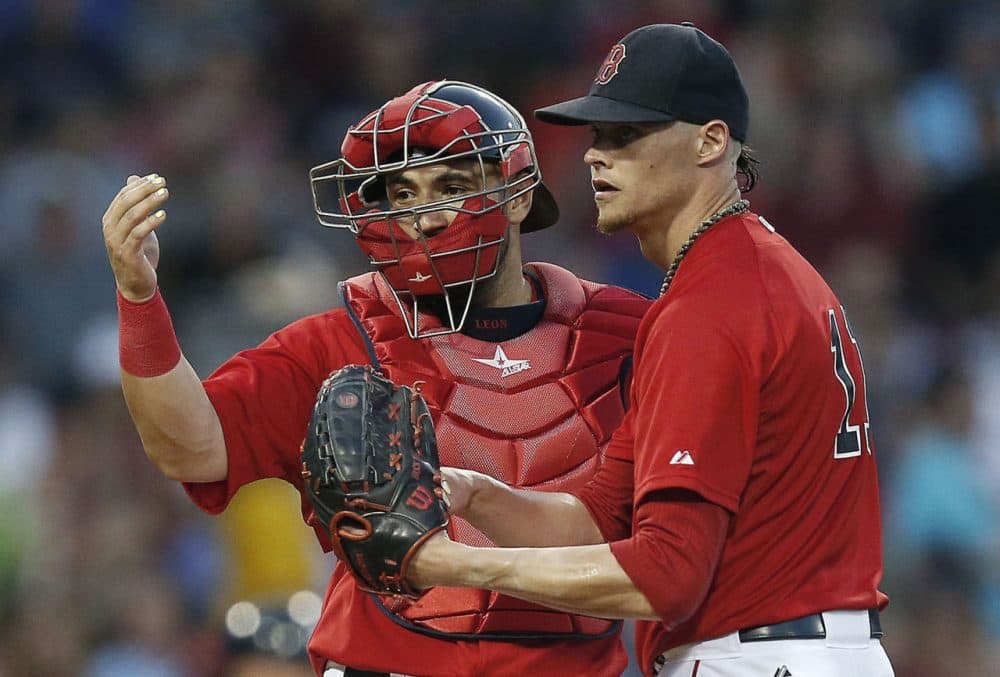 This article is more than 5 years old.
Clay Buchholz's abrupt departure was enough to knock the Boston Red Sox out of rhythm.
After winning a season-high four straight, the Red Sox fell back into their losing ways Friday night as Buchholz left in the fourth inning with right elbow tightness in a 5-1 loss to the New York Yankees.
The extent of Buchholz's injury was not immediately known after he walked off after throwing a cutter clocked at 84 mph to Stephen Drew.
"He didn't feel any one significant effect of a particular pitch, and actually from field level the way he was throwing the baseball, he had good action to all his pitches," Red Sox manager John Farrell said. "He called (catcher) Sandy (Leon) out right after the last pitch he threw and Sandy waved to the dugout."
Buchholz (7-7), who had won his previous four starts to spur Boston's recent turnaround, allowed a first inning solo home run to Alex Rodriguez, his 17th of the season, but held the Yankees scoreless in the second and third innings before New York's three-run fourth.
Robbie Ross Jr. replaced Buchholz with runners at second and third and one out, and the Red Sox quickly imploded. Mike Napoli at first base and Brock Holt at second committed errors, and Ross later walked in a run as New York took a 4-0 lead with three unearned runs.
"Any time you give a couple extra outs, you're asking for some trouble," Farrell said. "A couple balls on the ground we didn't handle, and as a result extended the inning."
The Red Sox, who have been as many as 10 games out and 10 games under .500, had few highlights outside of Mookie Betts' solo homer over the Green Monster in the fifth inning and his diving catch in center to rob Jacoby Ellsbury of a hit to start the game.
Napoli, back at first after being benched for three games, also dropped a foul pop that was ruled no play. He went 1 for 3.
Buchholz had been important in Boston's strong play of late, having won four straight starts with an 0.87 ERA. But he's lost both starts against the Yankees, who have won four straight at Fenway Park.
Back at DH after taking Thursday off, Rodriguez sent Buchholz's 2-1 changeup onto the street over the Green Monster seats in the first, and the Yankees were on to their third straight win and fifth in a row over their rivals.
Rodriguez had two hits and drew a bases-loaded walk in the fourth to raise his average to .279.
Pineda (9-5) gave up only Betts' homer over 6 2-3 innings in his second start at Fenway Park since he was ejected early last year for having pine tar on his neck.
Pineda allowed seven hits, no walks and struck out six. He's won both starts at Fenway Park since he was ejected and suspended 10 games for having a foreign substance on his body.
He quieted a Boston team that entered having won eight of 10 to move within 5 1/2 games of the AL East-leading Yankees.
TRAINER'S ROOM
Yankees: 3B Chase Headley (sore right calf) said he feels well enough to play, but manager Joe Girardi kept him out of the lineup for a third straight day. Girardi said "it's crossed our minds" to sit him through the All-Star break. ... OF Carlos Beltran (left oblique strain) plans to return next week following a minor league rehab stint in Tampa.
Red Sox: 2B Dustin Pedroia (strained left hamstring) ran the bases Friday, but was not activated on his first day eligible to come off the disabled list. While Pedroia said he was "getting better," Farrell hinted Pedroia may remain out through the All-Star break.
REFSNYDER CALLED UP
Girardi confirmed after the game that 2B Rob Refsnyder will be called up and play on Saturday and Sunday when the Red Sox start left-handers Eduardo Rodriguez (4-2, 3.69) and Wade Miley (8-7, 4.50).
The 24-year-old Refsnyder, taken in the fifth round 2012 draft, will replace Drew.
"I'm looking forward to him being up here with us," Drew said.
FAN HURT
A woman about six rows from the field was hit by Didi Gregorius' foul ball in the fifth inning. After being treated for a few minutes, she got up walked up the stands in the holding a towel to her head.
Fans surrounding the fan between the third base dugout and home plate and medical personnel arrived quickly.
Another woman was hospitalized and later released after being hit in the face by a broken bat in a game at Fenway Park last month. Unlike that night, this game continued as the woman was treated.
UP NEXT
Yankees: RHP Ivan Nova (1-2, 2.65 ERA) starts Saturday night.
Red Sox: Rodriguez and Miley start the series' final two games. New York is hitting .242 against lefties, 16 points below its average vs. righties.