A 'Synergy Of Sight And Sound,' Boston Landmarks Orchestra Gives More Than Free Concerts
Performing free concerts, outdoors, in one of Boston's famous public spaces. Creating a chorus of singers from each and every city neighborhood. Collaborating with multiple arts organizations — theater companies, opera companies, charter schools, museums, Boys & Girls Clubs.
That's how you build a community orchestra.
"It's a strategy of participation," says Christopher Wilkins, music director of the Boston Landmarks Orchestra. "We want to be a gathering point for the whole city."
The whole city might not fit there, but on a beautiful Wednesday evening at the Hatch Shell on the Charles River Esplanade, up to 5,000 people have gathered for some of Landmarks Orchestra's free concerts. The series, which opens this Wednesday and continues through Aug. 26, was first created by the orchestra's founder Charles Ansbacher in 2001.
"Charles had this wonderful and noble idea that music can serve as public art, the same way that sculpture does," Wilkins says. "That's why being at the Hatch Shell is important — the synergy of sight and sound."
Ansbacher passed away in 2010, and Wilkins was appointed music director the following spring. After a period of transition, new executive director Jo Frances Meyer was brought on to lead the offstage activities in January.
Meyer brings a strong development background, having served as director of institutional giving at the Boston Symphony, in fundraising capacities at Brigham and Women's Hospital and at the Initiative for a Competitive Inner City. Most recently, she was director of development at Rockport Music, closing out its $20 million capital campaign.
Most arts organizations get a modest percentage of their income from ticket sales; Landmarks gets none. So fundraising, and public awareness, is the orchestra's lifeline.
"We are not a pickup band," Meyer says. "We are not amateur. We have high-level union musicians, and they are paid well. I make no apology for that. And we want to give our orchestra enough rehearsal time to be proud of what they do onstage."
The first thing Meyer says she needs to do is deliver the Landmarks Orchestra's message in a consistent and compelling way.
"We have wonderful people — Jeff Makholm (board chair), Alfred Chandler, Stephen Symchych — who kept the ship together after Charles passed away," she says. "Now we need to build the board to the next level, to find people who are passionate about what we do. We have a great story, and I'm proud to tell it."
The story began with Ansbacher. He spent years in Colorado, leading the Colorado Springs Symphony and helping to build the Pikes Peak Center. He conducted internationally, including stints in Vienna, where he lived in the '90s, and with the Moscow Symphony. He also led many orchestras from countries in political transition, like Azerbaijan, Bosnia, Croatia, Lebanon and, most notably, the Sarajevo Philharmonic. Ansbacher was also a White House fellow, and consulted in many capacities on art and public policy.
He founded the Landmarks Orchestra after moving to Boston in 2000, as a gift to the city he thought of as home. His energy and his vision for the orchestra had no limit.
Not content to simply offer free concerts, Ansbacher commissioned a number of works, especially works for children. Recordings of children's works by Julian Wachner, Nkeiru Okoye, Marian Carlson and Anthony DiLorenzo dot the Landmarks catalog. He collaborated with dozens of organizations, and performed free concerts not only at the Hatch Shell, but outdoors in Quincy, Jamaica Plain, in Franklin Park, on the USS Constitution pier, and the first-ever orchestral concert at Fenway Park.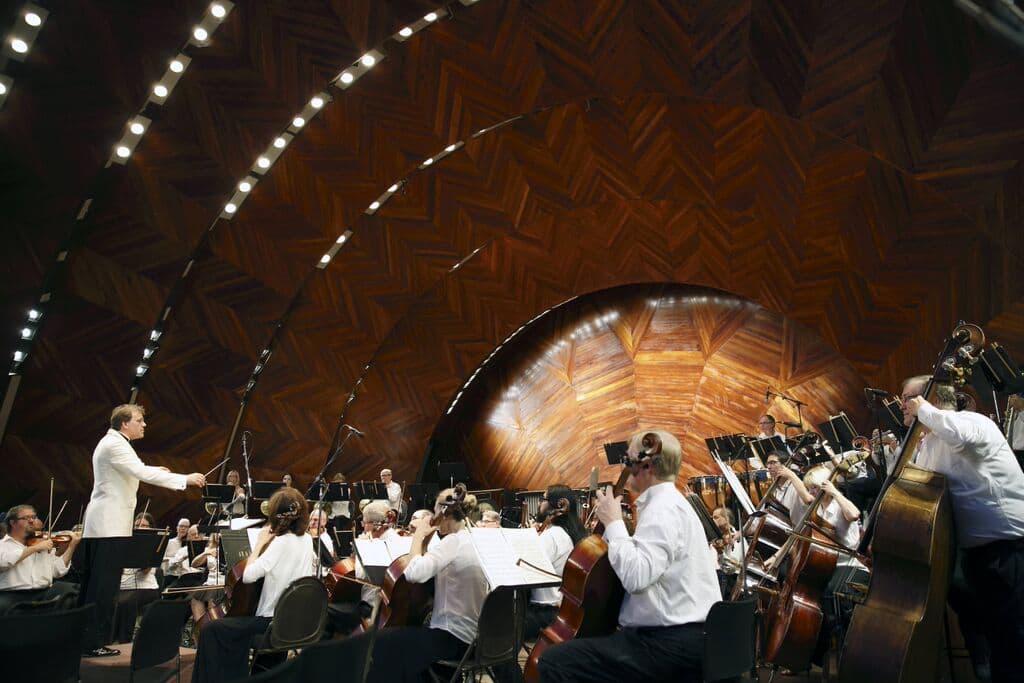 Wilkins has kept that community spirit alive, and extended his performance collaborations to include specialists in interpreting for the deaf and hard of hearing. This summer features a July 22 date with Fiesta Sinfónica, a salsa orchestra, along with the Dudamel Orchestra from the Conservatory Lab Charter School and the folkloric ballet dancers from Bajucol. The Back Bay Chorale and One City Choir join in for opera highlights Aug. 5. Brazilian composer and performer Clarice Assad joins ZUMIX, Grooversity and Camp Harbor View on Aug. 12. The Boys & Girls Clubs and Yawkey Club take the stage Aug. 19. Commonwealth Shakespeare Company performs a fully staged "Midsummer Night's Dream" at the season finale Aug. 26.
You get the idea: Landmarks is nothing if not inclusive.
"We have made the transition from a founder legacy, to a mission driven legacy," Wilkins says. "It's not always that easy. We've made it because of the dedication of the board, and a lot of key people. But mainly because our mission is unusual, and it's clear. We wanted to make terrific symphonic music available to greater Boston, and to create participation."
With the summer season here and concerts about to begin, Wilkins and Meyer can take a break from backstage work and concentrate on the performances.
"Now all we want is satisfaction and excitement with every concert we do this summer," Meyer adds. "I want people to love what we're doing. And of course I want it to be sunny every Wednesday."
The Boston Landmarks Orchestra begins its summer seasons on July 15, with free concerts each Wednesday through Aug. 26 at the Hatch Shell on the Esplanade at 7 p.m. For information and rain dates visit the Boston Landmarks Orchestra's website.
Keith Powers, former music critic at the Boston Herald, now freelances for a number of newspapers and magazines. Follow him on Twitter at @PowersKeith.