With Refreshing Vitality, Sean Baker Sprinkles Sugar On 'Tangerine's' Raucous Misadventures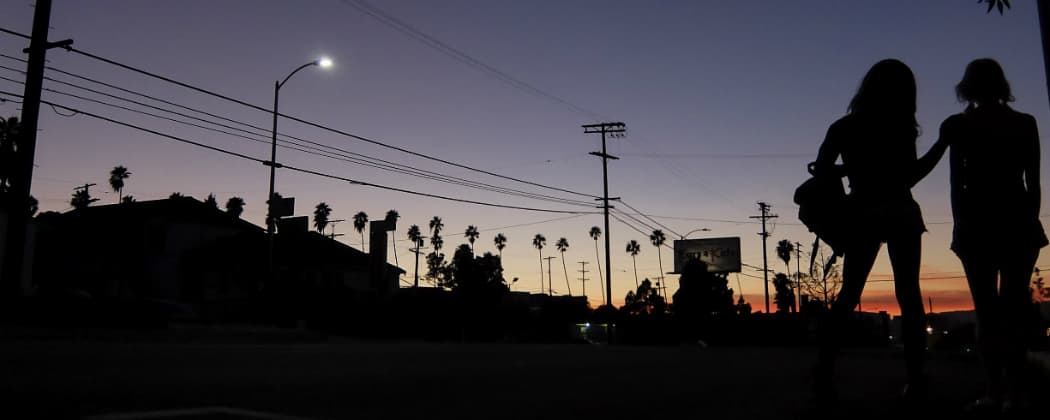 This article is more than 7 years old.
"Merry Christmas Eve, [expletive deleted]" is the first line of dialogue heard in director Sean Baker's "Tangerine," setting the table for this singular film's heady mix of sentiment and vulgarity.
Like nothing else you'll see at the movies this summer — or probably all year, for that matter — "Tangerine" is a lewd, madcap romp tempered with unexpected moments of sweetness and grace. It's a bawdy farce with a heart of gold and I loved it from start to finish.
The holiday greeting is bellowed by Sin-Dee Rella (Kitana Kiki Rodriguez) to her best friend Alexandra (Mya Taylor) as the two share a doughnut, celebrating the former's release after a 28 day stint in jail. (We're never told why Sin-Dee was locked up, but as both she and Alexandra are transgender prostitutes we can probably assume solicitation was involved.) So now Sin-Dee Rella is "back on the block" — the unofficial red-light district in West Hollywood, between Santa Monica Boulevard and Highland Avenue.

Their homecoming party is short-lived however, when Sin-Dee discovers that her pimp/boyfriend Chester (James Ransone) has been stepping out in her absence. Worse, he's been doing so with "a fish" — these gals' slur for biological females. (Adding insult to injury, this particular fish happens to be white.) With a profane squeal, Sin-Dee is instantly off on a rampage, tearing down the block in clattering heels to track down her no good dog of a man and his white fish. Alexandra tags along with a weary resignation, clueing us in that this isn't the first time something like this has happened, nor will it presumably be the last.
Intercut with Sin-Dee and Alexandra's raucous misadventures are much quieter scenes following an Armenian cab driver named Razmik (played by the sad-eyed actor Karren Karigulian, who has appeared in all five of Baker's films.) Offering brief respites from our heroines' shrieking, these interludes feel a bit like a skid row Abbas Kiarostami movie — tiny vignettes of small talk on this boulevard of broken dreams that show more than they tell, as when Razmik picks up an elderly woman emerging from a veterinary clinic, clutching an empty pet carrier.
It's not giving much away to say that Sin-Dee quickly catches her fish, a belligerent crackhead (Mickey O'Hagan) who ends up dragged by the hair into all sorts of unlikely situations. Razmik soon joins up with our crew as well, as let's just say he has his own reasons for working in this particular neighborhood, explicated in a hilarious sequence illustrating the heretofore unexplored erotic properties of a car wash. He's also got a suspicious mother-in-law (Alla Tumanian) who, despite her Old World beliefs, shares Sin-Dee's taste in leopard print blouses. Baker gathers the entire cast for a dizzying screwball climax at that very Donut Time where we began — a place that amusingly enough, seems to be the center of this cockeyed universe.

There's a vitality and a breadth of vision to "Tangerine" that made most of the other movies I saw at Sundance this year look anemic, a feeling of community that sent my spirit soaring. It calls to mind the raggedy energy of the 1980s New York independent film explosion, most notably Spike Lee's debut "She's Gotta Have It" in the way it showcases an underrepresented minority in a no-big-deal fashion, with a good amount of raunchy humor instead of any special pleading or self-importance on the filmmaker's behalf. We're not given the expected tragic backstories for Sin-Dee and Alexandra, nor are we ever encouraged to feel sorry for them because they're broke and turning tricks. People are just people, and these gals simply, defiantly are who they are. We enjoy their company.
Photographed by cinematographer Radium Cheung, astonishingly enough on a few iPhone 5's outfitted with anamorphic lens adaptors and some heavy-duty post-production color processing, "Tangerine" is a gorgeous-looking picture that finds a startling beauty in the often squalorous surroundings.  Taking its title from the citrusy palate, the movie is full of rippling lens flares and shimmering streetlights, while the camera whips around like the characters, always on the move.
Sean Baker is such an exciting filmmaker because he seems free from the solipsistic narcissism that causes so many white guys in their 30s to make dreary, navel-gazing Sundance pictures about the banal relationship problems of white guys in their 30s. His previous "Prince of Broadway" and "Starlet" are movies about the kind of people you don't usually see movies about. That's everything I want from an independent film — to be introduced to folks I wouldn't normally meet, and to see a world outside of my own.

The block in "Tangerine" feels very much alive, it's a real place you've just visited for 87 minutes and now you probably wouldn't mind returning again to this particular Donut Time. But after all the manic verve and side-splitting confrontations, Baker ends on a gesture of extraordinary kindness between Alexandra and Sin-Dee, taking full measure of the moment and allowing us to sit for a bit and consider their deeply moving friendship.
Merry Christmas [expletives deleted], and to all a good night.
"Tangerine" opens Friday at the Kendall Square Cinema.
Over the past 16 years, Sean Burns' reviews, interviews and essays have appeared in Philadelphia Weekly, The Improper Bostonian, Metro, The Boston Herald, Nashville Scene, Time Out New York, Philadelphia City Paper and RogerEbert.com. He stashes them all at splicedpersonality.com.