Adding Jobs In Fall River, A Small Company Turns Old T-Shirts Into Quilts
Play
This article is more than 7 years old.
For Neal Venancio, owner of Precision Sportswear, the North American Free Trade Agreement was a disaster. The cut-and-sew shop in Fall River employed 60 workers when he bought it in 1993, but as his clients sought cheaper services abroad, the number dropped to 20.
In 2012 Precision began doing business with Project Repat, which sells quilts made of old T-shirts. As Project Repat has grown, so has Precision Sportswear. Now Venancio says the company is back to its pre-NAFTA employment level -- employing 60 people in an old mill building here.
"We've been able to expand, hire more employees, and create steady jobs for my employees," Venancio said.
Project Repat's model is simple: Get the tees, cut them into squares, sew them together with fleece backing, and ship them out. What results is a highly personal quilt -- a collage of shirts.
Aleen Weiss, of Providence, ordered one for her daughter who was headed for college, made of concert tees from bands like Santana and The Allman Brothers Band.
"She didn't want to part with any of them, even though some of them didn't fit her anymore," Weiss said. "So this was a way of still remembering all the memories she had of going to the concert, and then again, making it usable for her, and getting them out of my house."
Turning beloved old shirts into quilts is the brainchild of two business school dropouts. Co-owner Ross Lohr describes the genesis.
"I was in Kenya, and I saw a Kenyan guy wearing a T-shirt that said, 'I danced my ass off at Josh's bar mitzvah,' " Lohr said. "So when you're over in a place like Kenya, a lot of times our castaway T-shirts end up over there. I was really interested in this, sort of the T-shirt story of the world. We started making different products out of T-shirts, and trying to bring them back here and sell them. Everyone just kept asking us, they kept saying, 'Well that's great, but what can you do with my T-shirts?' "
Lohr met co-owner Nathan Rothstein at Brandeis University in Waltham. They both left grad school to pursue separate ventures. Finally they landed on the shirts-to-quilts idea, and last year they say they shipped 30,000 of the quilts, which range from $75 to nearly $300.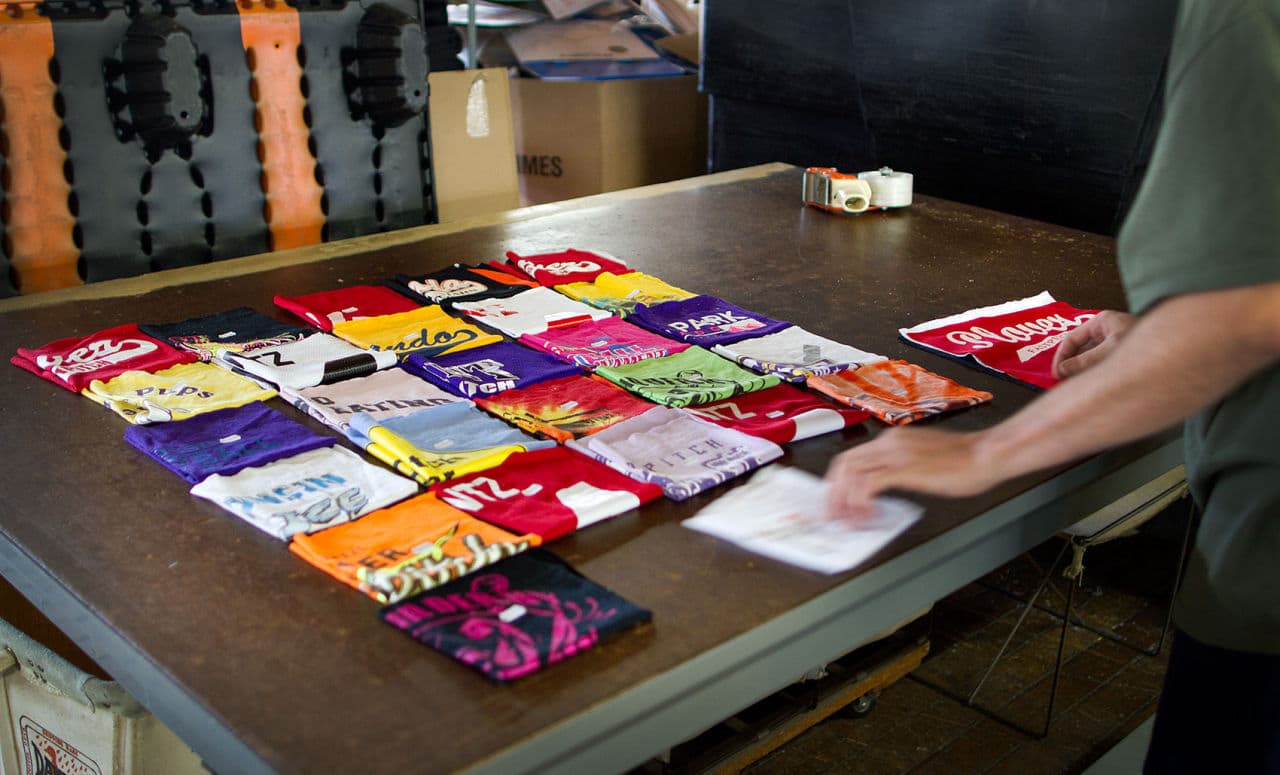 Rothstein says the company aims to create textile jobs in a region where apparel was once king. "In Massachusetts people talk a lot about advanced manufacturing being the future of manufacturing," Rothstein said, "but as you can see there's still a lot of people doing cut and sew, and so we don't want this to be an overlooked part of the economy."
Project Repat says it supports about 30 jobs at Precision Sportswear here in Fall River, and another 20 at a shop in North Carolina.
It's not going to take the place of the textile giants that once employed thousands in Fall River, where unemployment is now nearly twice as high as it is across the state. But some business leaders say niche manufacturing is slowly -- and quietly -- replacing jobs lost overseas.
"This whole region has companies like Project Repat that are taking place, that are creating jobs, and it's all based on somebody's idea," said Rob Mellion, president of the Fall River Area Chamber of Commerce.
He added: "It's all based on the American entrepreneurial spirit, where somebody takes on a problem, solves the problem, and builds a company around solving the problem."
At the mill in Fall River, Bruno Andrade spends his days cutting T-shirts.
"Yesterday we had one guy that had two king size blankets, that's 64 shirts per blanket," the New Bedford resident said. "Some are random. We get a lot of running shirts, cancer shirts, stuff like that, and a lot of college kids with their sorority T-shirts."
Andrade says the company has allowed him to pay the bills for two years. "They pay pretty decent for the work we're doing," Andrade said. "Sometimes we do work overtime, depending on how busy it is, but right now I'm getting paid $10.25." That's just over the state's current $9 minimum wage. But he says most places don't pay as much as Precision.
Mellion says niche companies can bring Fall River's unemployment down. But he says it's going to take a lot of small shops to make up for the titans of the past.
Correction: An earlier version of this digital script incorrectly reported the number of T-shirts in a king size blanket. We regret the error.
This article was originally published on July 22, 2015.
This segment aired on July 22, 2015.