'I Really Liked To Take Chances'—An Oral History Of T.T. The Bear's
On June 20, the storied Cambridge rock club T.T. the Bear's Place hosted an "everything's gotta go" sale, a flea market designed to clear the venue of all accumulated detritus before it shuttered on July 25. Out went the rickety furniture and the grimy ashtrays and the decorative foam gargoyles. For weeks afterward, the still-operating club felt eerily airy, though it hadn't been stripped barren, not yet. An overhead light in the entryway, ensconced in a glowing red artist's rendering of a human heart, still pumped away determinedly against the encroaching darkness.
The official announcement on May 18 that T.T. the Bear's Place had been unable to negotiate a new lease with the building's owners, Joseph and Nabil Sater of the neighboring Middle East Restaurant and Nightclub, came as a shock to greater Boston's live music fans. Since 1984, T.T.'s had been a staple, especially in the rock 'n' roll scene. Over the years it hosted illustrious visiting acts such as Arcade Fire, the Indigo Girls and Joan Jett, and functioned as an incubator for some of Boston's most legendary bands: the Pixies, The Mighty Mighty Bosstones, The Magnetic Fields. It was the home of two long-running dance nights, the goth and industrial Xmortis and the New Wave-themed Heroes. Girls Rock Campaign Boston, which runs rock 'n' roll workshops for girls and women, hosted numerous events there. Most importantly, week after week, night after night, T.T. the Bear's Place provided a haven for local musicians—young and old, novice and expert—and die-hard Boston music lovers.
T.T.'s is in the midst of a series of finale concerts, concluding Saturday, July 25, with 1980s Boston rock legends Scruffy the Cat headlining. Check out the packed schedule here.
What follows is a history of T.T. the Bear's Place, as remembered by some who were there.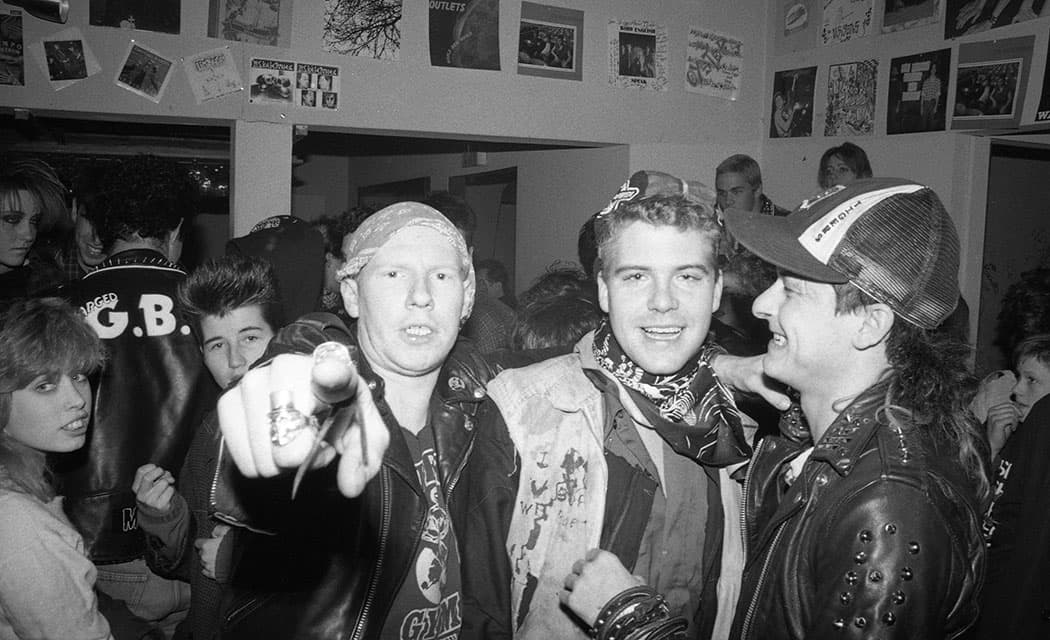 Bonney Bouley, owner of T.T. the Bear's Place: We opened as a restaurant in 1981. People came, but it was very early in this neighborhood and it was still considered a little bit unsafe. ... I ended up owing taxes. And the government said, "We don't do loans." So I filed Chapter 11 and it took me two years to get out. And in the meantime my bankruptcy judge, who I had to report to every month, said to me, "Young lady"—from way high up on a bench, looking down on me—"How do you propose you'll get out of this mess?" and I said, "I don't know." And [my boyfriend and business partner] Miles [Cares's] daughter was going with Walter Gustafson who was the drummer for [Boston rock band] The Outlets, and she suggested to her father that we open a rock 'n' roll club. And that's what we did. So I sent Miles out with Jennifer, his daughter, and he went to the Channel, and he went to the Rat, I think he went to Bunratty's. And I said, "What do we have to do?" He says, "Nothin', I'm just going to build a stage over there and take the tables and chairs out." I said, "OK."
Randi Millman, T.T. the Bear's booking agent from 1996 to 2011: Bonney and Miles had a teddy bear hamster and his name was Tough Teddy. I think they had the paperwork to close on the business and they literally had to come up with a name. ... And they came up with Tough Teddy the Bear's, but it became T.T. the Bear's. And I used to, people would ask that story all the time, and I would be like, "Oh my God, I wish I could make something up that was a little bit better than a teddy bear hamster." But that's kind of what T.T.'s was. It was a little family business with people that weren't music business people, they just stumbled into it. So it is kind of amazing that 40 years or however long she's had it later, it survived.
The 1980s
Millman: I think one of my earliest memories of T.T.'s was, "Oh my God, this place is so small, and it's so crowded." And it was always really hot, and it was funny that I liked going there so much because it was kind of claustrophobic, but it just also had this vibe about it. Like just a really cool, you-want-to-hang-out-there kind of vibe.
Kevin Patey, general manager of T.T. the Bear's: There's a picture of me, up there on the wall, of me in high school at a show here, 1987. ... On Saturdays and Sundays, they used to do all ages matinee shows, so I used to come here in high school, take the train in and see shows.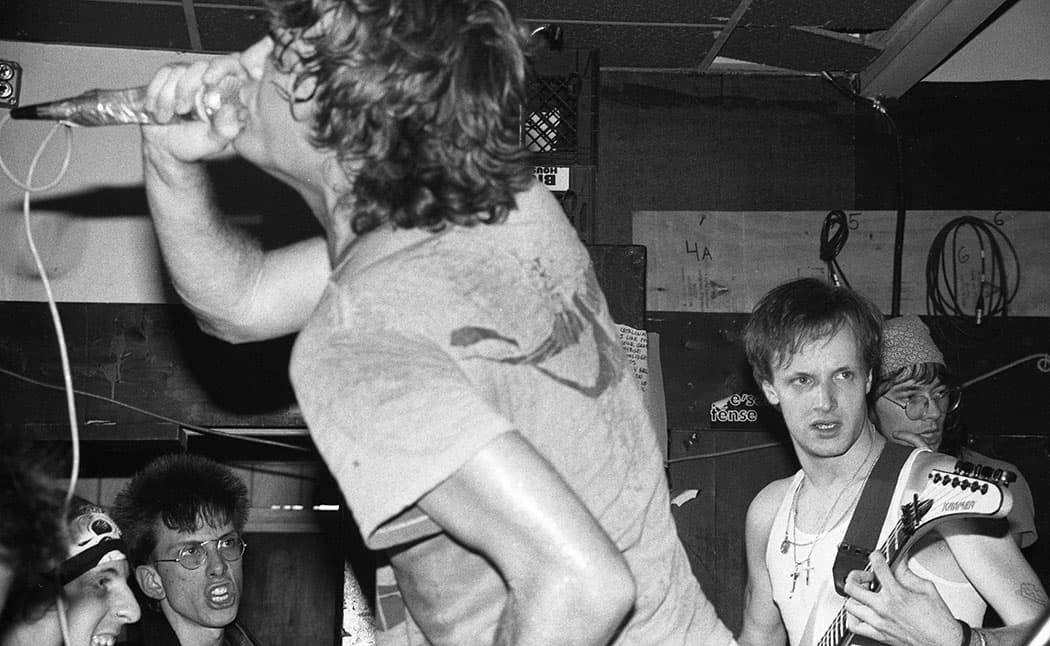 Millman: One really noticeable difference: [In the '80s], the soundboard was literally like in the middle of the room. It jutted out and had a little kind of barricade around it. So picture that room, and you were halfway cut off, so people would have to stand on either side of the soundboard. And there was a little space in front to get to the stage. Like, it made no sense at all.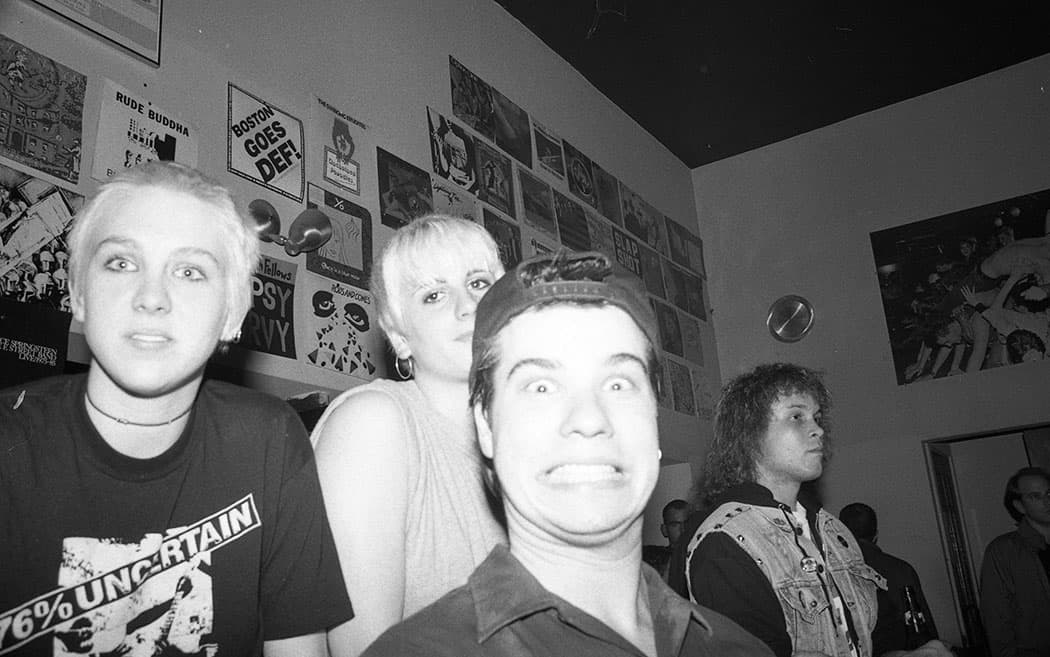 Hilken Mancini, member of the bands The Monsieurs, Shepherdess and the now-defunct Fuzzy, program director of Girls Rock Campaign Boston: The first time I was there was in 1989. I played a show in a goth band that I was in. And I opened up for Yo La Tengo. ... I was 19, but I remember it because I remember the bass player, James [McNew] ... was really nice to me and talking to me in the beginning of the night, and then after I played, he didn't talk to me. [laughs] He didn't like my band very much, I think.
Millman: I was going there in the late '80s, early '90s. So it was not a good fashion time. People were wearing, there was some of the skinny ties stuff going on. I don't even want to think what I was wearing. I think I had a fauxhawk. Yeah it wasn't good. ... I mean what were people wearing in the late '80s? There was a lot of bad spandex.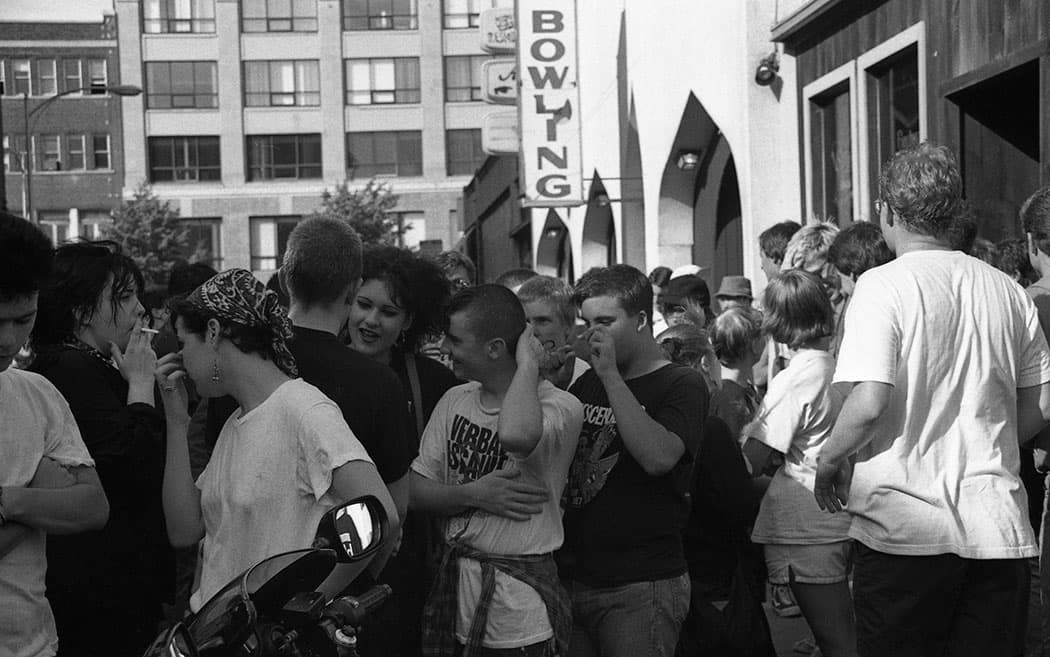 Bouley: I have a picture... I think [Dicky Barrett of The Mighty Mighty Bosstones] was 14. I'll give him maybe 15. And it must have been my birthday, because I was holding roses, and Chris Harford from [the band] Three Colors was on this side of me, kissing me, actually. And Dicky was on this side of me holding a beer. So I'm going to put it on the wall, and I'm going to say: "Once upon a time, in Cambridge, the drinking age was 14."
Millman: The local bands I was going to see there back then [in the late '80s] were Scruffy the Cat, and The Dogmatics, and they all played there all the time. ... Scruffy were kind of the precursors to what people called "alt-country." So they were very twangy. A couple of them moved from Iowa to here. So they had a garage [rock sound]—T.T.'s was known for garage rock, mostly. And The Dogmatics, the same thing. They were a bunch of Irish kids from the South Shore and they lived in the lofts across from the Pine Street Inn down in the South End and they were punky garage stuff.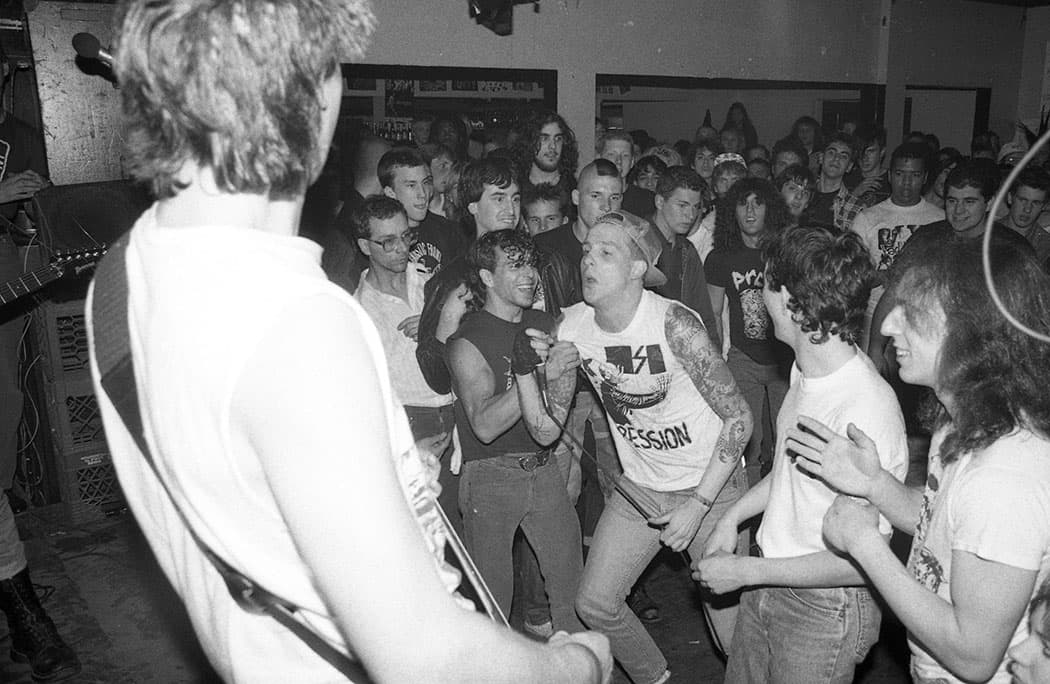 Jeanne Connolly started working at T.T.'s when it was still a restaurant. The beloved bartender and onetime booker for the club died in 2009 at age 51, 16 months after being diagnosed with colon cancer. 
Bouley: I loved her. Twenty-seven years, we worked together. She was amazing. She took care of the bands. She took care of problems. She always had my back. I just, I love her to death. And we really—the hardest thing, of everything, about closing this business, is not having her here the last night.
Mancini: [Jeanne] was your local, supportive, awesome bartending hero. You would play a show and, it was back in the old days, when people gave you actual drink tickets and paid you to play shows. And she was really nice. It was more of like a community feeling. It was one of the reasons you wouldn't want to move to New York if you were in a band.
Bouley: I certainly wanted women to be able to work without having men there. And that was a new thing. I put women on the door. ... I put women on the bar when there wasn't a man here. I put women on the door when there wasn't a man here. And so, you know, it was nice. I think there was a different vibe. I didn't have bouncers. I never had a bouncer. I was the bouncer.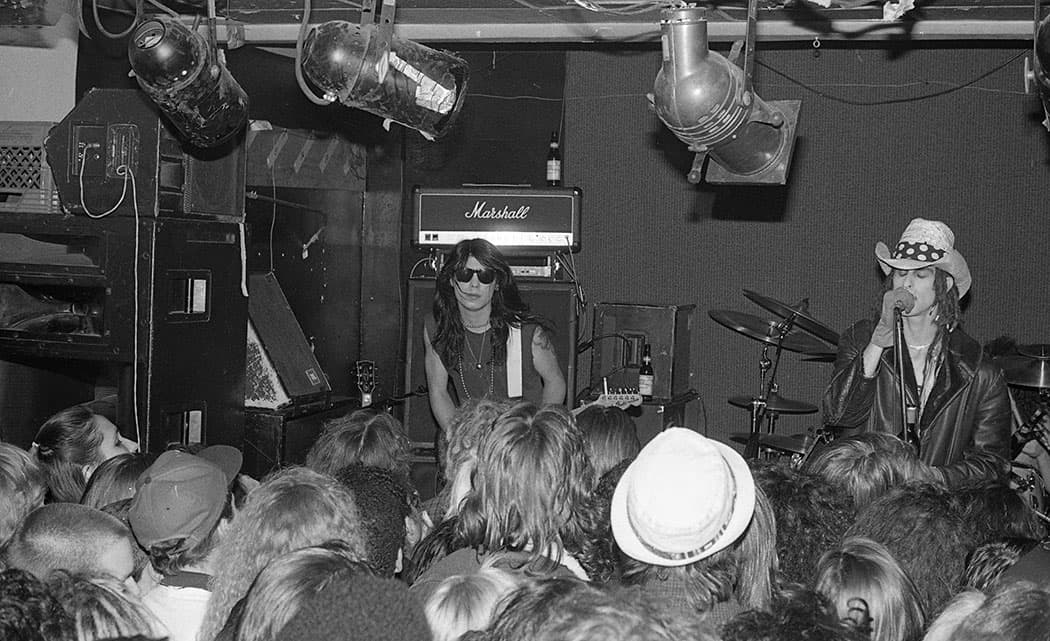 Billy Ruane was a concert promoter and ardent Boston music fan who attended many shows at T.T.'s over the years. He died in 2010 at age 52.
Emily Arkin, member of the bands Shepherdess and the now-defunct The Operators, volunteer with Girls Rock Campaign Boston: [Billy Ruane] was kind of this weird fairy godfather, in some ways, of the Boston music scene. He was really intense, he was [an] extremely sort of manic personality, and he would go to like three shows in one night and he would, like, show up in a limo. Like, some of my shows he would show up and buy all the CDs and give them to all the fans.
Millman: Billy was manic depressive for real, like in and out of McLean's, so when I say he was crazy, he really was. But he had a heart of gold and you always knew when he was there, and there could be one tiny postage stamp piece of room for him to stand, and he would just be airplaning all over the place.
The 1990s
Arkin: One thing I like about it—some people find this a slightly awkward layout—but they have the quiet side of the bar and the loud side. I like to go escape every once in a while and go sit on the other side. I've also played the other side, sometimes they would have early shows, like a second cafe stage.
Bradley Searles, creator of Boston-based music blog Bradley's Almanac, member of the recently reunited band Eef: I would see a lot of mellow shows there, and if you had a really loud show downstairs [at The Middle East], you were in trouble. And there were more than a few cases where the artist onstage couldn't help but remark on it. And it always depended on their mood. They would either laugh, or try to play along with the beat, or just surrender and keep going. 
Mancini: Honestly, it always sounds weird in T.T.'s. It's always weird, it's a little cavernous. You'd go off to the side and then you couldn't hear anything.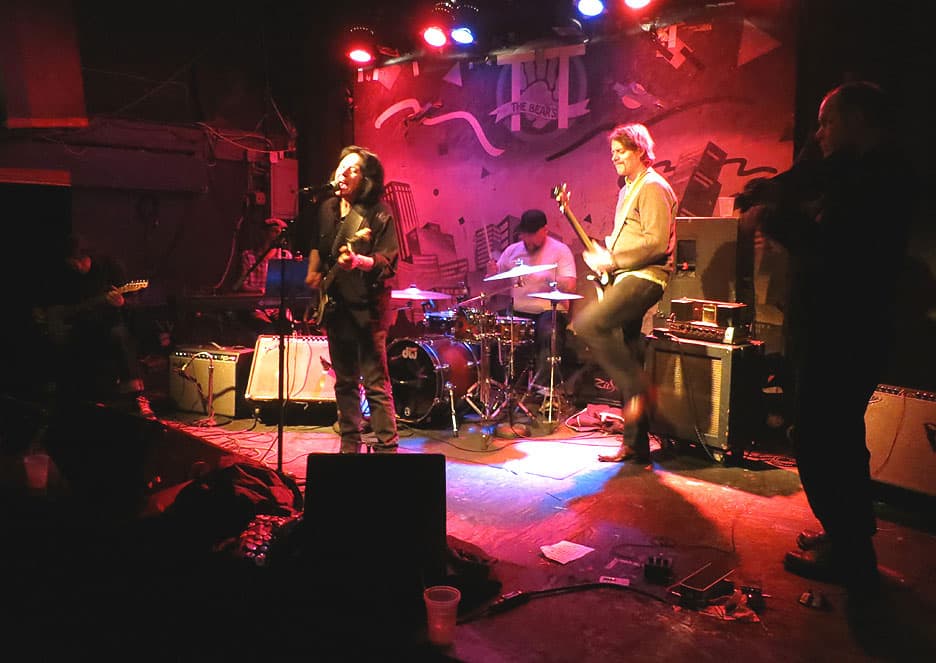 Bouley: We were having problems with sound, with the bands. And we were trying to figure out how to soundproof T.T.'s. But we had not made a decision, and when I came in, one afternoon—I usually came in at 1 or 2 in the afternoon—and the front doors were open. And I was kind of surprised, and I said, I saw Miles, and I said, "Why are the front doors open?" And he said, "Oh, we're working." "Who's working?" I said, "Why don't I know about this?" And he said, "Well, we're just working." And all of a sudden Joseph [Sater], next door, the owner of the Middle East, goes by with a wheelbarrow full of sand. ... And I said, "What, what is this?" And he says, "We're soundproofing." And I said "What, where, how?" And he said, "We're soundproofing under the stage." So they had torn out the stage, and they were pouring barrels of sand under the stage. So that stage has like two tons of sand under it. That does not soundproof, by the way.
Arkin: I feel like the pool table's always been there, [and] the video game machines that are there. I mean, something must have changed, but it was really imperceptible, like glacial, the rate of change.
Millman: I hated [the backdrop on the stage]. Bonney loved it and she would never take it down. ... It's supposed to be a cityscape. I think it's supposed to be a cityscape of Boston, not Cambridge, which is funny because the bar's in Cambridge. So it's just a rudimentary skyscraper drawing with, I think, the bear print on it, her original logo.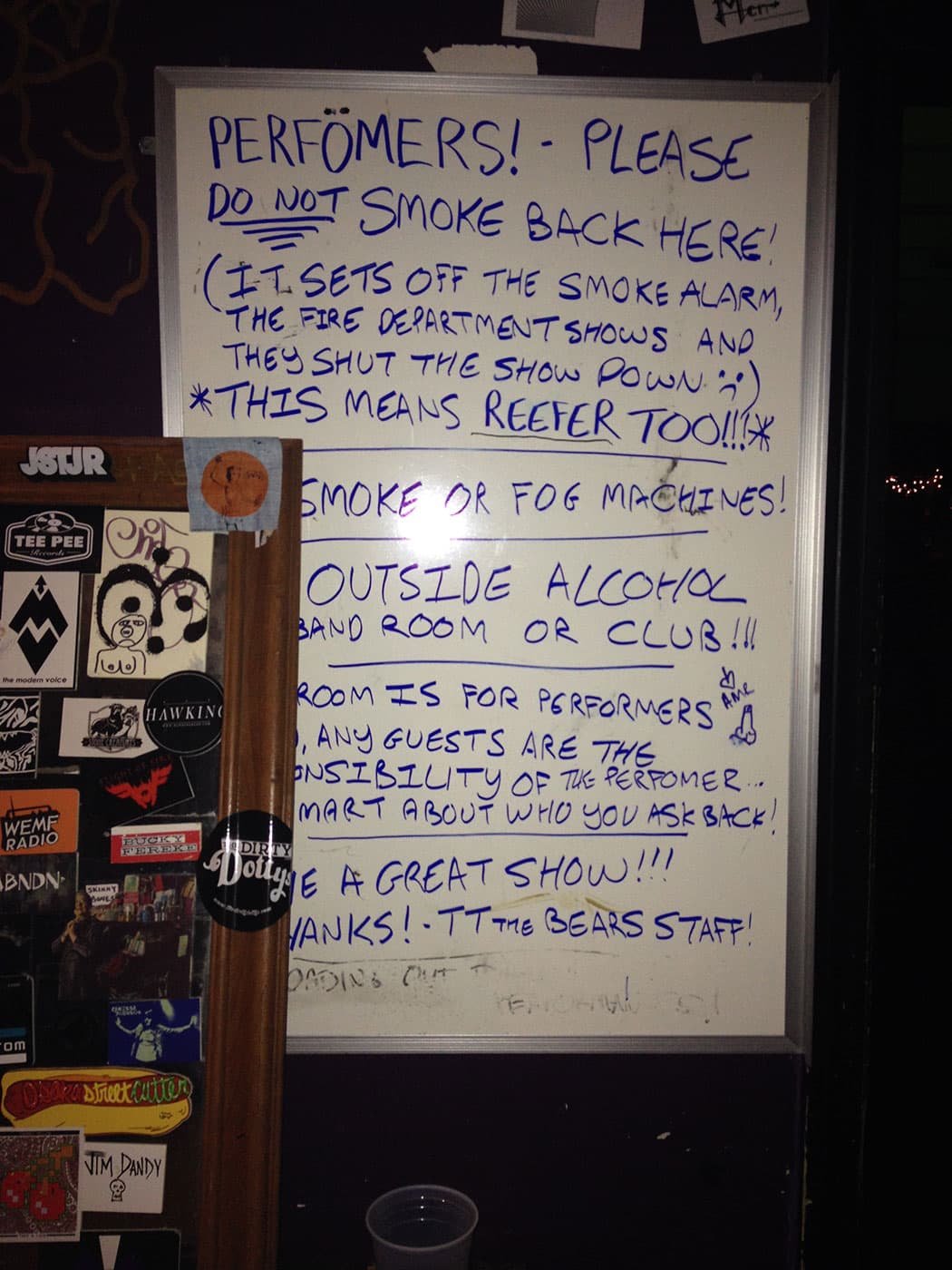 Arkin: The green room used to be famous for just tons of graffiti, and you could look in and see all this Boston history on the walls. And unfortunately, and I don't know when this happened, they painted it black. ... There was a really big mirror that had a ton of stickers on it for every band. So you could definitely be like, "Oh my God, this band existed in the early '80s, I wish I could have been at this show they played here, this sticker must have been here all this time, literally like 35 years."
Millman: The funny thing was, one of my first shows—I didn't know any better, not to make the inquiry. Because I thought, "Well, why not, I don't know." So I asked about Son Volt, because it was back in the days when they had the H.O.R.D.E. tour, which was sort of this jammy tour with a bunch of bands and they had a side stage and a main stage. So Son Volt, which [had splintered off into becoming Wilco, and—they were like a pretty big deal, but they were on the side stage for Horde, and I was a really huge fan, so I just blindly hit up the agent and said, "You know, they're at H.O.R.D.E. during the day, but they'll be through with their [set] by like 4 o'clock, how about them coming and doing like a small club show?" And I don't know why, but they said yes. So that was like within a month of me being there or something. And I remember I had tickets printed, I went out and took photos of, like, a tractor in a field, because they were very Americana.
Mancini: You'd go there, and let's say Come was playing, and your friends would be playing, and even though it was a snowstorm people would come out, or walk to the show. It was just a feeling of camaraderie and support. But that's why—you know, Boston still has that, just not so much in venues. Like you can't find that feeling, I think, as much at a club as maybe say, now, at a house show, or like what the Boston Hassle does with putting on shows at VFW halls and that kind of thing.
Millman: That was a thriving corner. Because The Middle East had upstairs and downstairs. And then ManRay across the street, they were always packed. Central Square was the place. ... Hi-Fi Pizza was across the street, where Clover [Food Lab] is now. And it was kind of what I would think the CBGB neighborhood would be. ... It was a real, dirty, rock n' roll kind of neighborhood.
The 2000s 
Patey: Before I worked here, we did a memorial show for [cult-famous singer-songwriter] Elliott Smith [in 2003]. Somebody put together this video montage thing, we put flowers on the stage, and everyone sat. I remember that—everyone sat. And the cool thing about it was, there was a bunch of semi-famous people that wanted to play, but—my ex -wife's the one who put it together—she said, "You know what, anyone who wants to play [can play]." So they treated it like an open mic. 
Searles: Seeing the Arcade Fire show in 2004. ... I think they were right on the cusp of hugeness. They were about to be very, very big and you could kind of tell. And it's one of those things where they book a show before they get super famous. And then within the two-month waiting period, everyone's like, "Oh my God, I can't believe this band is playing here." 2004 was sort of their year when the album "Funeral" came out and blew so many people away, me included. And, you know, the show got so much attention so quickly, and it was crammed. And everybody who was there felt really lucky because the band sort of lived up to any hype that was happening at the time. And there's so many people in that band, and so many people squeezed onstage. ... I mean people were screaming after songs were done, like yelling, "Yes!" "Oh my God!" And things you might not be able to print. But yeah, people just, there were exclamations coming out, in disbelief, after songs ended. Because if you know what that album's like, and to hear them all singing along and making the noise they made at that particular time in their career was really—it felt like lightning in a bottle, that show.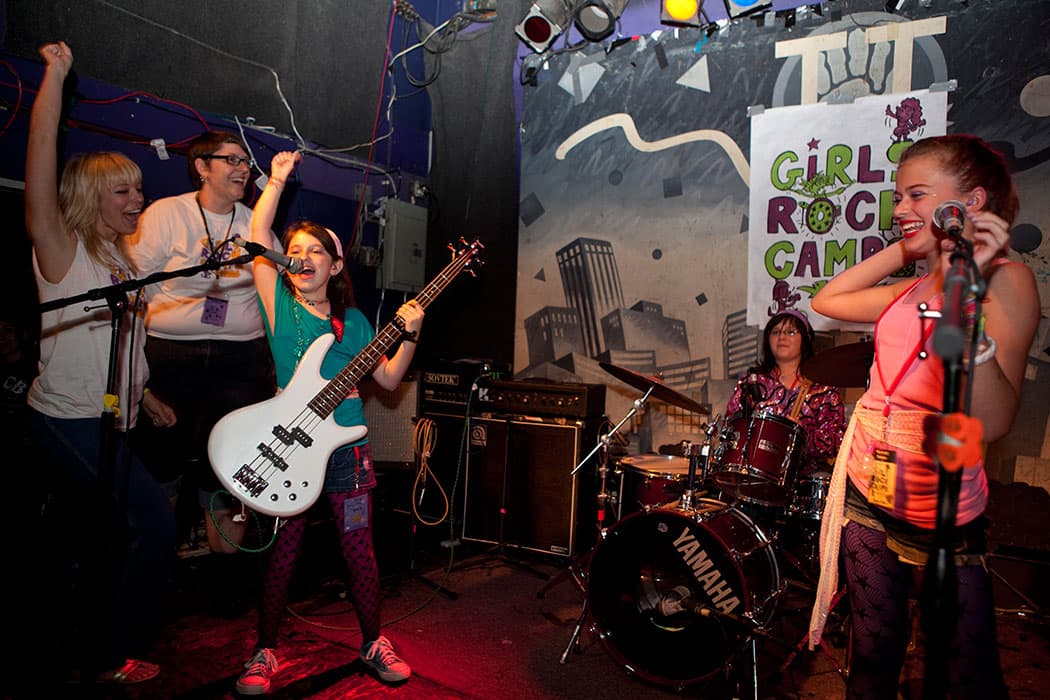 Mancini: So the first year of Girls Rock Campaign [in 2010], we had our showcase at T.T.'s because we wanted to pick a female-owned and operated rock club. Bonney was really excited about it, and she bought candy for the campers, the participants, the girls. She bought M&Ms that had "GRCB" on them, and she also bought sugar bears. Which were necklaces that all the young girls got to wear, and fill with basically straight-up Pixy Stix sugar. So she had this bowl of, it looked like cocaine, in the dressing room. It was this sugar, Pixy Stix sugar, and you would scoop it up and put it in your sugar bear, and then you would open the sugar bear's head and, like, chug it. And you'd carry it around your neck. And [Girls Rock Campaign Boston co-founder] Nora [Allen-Wiles] and I are trying to run our first showcase ever, so we're out of our minds, because we didn't have the volunteer base that we have now, we didn't have an operating team yet. So we're just basically trying to sound check, trying to load in, trying to make sure the parents are dropping off their kids. ... [It] was such a generous and wonderful thing, that [Bonney] was so thoughtful, and so excited about the showcase, but it was like the last thing we needed. [The girls] were basically mainlining this sugar.
Arkin: I saw Screaming Females there [in 2014]. I love them anyway, I love Marissa Paternoster's guitar playing, they're insane. But I actually got to see them back to back at T.T.'s and then somewhere big, I forget where. But seeing them at T.T.'s—I was in the front row, right in front of them at T.T.'s, and Marissa Paternoster was just rolling around on the floor. And she's like a hurricane when she plays, she has so much energy. I remember thinking this is such a great, intimate venue. ... It felt like the best place to see them. 
Patey: You know that TV show "Sons of Anarchy"? The guy who did the theme song to that, who I don't even know who the hell he is, but he played here. And it was a totally sold out, packed show. And it was mostly housewives and middle-aged women. And right on the other side of the counter—he's about to go on, two minutes time, he's going on—I hear this screaming. I go, "What's going on?" I go over there. Some younger woman had got here, very excited obviously, and drank too much and threw up all over the woman in front of her. So the woman in front of her—it was before we knocked the wall out, so the kitchen was right there, so you go through that door you're in the kitchen. And she's like, "You have to find me a shirt to wear! He's about to go on, you gotta help find me a shirt!" So I go in there and I'm like—and she was... chesty—and I say, "I don't know, this?" And I found this T-shirt and she goes, "You think??" And I go "OK, hold on," and I find this big Narragansett T-shirt, I'm like, "This?" And she goes "Yeah," and she whips the top off, no bra. Puts the Narragansett T-shirt on ... She goes "What do you think?" I go, "You look great!"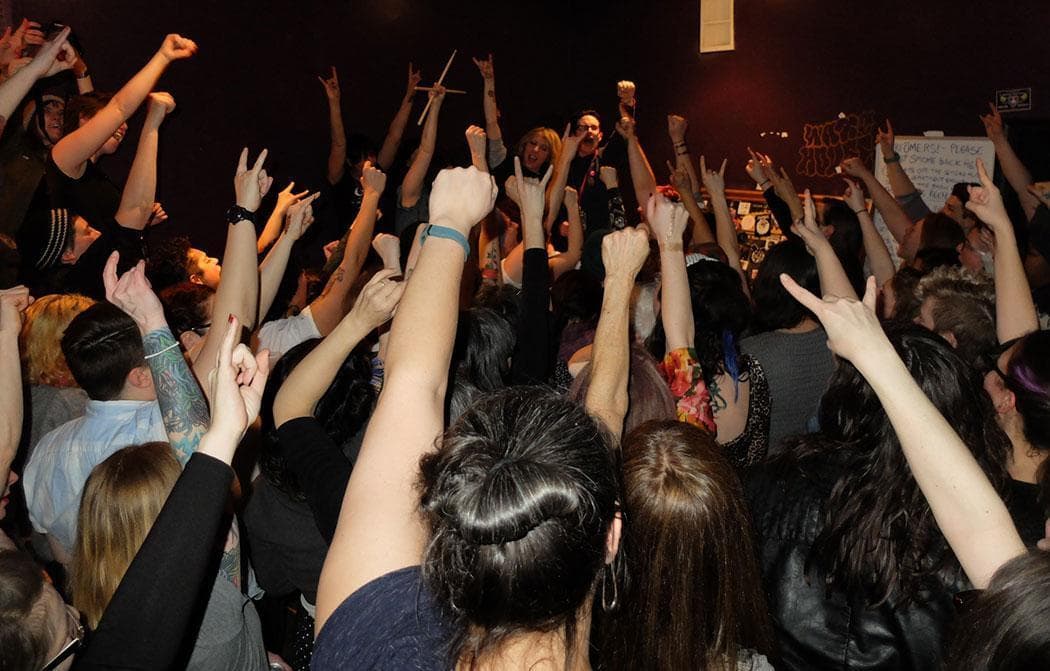 Millman: There was a dressing room there. And we never locked the door, and nobody was supposed to lock the door because you never knew what people were doing in there. And it was the end of the night and the band was over, and I went in to the dressing room—I think I went in to pay them, I was ready to pay them. And the door is locked. So I'm knocking, and no one is answering, and I'm like, f*ck this, and I went and got the key, and opened the door. And all I see is some guy's pimply ass in front of me, and a girl in front of him, giving him a blowjob.
Patey: Hugh Cornwell from The Stranglers left a jumbo Dunkin' Donuts big gulp cup full of piss in the band room. And I thought, "He's kind of famous, maybe I should get it bronzed or something."
Everything's Gotta Go
Searles: [The "Everything's Gotta Go" Sale on June 20] was pretty crazy. I mean it was a constant line, a rotating—it was almost like an assembly line, like a junk factory. People just going up and down tables finding various old crap. Some of which was very cool, some of which was actual crap. There were old cables that were probably broken, there were dusty glasses. I got a stuffed, a fake cat, like a black cat Halloween toy, with glowing red eyes, that makes a screeching sound that's totally freaky and awesome, for 10 bucks. ... It was more of a way to gather, because Bonney was sitting at a table near the exit, and everyone was paying. So in a way it was like we were paying our respects to the Don. ... People would pay $10 or $20 in a little donation jar, and you would offer up the money and go, you know, "Thanks for everything" or "Sorry about the news." And she sort of went through this all day, sitting at a tiny little table like it was a lemonade stand. And it was very funny and touching. You almost expected to be able to kiss her ring. But I know it's got to be a really tough time for her, so to come out and let everybody gather is pretty cool. And the last week is going to be emotional and insane and very crowded.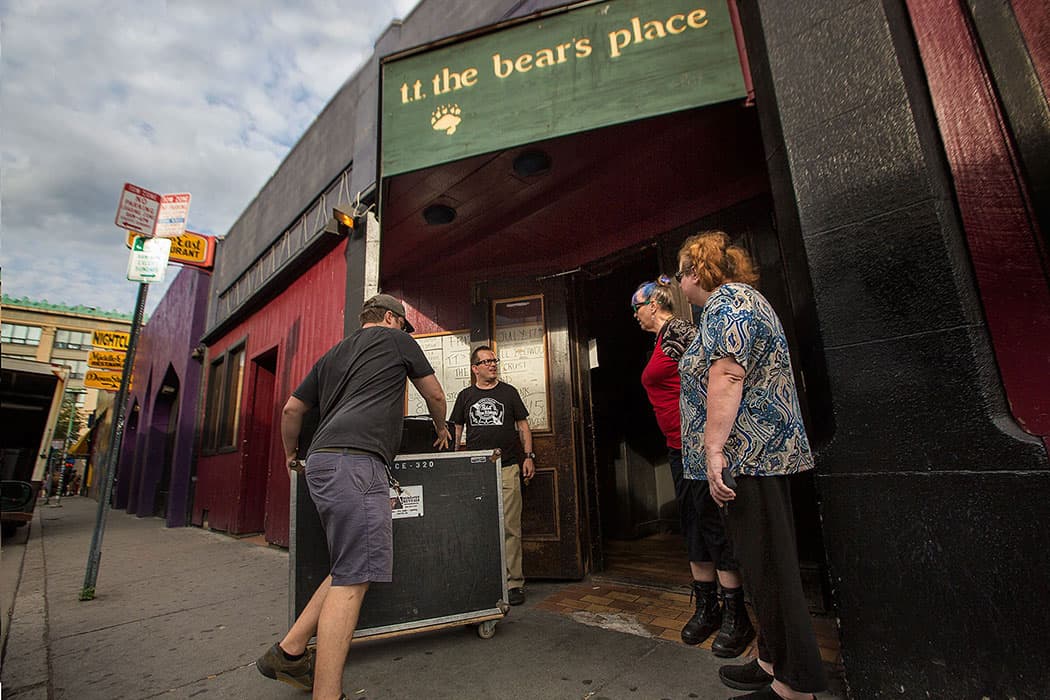 Bouley: At this point I don't know why anything is anything. I don't know. It's going to be empty. Because I'm going to leave, I paid my rent through July 31. Come August 1, as far as I know, this place is empty. And I own the liquor license.
Arkin: I think there's a lost history of Boston rock, in a way. Which is one reason the Verb [Hotel] exists and can make a theme park of Boston rock, is that there was kind of this dive bar culture. It used to be that Boston was a great place to play, and now sometimes big tours skip here. We do have some big clubs and some good stuff, but some of them are a little bit more corporate than it used to be. It used to be the Rat, and the Channel, and all these classic clubs. You know, [T.T.'s] kind of has some of that CBGB's vibe, where it was really dirty—the way I was describing the green room. This was like a lived-in place, it was small, but they just had a ton of bands, and they had a scene, and they had a following. And people would go there, and they would go there for the music, and they would go there to drink, and they would go there to party.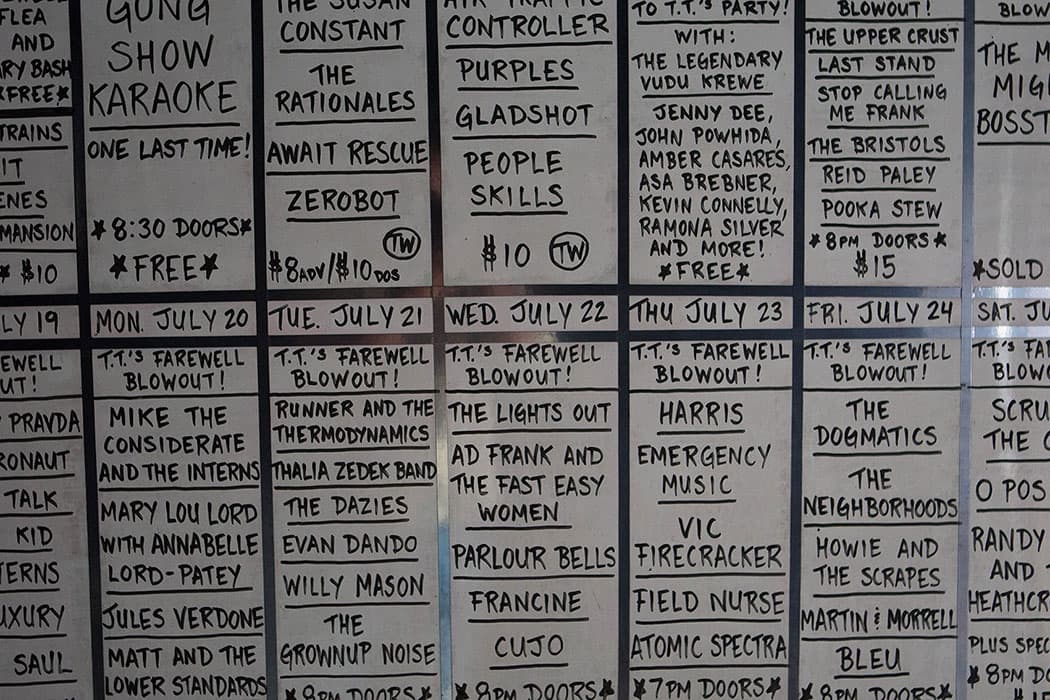 Patey: We always joke that we get bands on the way up and the way back down. And they're always nicer on the way back down.
Millman: I think, after the Rat, [T.T.'s] was probably the next place that defined the Boston sound. There's just a really specific Boston guitar sound that started at the Rat and the Channel, and then those were gone. And then [T.T.'s] became kind of one of the last men standing because everything was closing left and right.
Patey: The one thing Bonney's always said, and I believe, because I've been dealing with her for years: No matter what, she's never not paid anyone what they were promised. She's told me stories about driving home in snowstorms to get money from her house because the bar bombed.
Bouley: I really liked to take chances. I always wished I made more money so I could have taken more chances.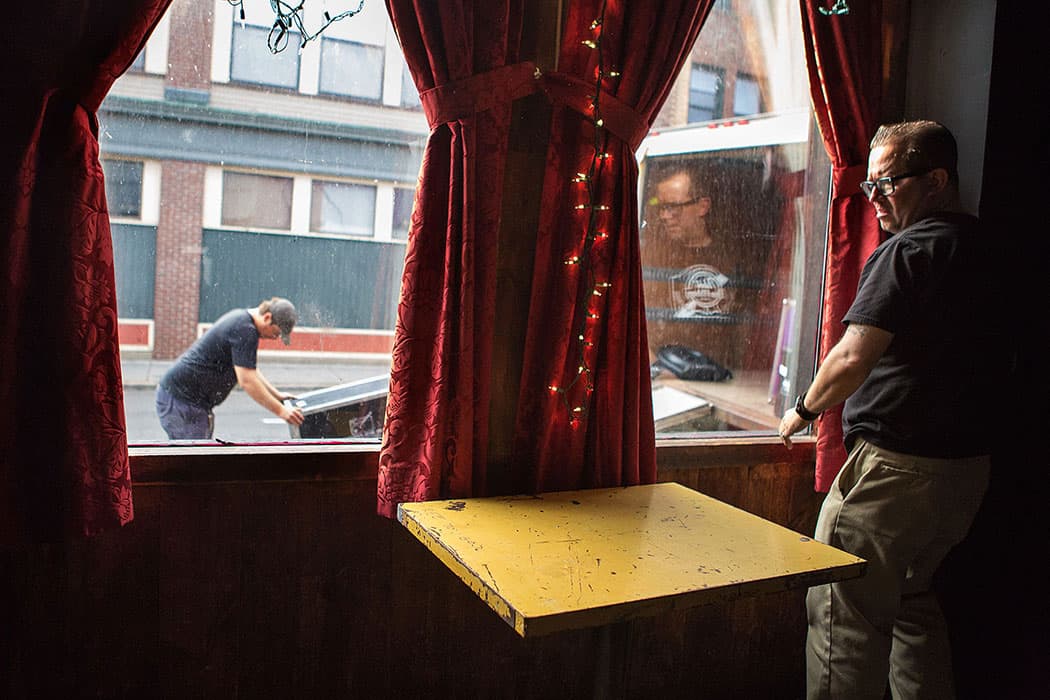 Correction: An earlier version of this essay incorrectly identified where Scruffy the Cat hailed from.