Baker Reiterates He's Not Taking Position On Boston's Olympic Bid Yet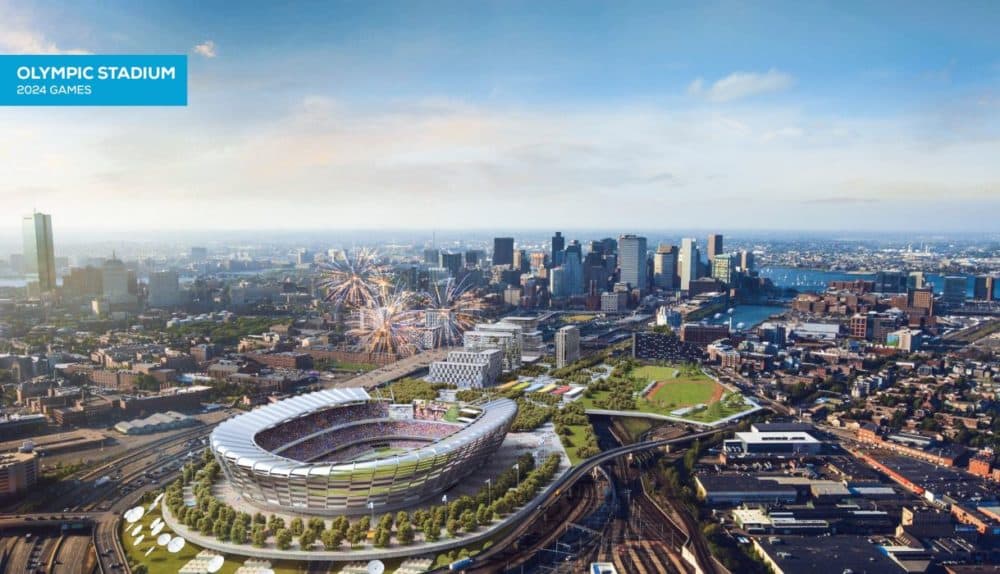 This article is more than 7 years old.
Gov. Charlie Baker has reiterated he won't make a decision about whether or not he's in support of bringing the 2024 Summer Olympics to Boston until he sees the results of a state-commissioned report, due out in August, about the potential impacts of hosting the games.
"I want to see the full report before I make a decision with respect to that, and I know, having talked to the Senate president and to the House speaker, that they feel the same way," Baker told reporters Friday.
Baker's comments followed a report from The Associated Press, citing an unnamed source "familiar with the bid," that the U.S. Olympic Committee had given the governor until the end of the day to decide whether or not he supports the state hosting the games.
After the press availability, a spokesman for Baker told WBUR that the governor's office never received the request from the USOC.
The state-commissioned report Baker cites, which is being prepared by the Cambridge-based consulting firm The Brattle Group, will "evaluate aspects of financing, infrastructure, economic impacts and Commonwealth and taxpayer responsibilities relative to Boston 2024's bid preparation," according to an earlier statement.
Baker said Friday that the USOC had asked him to call into a meeting on Monday, but he wasn't sure what specifically they want to discuss.
"My message to the USOC and to others is, this is a big decision. We hired The Brattle Group for a reason and we're going to let them do their work. And when we get their work we'll render our opinion at that point in time."
The city's bid has been met with meager public support. The latest WBUR poll, from July, showed just 40 percent of Boston-area voters support bringing the games here, with 53 percent opposed.
After a recent board meeting, USOC Chair Larry Probst said the group would like to see public support rise above 50 percent "relatively soon."
The USOC has until mid-September to decide whether it will submit Boston's bid to the International Olympic Committee.
Also Friday, the local Olympics organizing group Boston 2024 released the full version of its original bid — "bid 1.0" — after mounting criticism from city politicians that the documents contained redacted portions.
With reporting from WBUR's Asma Khalid
This article was originally published on July 24, 2015.