USOC Lauds Boston 2024's Revised Bid, But Says 'A Positive Trend' In Support Is Needed
Resume
Boston 2024 leaders received a kind of qualified encouragement from the U.S. Olympic Committee on Tuesday.
The local Olympic organizing group was in California, presenting its updated plan to host the 2024 Summer Games to the USOC board.
The feedback they got was that the plan looks great, but the poll numbers measuring public support need to get better.
Redwood City is where Boston 2024 pitched the USOC back in December, and beat out three other American cities to be the U.S. pick to host the games. This time, Boston 2024 was back with a new chairman, Steve Pagliuca, and a newer plan, called "bid 2.0."
USOC Chairman Larry Probst said Boston 2024 made an impressive presentation in the meeting that lasted a good two hours.
"They've made great progress with the planning process, and we feel really good about working with Steve and his team," Probst said in a news conference following the meeting. "The communication has improved significantly."
But the USOC also had some feedback for Boston 2024 regarding public support: "Obviously none of us are happy with the current [support] numbers in Boston, but it's a process," Probst said.
A long process, he said. He was sitting next to Pagliuca, who interjected. Probst said his board wants improved public support in Boston.
"We obviously want to see a positive trend, and the sooner the better," Probst said.
"I think it's one of those things where you know it when you see it," Pagliuca said. "It's gotta be a positive trend."
"The numbers now are sort of in the low-to-mid-40s, obviously we'd like to see it get over 50 percent relatively soon," Probst continued. "And ultimately get into the mid-60s range. Certainly before the vote of the IOC [International Olympic Committee] in 2017."
The latest WBUR poll showed statewide support for the Olympics was at 39 percent. But that was conducted before Boston 2024 proposed more competitions around the state. The poll showed there's more support for a statewide Olympics. And it was conducted before the group unveiled many new details earlier this week. The USOC says is going to circle back with Boston 2024 in mid-July to get a better sense of public support.
"Obviously that's a weakness of the bid right now and we want to make sure we turn that into a strength if we can," USOC CEO Scott Blackmun said.
The USOC faces a mid-September deadline for submitting its bid to the international stage. Blackmun says his organization has not been talking to other cities, that Boston is the one.
He had only strong praise for Boston 2024's revised bid, "bid 2.0," which proposes major developments at Columbia Point and Widett Circle with 8,000 housing units planned for after the games.
It gives more specifics about the Olympics budget and early plans to insure the games against cost overruns.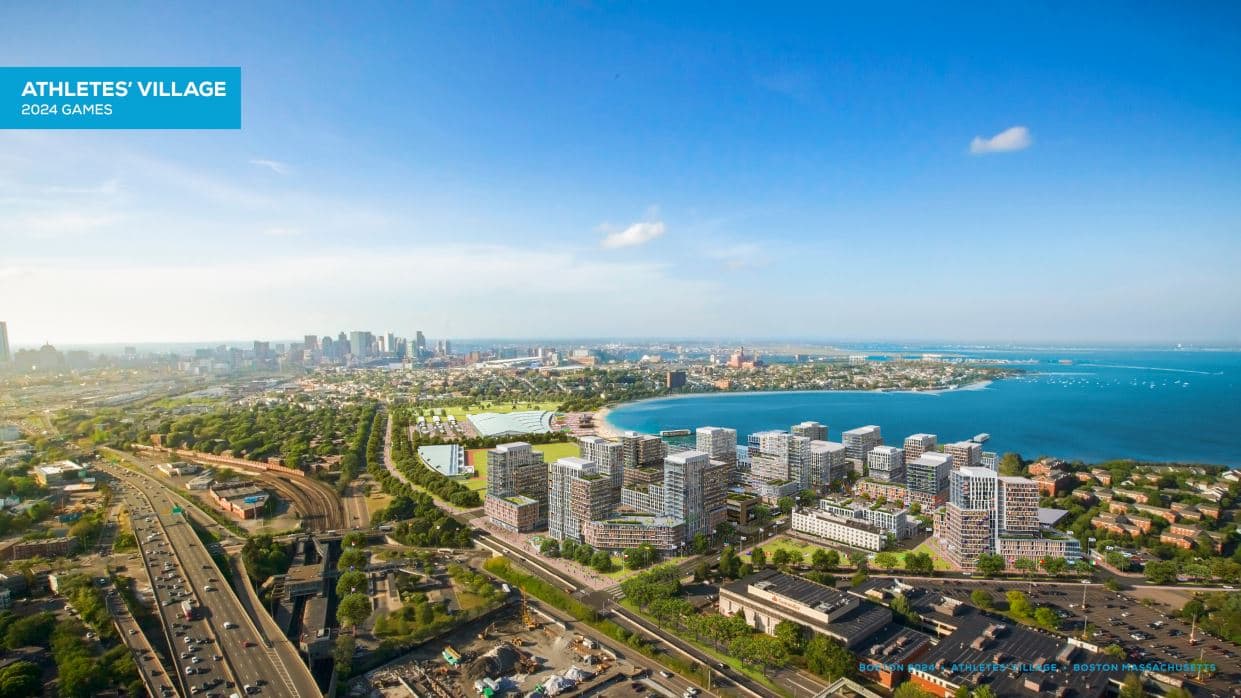 David Manfredi, who helped Boston 2024 win this bid, was back for the update. He says board members support moving a few venues across Massachusetts, but they still like a public-transit-oriented Olympics.
"They recognized that there is a lot of continuity. That the basic planning principles of compactness, of the two clusters -- waterfront and university cluster -- have been absolutely consistent," Manfredi said. "Our priorities, the way we think, hasn't really changed."
Pagliuca, who took the group's reins in late May, says he hopes people take a good look at the bid 2.0 documents released this week. He says there was a vacuum of information leading up to the release.
"And so getting that information out there should get us some acceptance and some bump in the polls," he said. "So the polls are meaningful going forward, not in the past. And I was heartened by the fact that [the USOC is] looking for reasonable movement in the polls over time as we roll out this plan."
Boston's future as a host city may depend on whether bid 2.0 has what it takes to turn public opinion in Boston 2024's favor.
This segment aired on July 1, 2015.