Boston 2024 Calls For More Public Spending On MBTA's Green, Red Lines
Resume
Boston 2024, the local Olympics organizing group, now has a more detailed bid -- "bid 2.0" — that it hopes can finally rally Massachusetts residents around hosting the games. But the new bid also reveals that taxpayers will have to pay for transportation improvements.
One of the big questions about a Boston Olympics is: Could the T transport all those extra tourists?
Boston 2024 CEO Richard Davey says it can't without improvements.
"The Green Line today has a capacity to really run only two-car Green Line trains, and for anyone who takes the Green Line in Boston, you know that two-car trains are not enough to handle today's capacity, and we need it for the future capacity," Davey said at the public presentation of "bid 2.0." on Monday. "So these additional improvements will allow the MBTA to run more three-car trains during rush hour."
Persuading taxpayers — and voters — that the Olympics are a good idea is where Boston 2024 seems to have failed thus far. But converting the slow, squeaky ride on the Green Line -- which often feels closer to its 1897 origins than 2024 — is something some passengers can get behind.
Eli Kaufman, on his way to work for the Red Sox, knows how bad the Kenmore Square T station is when a game at Fenway lets out.
"It's crazy," Kaufman said of the tangle of thousands of people trying to make their way from Commonwealth Avenue to the train platforms below. "It's so chaotic. The platforms are small. The stairs are small. It's so cramped. I think a step in the right direction would be to get some bigger cars."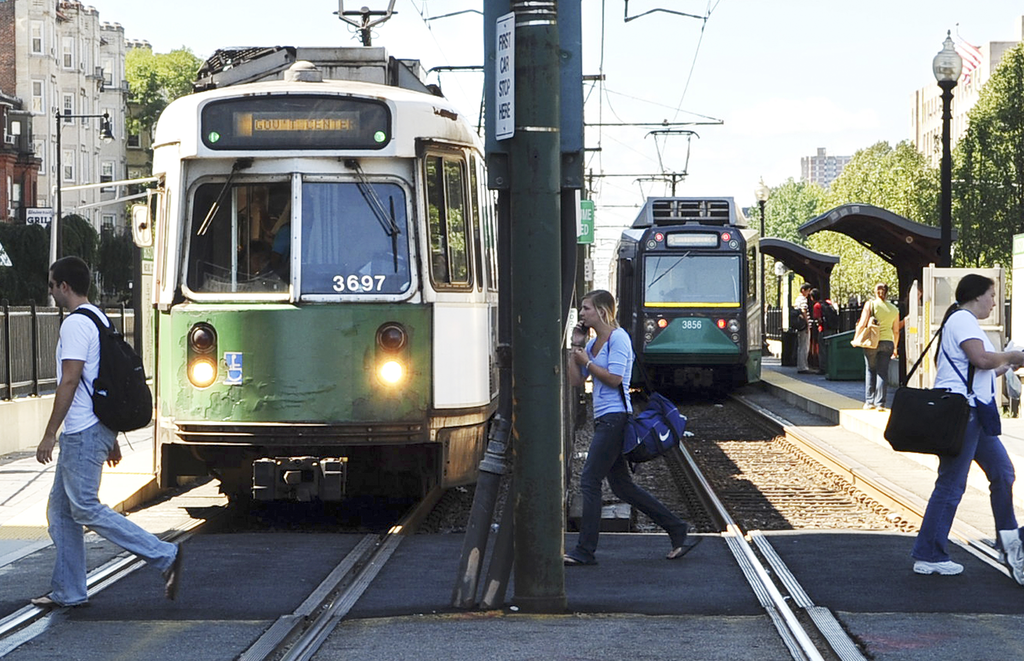 Taxpayers would have to spend an additional $350 million to improve the Green Line so it could handle more three-car trains. They'd also have to pay an additional $105 million to move passengers more quickly through the Red Line. And there's another $100 million needed to improve the Broadway T station, according to Boston 2024 plans.
None of that money has been budgeted. But Chris Getty would support spending it. On Monday afternoon he was on his way to his job near Kenmore Square, doing pharmaceutical research at Boston University.
"We should be spending money on infrastructure and public transit," Getty said. "So if we have an excuse to spend money on it, that's as good a reason to do it as any, so why not?"
But BU management student Arabi Moorthy is skeptical that packing more people onto the trains will solve what she sees as the Green Line's main problem.
"More people would be able to get on the T," Moorthy said. "That'd be great, but at the same time, I don't know if that would make the T faster or not. That's where the problem is, right? Not really how big it is, but how fast it goes."
The money to improve the Green and Red Lines would come out of the T's Capital Budget. It's funded by a mix of state and federal money, and bonds backed by the T's revenue. There are still nine years left to direct the money toward the improvements. The Boston 2024 organizers are hopeful that gives them enough time to persuade the T board, Gov. Charlie Baker and the state Legislature that it's a worthwhile investment.
This segment aired on June 30, 2015.