Cambridge Cabbies Strike, Seeking Ride-Hailing Regulations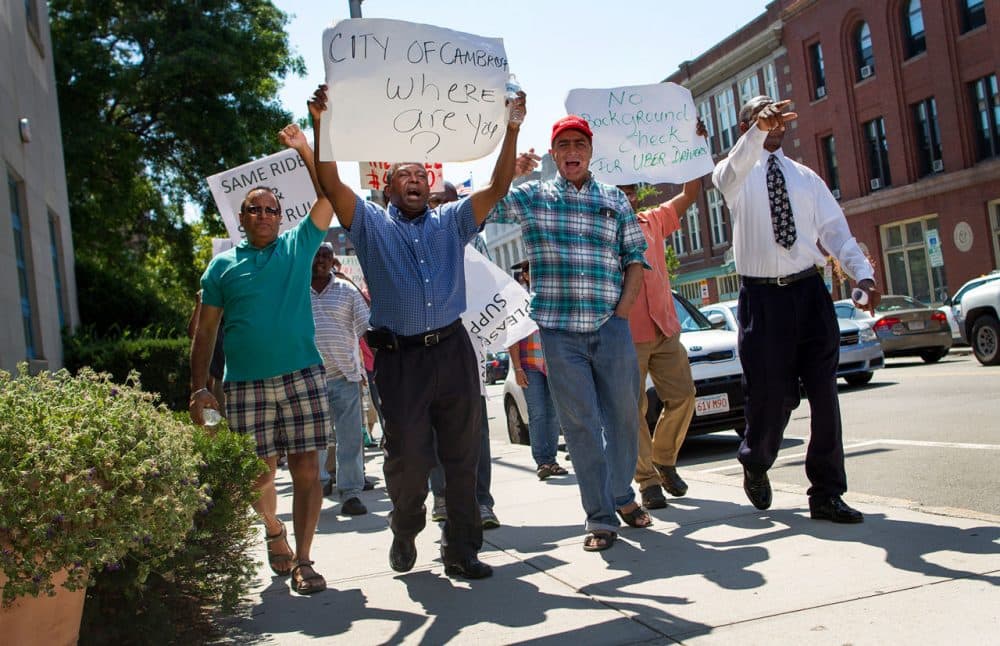 This article is more than 7 years old.
You might have found it a tough day to hail a cab in Cambridge. Many of the city's taxi drivers staged a one-day strike to call for stepped-up regulation of ride-hailing services such as Uber and Lyft.
The protesting cabbies were calling on city officials to impose on the ride-hailing services the same kind of rules that the taxi industry faces.
The drivers gathered Monday outside City Hall, chanting, "Uber out!"
Mohammad Ibrahim says the ride-hailing services could force him out of business. "We cannot support our family. We struggling," he said. "Before we have good business and we can manage our life, but right now, no."
Organizer Mark Raymond told WBUR ahead of the strike that cab drivers in the city have lost more than half of their business because of unfair competition. "We are not going to go down without a fight, and we won't surrender to Uber and Lyft," Raymond told WBUR's Simón Rios.
However, not all industry members supported the strike.
The Massachusetts Regional Taxi Advocacy Group said last week that it was not supporting the protest. Spokesman Stephen Regan said the group is working with lawmakers, and it's too early to strike.
"At this point you can't rule out any type of action that might be taken down the road based on certain conditions, but at this time, we've received a lot of positive feedback as we educate legislators as to what the concerns are of the industry," Regan said.
The Cambridge City Council considered an ordinance last year to increase regulation of the ride-hailing companies, but later decided to defer to the state Legislature.
Gov. Charlie Baker filed a bill in April that would require drivers for ride-hailing services to undergo state criminal background checks, and the companies to carry at least $1 million in liability insurance for each ride.


With reporting from The Associated Press and the WBUR Newsroom
This article was originally published on August 03, 2015.