What To See At The Fuzzstival, The Annual Psychedelic And Garage Rock Shindig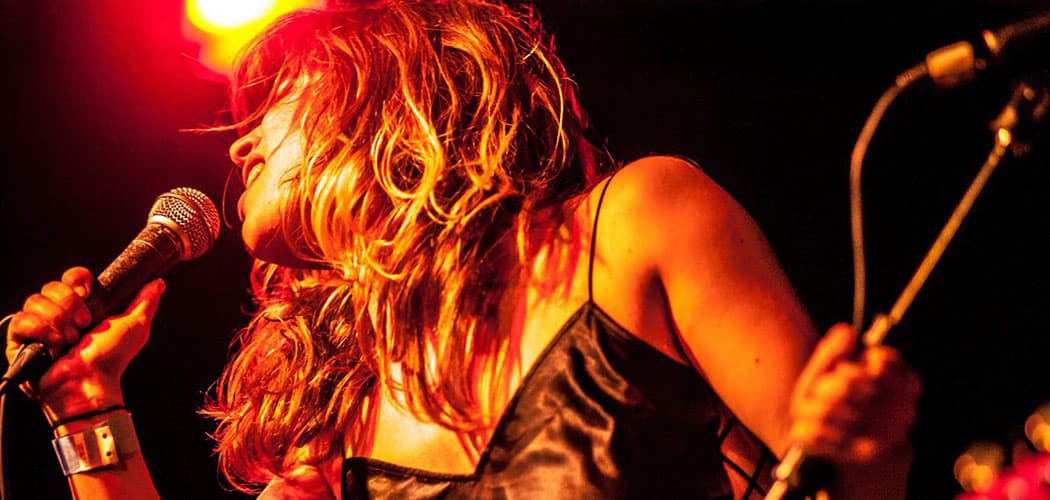 This article is more than 7 years old.
Plato once wrote, "Music gives a soul to the universe, wings to the mind, flight to the imagination, and life to everything." Then again, he probably never got puked at or plowed into after hours of enduring an endless rock festival, eardrums beaten and garments reeking of sweat and booze. But perhaps even those inconvenient truths of the concert-going experience wouldn't deter that Athenian ponderer—because, in his highmindedness, he knew that there is something about being one of many in a physical space, filled with both humans and music that is pleasing, that is sublime enough an experience that it somehow makes life worth living.
Jason Trefts is someone who definitely groks that kind of kumbaya talk. As perhaps the least cynical urban booking agent ever, his goal with his ever expanding Fuzzstival -- in its third iteration this year, running Thursday, Aug. 6, to Saturday, Aug. 8, at Cambridge's Middle East -- is altruistic to an extreme, aiming to find any way possible to unite music fans and bands, blow minds and ears, money be damned.
"I'm so sick of people having to rally around negative things," he explains plaintively, from his office at the Middle East, where during the day he is the booking agent for the upstairs room. "Like something bad happens and everyone unites around it. There isn't a lot of rallying around something positive. My goal is to promote good vibes, to involve as many people as possible. I mean, look, I have 'World Peace' tattoo'ed on my arm," he beams with a smile audible through the phone line, "and basically I'm just a big hippie."
Which makes sense, because hippies, at least according to legend, prefer the use of severe volume and distortion only when it serves some sort of common good, i.e. people coming together to smile on their brother, trying to love one another right now, etc.
"Fuzzstival," he explains, "has a general anti-establishment vibe, a sense of freedom. I mean, the sets aren't super long, it isn't a let's-see-how-famous-I-can-get vibe. It's about everyone meeting, forming connections, taking the next step as a community."
Trefts's mind might be on next steps now that his festival has expanded to three full nights, up from a single evening's entertainment a mere two summers ago. If the success is partly due to the pie-in-the-sky aspirations of its organizer, it also speaks to the nascent boom of garage and psych music. In a time when everyone and their uncool niece decry the alleged death of rock, we are living in boom times for those who want to actually listen to or play loud rock music, and especially rock music that is augmented by mind-frying distortion pedal hot-rodding. Add to that the fact that, thanks to the freely available archive of streaming media, those providing the rock now have access to even the deepest of deep '60s obscurities, and you have a garage and psych world populated by fuzz-faced fans and musicians hip to every flavor ever thought of in the musical candy store that is psychedelia.
This year's Fuzzstival lineup is, in a way, a kind of traipse through the history of psych, as three nights and nearly three dozen bands will put on display pretty much every corner of psych rock that exists. If you are nervous about going down the rabbit hole and need a spirit guide to hold your hand through the experience, though, fear not, virgin traveller; use this guide to steer you away from bum trips and bad vibes, for here are six of the can't-miss acts of the festival:
---
Thursday, Aug. 6, Middle East Upstairs:
Soft Eyes | While much attention is paid to the jagged stabbing side of psychedelic rock, often the most potent kind attacks with an amorphous edge. New Hampshire son Luke Goudreault is no stranger to third eye rock, both with his now-defunct Mmoss as well as his gig in The Migs (also on Friday's bill); but the loping indolence of Soft Eyes allows Goudreault to really peel through the ego of psych rock into a white iridescent core of phase-shifted vocal yearning and slow-blade guitar meanderings that make mid-period Meat Puppets sound frenetic in comparison. Sounding not unlike an AM transistor radio tuned to pop radio circa 1966 buried under a metric ton of mothballs, Goudreault and Soft Eyes still manage to pierce the veil of their own syrupy slothitude with a shining blade of pure tuneful bliss.
---
Ghost Box Orchestra | Just as there is a psych underground, so there is a psych overground, where a band of seasoned pros can ply the public with jams that are somehow both innately meandering and utterly polished and tuneful. Nearly a decade into a career of being ear-damaging overlords, Ghost Box Orchestra have essentially become Boston's go-to crew for presenting psych jams to the non-hackysack populace. With a supremely confident sound held down by ex-Lockgroove veteran Martin Rex on drums, the Orchestra manages the supreme feat of taking gentle chords and washed vocals and fitting them into uber-punishing mosh workouts. Not all psychonauts endeavor to be amateurs: this is pro-grade reptilian power-psych, gorgeous, haunting and yet somehow overpoweringly propulsive.
---
Friday, Aug. 7, Middle East Upstairs:
The Monsieurs | Boston music scenesters of a certain age can all tell the tale of the first time that they were assaulted by the legendary Tunnel of Love—just drums, guitar, and the lascivious come-ons of Andy Macbain's crotch in your face circa 2000. Now, a generation later, McBain has toned down the rampant id but retained the psychotic glee with The Monsieurs. Guitarist Hilken Mancini is no stranger to raw chord chopping—she may be best known to some for her time in Boston major label '90s hopefuls Fuzzy, but her tenure in such scuzz merchants as Count Me Outs and, more recently, Shepherdess have displayed her penchant for diode-busting axe violence. Yet despite the aural violence, there is an almost-creepy romanticism at the heart of The Monsieurs, like a classic prom night band playing slow dance jams with only a few noticeable drops of blood on the pickups of their guitars. For those making a career out of garage, this is called… maturing?
---
Boom Said Thunder | It began to occur to some in the '90s that bass and drums were enough to rock with, and a slew of influential groups discovered that when a bass guitar's guttural moan is slathered with enough distorted crackling, a guitar may not be necessary. What's remarkable, then about a band like Boom Said Thunder is the way that they manage to be more than just a decibel meter shattering machine, using just bass, drums and vocals to weave through white knuckle canyon slalom runs, safely cruising through peaks and valleys of high and low musical drama with ease. The banshee howl of Abby Bickel is the eye in the center of the maelstrom—haunting, growling, shrieking, or cajoling, she reins in the instrumental violence of the music one moment only to unleash the beast the next moment with a rebel yell that could bring thunder and rain to a barren desert.
---
Secret Lover | Sometimes psych music involves a replication of the effects of psychedelics, and other times it merely reflects the non-linear whimsies and desires brought about by alcohol and loud music. This Brill-Building-via-Worcester factory cranks out a variety of aching tunefulness. Sally Horowitz's plaintive-yet-commanding lyricism reflects a young life in rock and roll and '60s girl-group obsession through a gauzy alcohol-fueled haze. At times arch and pounding, at times loping and disheveled, splayed throughout with mirrorball drama and an innate ear for what to steal from the Ronnie Spector songbook, Secret Lover trade in the sheer guitar volume of most Fuzzstival bands for an all-too-human mainline of emotion that is a must-see in a live setting. 
---
Saturday, Aug. 8, Middle East Downstairs:
Advaeta | What is psychedelic music, really? In the end, perhaps, it is music that finds ways to transcend the familiar space and time of a standard tune, to find a harmonic center at the universe of a sound and zero in on it, to drive off the road using an internal GPS that isn't bound by typical musical convention. The music of Advaeta may in some ways adhere to standard rock tropes, but at some point each tune hits an "ommmmm" point at which a spiraling summoning brings both band and listener into a vortex of pure sound and being. The sheen of their sound is in many ways more '80s 4AD than 1960s "Nuggets"-inspired, owing as much to the relentless echo howl of the twin axe attack as the ascendant unison wail of guitarists and vocalists Sara Fantry and Amanda Salane.
---
Drug Rug | Approximately a decade ago, this group of good-record-collection-having creative anachronists lept to the top of the Boston scenester pyramid with their pitch perfect take on Velvets-y soft psych; led by Cambridge couple Sara Cronin and Tommy Allen, Drug Rug created sonic beds of billowing linen-y dream pop, alluding to decades past without going full sitting-Indian-style-with-sitar-on-lap '60s. A fair amount of accolades and several long players later, the band faded into the aether from whence they had emerged, having only poked their mop tops through the cloud cover occasionally in the past five years or so to tease a new song or whet appetites for a forthcoming long player that has yet to emerge. All the more reason to catch these mercurial psych denizens in the flesh now, before smooth breezes gently blow their ship to the smooth psych rock equivalent of Valinor.
Correction: An earlier version of this post had the dates mixed up. Fuzzstival runs Thursday, Aug. 6, through Saturday, Aug. 8.  
This article was originally published on August 03, 2015.