Mayor Walsh Wants Ban On Chewing Tobacco At All City Ballparks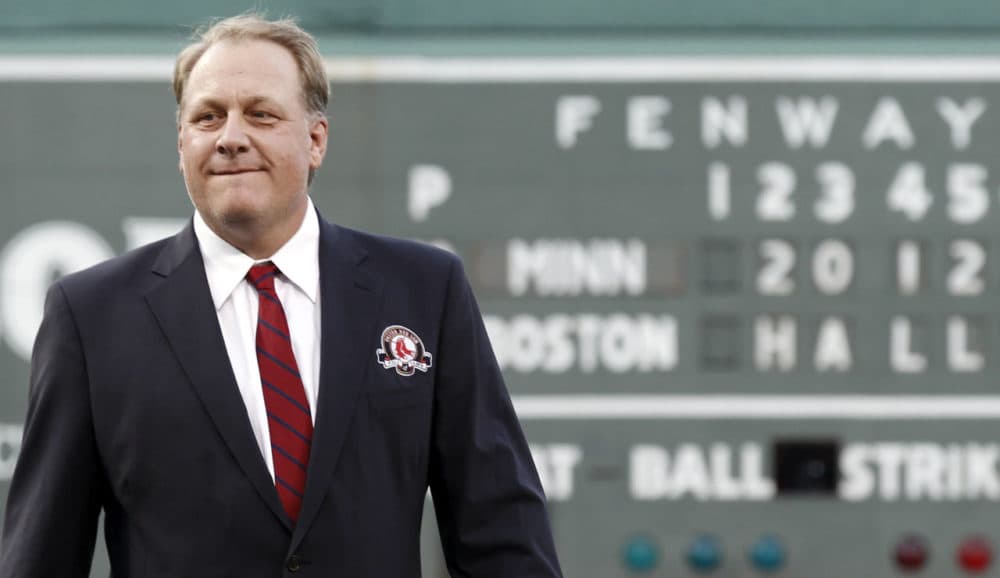 This article is more than 7 years old.
From storied Fenway Park to youth baseball diamonds across the city, Boston Mayor Martin J. Walsh is calling for a ban on dip, snuff and chewing tobacco.
With former Red Sox pitcher and mouth cancer survivor Curt Schilling at his side, the mayor on Wednesday proposed banning smokeless tobacco products from all city professional and amateur athletic venues.
"Kids shouldn't have to watch their role models using tobacco, either at a neighborhood park or on TV," Walsh said, standing at home plate of a South Boston baseball diamond. "Ballfields are places for mentoring and healthy development. They're no place for cancer-causing substances."
Schilling, who revealed earlier this year he was diagnosed with mouth cancer after decades of using chewing tobacco, described his battle with the illness, which he said is in remission.
"It was more painful than anything you could imagine," he said, addressing the dozens of school-age kids in attendance. "I couldn't swallow. I had to eat from a tube. I was sick every single day. And if it came back, I don't know if I would go through the treatment again. It was that bad."
The 48-year-old ESPN analyst acknowledged Walsh's proposal will likely meet resistance from major league players, but he believes they will eventually come to accept it, just as they had when smoking was banned in ballparks years ago.
"This is about our kids," Schilling said. "We have to accept the responsibility that we impact the decisions and the choices that they make."
Under their union contract, MLB players aren't banned from using smokeless tobacco products, though they can't use them during televised interviews and can't carry them around when fans are in the ballparks.
The Red Sox organization applauded Walsh's proposal, which requires City Council approval.
"We all know the horrific and tragic stories of ballplayers who have suffered the consequences of using smokeless tobacco," the team said in a statement. "Our focus on baseball - and on bringing children closer to the game - fortify our resolve to cooperate in this effort."
Altria, the makers of popular smokeless tobacco products Skoal and Copenhagen, declined to comment Wednesday. Other smokeless tobacco makers did not immediately weigh in.
Walsh's proposal would apply to everyone in a ballpark, including fans, players, ground crews and concession staff.
The proposed ordinance would cover professional, collegiate, high school or organized amateur sporting events and be effective April 1. His office says those managing sporting event sites would be responsible for assuring compliance. Violators would be subject to a $250 fine.
If approved, Boston would become the second U.S. city, behind San Francisco, to ban chewing tobacco and related products from ballfields. That city's ban takes effect Jan. 1. Los Angeles is also considering a ban that's focused solely on baseball and does not impact other sports.
Walsh plans to officially file his proposal Monday.
Specifically, he calls for banning use of smokeless tobacco products, which are defined as any product containing "cut, ground, powdered, or leaf tobacco and is intended to be placed in the oral or nasal cavity."
Public health officials Wednesday said major league players represent "powerful marketers" for smokeless tobacco products, whether they realize it or not.
Cigarette smoking has been on the decline in the U.S., but smokeless tobacco use among youth has remained relatively steady in recent years, noted Dr. Howard Koh, a former U.S. assistant secretary for health who now teaches at Harvard.
Nearly 15 percent of high-school age boys reported using smokeless products in recent studies, he added.
The Surgeon General and the National Cancer Institute say smokeless tobacco contains at least 28 cancer-causing chemicals that can lead to oral, pancreatic and esophageal cancer and other health problems like heart disease, gum disease and tooth decay.
"Smokeless tobacco is not harmless," Koh said. "All of this is preventable. We can do something about this."
This article was originally published on August 05, 2015.