And The Kids: Glittery Indie-Pop From Northampton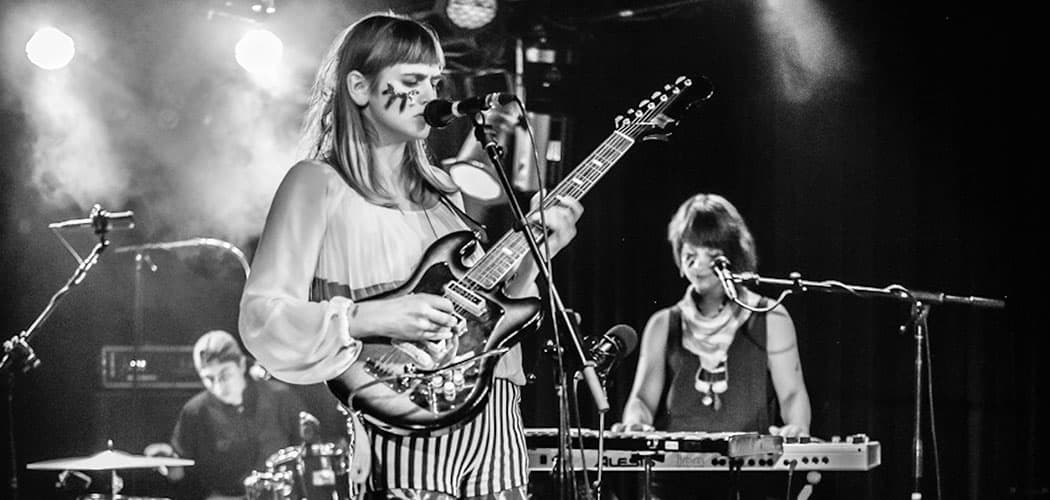 This article is more than 5 years old.
The Northampton indie-pop band And the Kids got off to an inauspicious start. Lead singer and guitarist Hannah Mohan and drummer Rebecca Lasaponaro met in music class at John F. Kennedy Middle School in Northampton—"We called it Jail For Kids—JFK," says Mohan—and were paired together for a project when no one else picked them.
Mohan had been playing flute since elementary school and knew a few chords on guitar. Lasaponaro was already drumming. "We started a joke band," says Mohan. "Becca wrote the songs. It was called Woot. And it was really bad."
A decade later, And the Kids, which includes Megan Miller on keys and Taliana Katz on bass, have taken part in the popular NPR Tiny Desk Concert series and released their first full-length album, "Turn To Each Other," on the Northampton label Signature Sounds. They play a residency Tuesdays Aug. 11 and 18 at Great Scott in Allston. (Miller, a native of Canada, was barred from re-entering the U.S. in late 2014, so the band will appear as a trio for their upcoming gigs.)
The group's Bandcamp page describes And the Kids as "accessible unconscious existential indie glitter popsicle crisis music." The vivid tagline, though seemingly nonsensical and somewhat tongue-in-cheek, nevertheless gets at something essential about And the Kids. They are accessible, to be sure, with a penchant for sprightly hooks and a taste for the crystalline tones of the glockenspiel. But they also like to flout the rules of pop; a seemingly conventional verse-chorus structure dissolves into a breakdown, out of which spirals a brand new musical motif, fast and blustery and triumphant. Listen closely, and you'll hear Miller's syncopated countermelodies like contrapuntal latticework beneath Moher's bright guitar riffs. Bursts of polyrhythm and quirky time signatures rattle the otherwise sweet music. Like their jokey slogan, And the Kids are clever but not overly serious about it.
And the glitter? "We wear glitter onstage because it lifts up our spirits in the darkness of the room," says Mohan.
The members of And the Kids have never been rule-breakers, but they haven't always followed the beaten path, either. Lasaponaro and Mohan only became serious about music after they "got into smoking pot and dropped out of high school together," as Mohan puts it. Their parents, worried that they would languish, enrolled them in the Institute for the Musical Arts in Goshen, Massachusetts, which offers programs and recording facilities for women and girls. Mohan and Lasaponaro also found a practice space at North Star, an organization in Sunderland, Massachusetts, that offers classes to homeschooled teens. "There was this one room in this really small building of people that we just fought over with this metal band," Mohan remembers, laughing. The band's first EP, "Nothing Came First," was recorded at the Goshen music school and released in 2012.
Perhaps as a result of all those furiously creative, school-free hours, the members of And the Kids seem to have morphed into a distinctive tribe. Onstage, they wear glittery face paint streaked abstractly across noses and cheekbones. Mohan favors a single, succinct daub of dark lipstick in the center of her lower lip. The band has developed something of their own language, too; they refer to an explosive moment in the music as a "crisis," and at some point, when Mohan was having trouble writing the bridge section of a song, she started calling it a "ferry" instead, perhaps hoping that it would carry her effortlessly across to the other side.
Mohan possesses an exceptional voice, mossy and inviting. She sings with fluttery nuance and swoops to delirious heights. "I've been a little anxious/ For my life, life, life/ For my whole damn life," she sings on "Secret Makeout Factory." The melody begins with sing-songy conviviality but soon twists into something fiercer. So much of And the Kids' music seems intent on translating anxiety into something else—joy, catharsis, even anger. The musical equivalent of glitter to ward off the dark.