'Franklin Park Art Grove': A Guide To The Installations And Performances
This article is more than 7 years old.
Some things you might see if you visit the "Franklin Park Art Grove," a group of free performances and temporary art installations debuting in the Boston park's Wilderness Picnic Grove this weekend: mirrored pyramids, a tree with its branches covered with blue bottles, a cabin to honor the lives of formerly enslaved Americans, and a pair of donkey-headed people wandering around.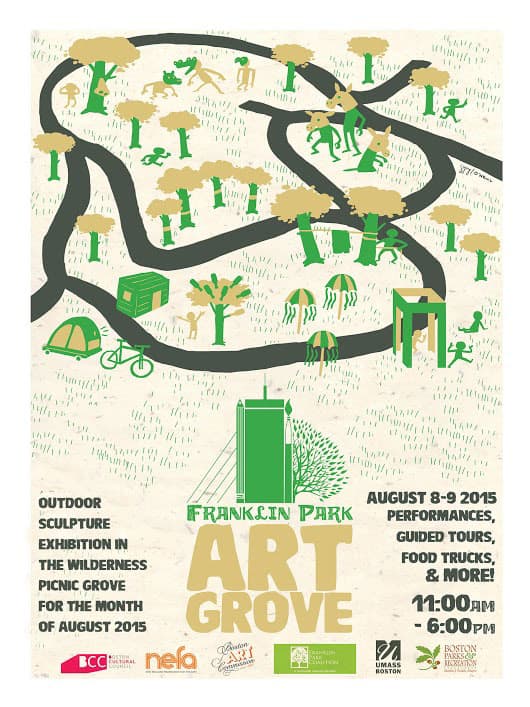 The project is loosely inspired by the theme of "endurance"—the endurance of African-Americans through the oppression of America, the endurance of Franklin Park since its creation in the 19th century, and so on.
Underlying the whole project is a desire to connect to the diverse neighborhoods surrounding the park, explains Carolyn Lewenberg, a Boston artist and mastermind of the project, which is a collaboration between the Boston Art Commission, Franklin Park Coalition, the William Monroe Trotter Institute of Black History and Culture at the University of Massachusetts at Boston and the Boston Parks and Recreation Department.
Lewenberg hopes the "Art Grove" sparks discussion around "whose place is this." She wants it to be "a vehicle to create connections about art in the city and belonging." The park, she says, "belongs to everybody, but not everybody feels it's theirs. Some people don't feel safe. I think that's the biggest issue."

So back to that art, which will be in the park through the end of August.
Kerri Schmidt and Dave Foley's "Internal Reflections" are mirrored pyramids meant to call "our attention to our internal and external environments. How do we occupy and care for the spaces that provide us with shelter?" Or as Lewenberg puts it, "How do we see ourselves in the space? Do we feel at home in the woods or the park?"

Pamella Goncalves and Hakim Raquib's "Bottle Tree / On Tree One Tree" covers the branches of a tree with blue bottles representing "water and sky." It taps into traditions in which a "Bottle Tree" grows, the artists say, "at a crossroads between heaven and earth, between the living and the dead, to attract and trap the spirits. The 'Bottle Tree' bridges past and present cultures of Roxbury and Boston area where reunions, festivals, and other gatherings have taken place."
Ifé Franklin's "Slave Cabin Indigo Project" is a wooden cabin painted indigo to honor "the lives and history of formerly enslaved Africans/African Americans" and to be a place where people can "share stories and feelings so that we can heal some of the history of enslavement and race relations in America ... Heal so that we can all thrive, no longer, endure."

Barbara Zeles and Kathleen Driscoll's "Embracing the Wilderness Picnic Grove and Roxbury Puddingstone" weaves fabric, string and rope around trees and stones.
The "Art Grove" also kicks off with a number of performances and talks. A teen party takes place from 2 to 4 p.m. Sunday, Aug. 9, with teens performing rap and hip-hop, plus a dance party, henna tattoos and lawn games.
Barbara Lewis, director of the Trotter Institute, hosts a talk on "Empathetic Environments: Animals as Mentors, Masks and Mirrors" at the Overlook Shelter ruins at noon Saturday, Aug. 8. Slave narrative will be read at Franklin's "Slave Cabin" at 4 p.m. Saturday, Aug. 8. Kara Fili and Tara Weaver's "The Reclaim Game" dances through Zeles and Kathleen Driscoll's "Embracing the Wilderness Picnic Grove and Roxbury Puddingstone" at 11 a.m. and 1 p.m. Saturday and Sunday, Aug. 8 and 9.
Ian Deleón and Rachel Frank wear donkey masks to perform a series of living tableaus for their "The Autobiographical Animal" at 11 a.m., 2, 3 and 5 p.m. Saturday, Aug. 8, and 3:30 p.m. Sunday, Aug. 9. They pantomime acts of labor to inspire "meditation on the all-too-familiar images of brutality and domination we see today."
Pampi, Dey Hernández and Loreto Paz Ansaldo perform "Jataka Fables: Rooting into Our Animal Bodies to Inspire Community-Building," puppet shows of Buddhist fables from Southeast Asia "to explore community responsibility, agency and resilience" at 1:30, 2:30 and 4 p.m. Sunday, Aug. 9.
---
Greg Cook covers the wilderness for WBUR's ARTery. Follow him on Twitter @AestheticResear or on the Facebook.