Red Sox Hire Dombrowski As President; GM Cherington Is Out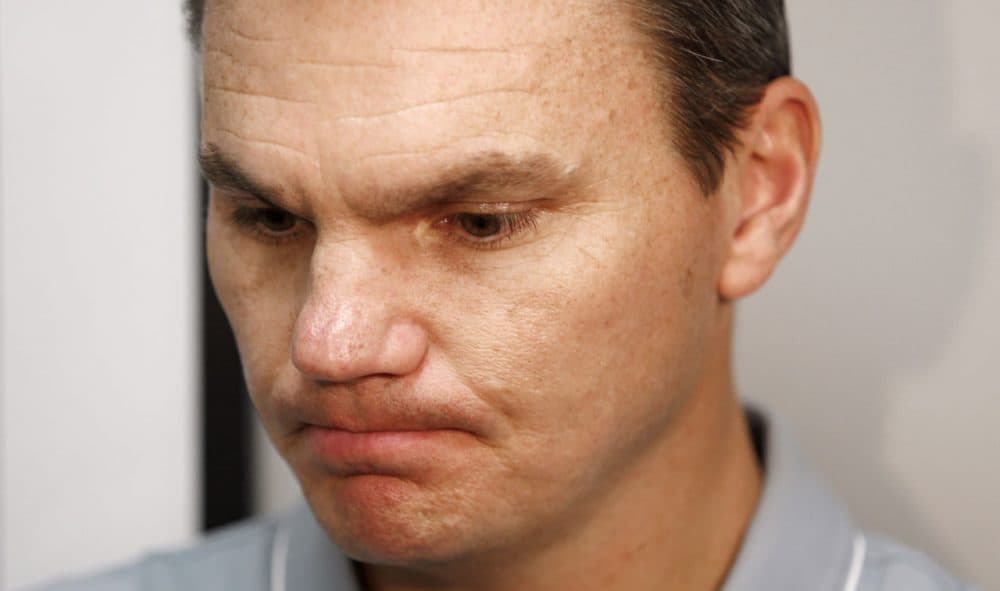 This article is more than 5 years old.
On their way to a third last-place finish in four seasons, the Boston Red Sox shook up their front office on Tuesday night by hiring Dave Dombrowski as the new president of baseball operations and saying goodbye to general manager Ben Cherington.
Dombrowski takes over his fifth major league club immediately. The team said in a news release during its game against the Cleveland Indians that Cherington "declined the opportunity to continue as general manager" but will help with the transition.
"In nearly four decades in the game, Dave is a proven winner," Red Sox chairman Tom Werner said. "He can restore winning ways to Yawkey Way and help to fulfill the Red Sox goal, every year, to be playing meaningful games into October."
After taking over as the Montreal Expos GM at the age of 32, Dombrowski went on to build a World Series champion with the Florida Marlins. He took Detroit to the Series twice, winning four straight AL Central titles in 14 years in the Tigers' front office.
But with Detroit playing below .500, Dombrowski was let go two weeks ago - shortly after the Red Sox announced that president and CEO Larry Lucchino would step away from the club at the end of the season. Red Sox COO Sam Kennedy will run the business of the ballclub, and Dombrowski takes over the baseball side.
"He is one of the most highly regarded executives in all of baseball, and had options to go with other clubs," said Red Sox owner John Henry, who owned the Marlins for part of Dombrowski's tenure there. "We feel very fortunate that he wanted to come to Boston and wanted to further his career - now with the Red Sox - as one of the great architects of winning baseball clubs."
Dombrowski said he was eager to get a head start on building the 2016 club. He said he had other teams interested but he saw great potential in the Red Sox's farm system and in the young players who have already reached the major leagues.
"There was no option that stood out as clearly as the chance to come to Boston and win with the Red Sox," he said. "Boston is a baseball city like no other and its history and traditions are unique in our game. I expressed to John and Tom that Boston would be my absolute top choice and am honored to have the chance."
Cherington built the Red Sox team that won the 2013 World Series, but the club finished last in his three other seasons. In all, his clubs won 289 games and lost 315.
"Ben Cherington is one of the finest individuals I have ever worked with, possessing a maturity and integrity second to none," Henry said. "Over 17 years with the Red Sox and in the four years as our general manager, he always put the best interests of our organization first and foremost, winning a World Series Championship in 2013."
Cherington took over from Theo Epstein after the team collapsed in September, 2011, going 7-20 to blow a nine-game lead in the AL wild-card race and miss the playoffs on the final day of the season. Cherington's first season was doomed after he agreed to hire Bobby Valentine as manager, a move that resulted in the team's worst finish in half of a century.
Cherington kick-started the rebuilding by sending big-name free agents Josh Beckett, Carl Crawford and Adrian Gonzalez to the Los Angeles Dodgers, then spent the offseason adding lower-priced but high-character players like Shane Victorino, Jonny Gomes and Mike Napoli. Under John Farrell, the Red Sox rode the civic pride in the aftermath of the Boston Marathon bombing to the 2013 World Series title - the third in a decade for the once-cursed franchise.
But the Red Sox were back to last place in 2014 - the first team in major league history to go from worst to first and back to worst. Cherington's efforts to rebuild this season with high-priced free agents like Hanley Ramirez and Pablo Sandoval have shown little success; the Red Sox finished the night at 53-66, 13 1/2 games behind the rival New York Yankees.
The season took an even more grim turn last week when Farrell announced that he was diagnosed with cancer. Bench coach Torey Lovullo has filled in for him for the past five games.
Farrell began chemotherapy earlier Tuesday.
"When organizations struggle, they just shake it up," designated hitter David Ortiz said after the 9-1 victory over Cleveland. "Ben won a World Series as a GM. So you don't forget about that that quick. But I guess they had that conversation. We're just going to try to move on and have a better ball club next year."