Bridge Connections Cut, Boston Harbor Camp Forges New Path
04:49
Play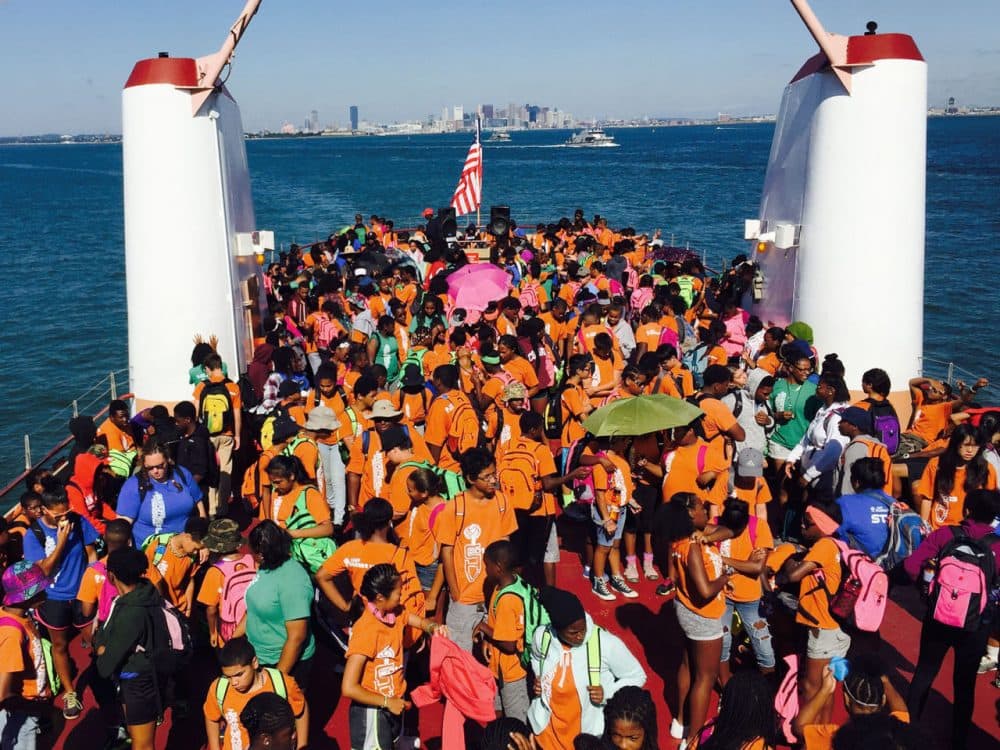 This article is more than 5 years old.
Eleven-year-old Damien Booker, of Mattapan, hangs by a harness a few feet off the ground, ready to be hoisted high in the air. He has finally worked up the courage to try the high-ropes course.
Damien swings in a wide arc, careering toward the ground, then seesawing back into the air, before his teammates ease him back to earth.
"It was pretty scary at first," he says. "It's like going on a roller coaster."
Camp Harbor View, an oasis for inner-city youth on Long Island in Boston Harbor, has been on its own roller coaster this past year. Since its opening in 2007, campers have taken buses across an aging bridge to the island.
But the bridge is gone now. Deemed dangerously decayed, it was condemned in October and later demolished, taking with it the power and water lines that connected the island to the mainland.
"We blinked hard a couple times when we heard that the bridge was going to come down," says Sharon McNally, president of the Camp Harbor View Foundation. "And then we immediately knew that we were going to continue to have camp out at Long Island."
But, she says, "We had very little idea just how difficult it was going to be. Getting the kids here to the camp is the easy part."
Now buses deliver hundreds of campers each day to the Seaport District, where they board a ferry to the island.
"The ferry was a wonderful solution," McNally says, "but we didn't know that the power lines were going to come down, that the water lines were going to come down, so we worked through each of those challenges as they confronted us."
Water, food and other supplies are shipped in by barge. Generators were brought in to supply electricity, while the city of Boston works to build underwater delivery lines.
Camp Harbor View has always had a close relationship with the city. The camp was a dream of late former Mayor Thomas Menino, who partnered with businessman and philanthropist Jack Connors.
Menino and Connors called these kids "the tweenies." McNally says they are at a critical point in their lives, in between stages of childhood.
"The campers are between the ages of 11 and 14, and that's the age where they are too young to work, they're really too old to have a babysitter, but too young to be left on their own," she says. "It's that between stage when there's nothing really wonderful for them to do in the summer."
There's plenty to do out here at Camp Harbor View. There's an art barn, amphitheater, music studio and every kind of sport imaginable: from rugby, to lacrosse, to tennis, to sailing, to kayaking, to swimming.
It's midday and 15-year-olds Jasmyn Dore and Aisosa Ombre, of Hyde Park, are taking a ferry off the island with a group of older teens. They're all former campers, now leaders-in-training at the camp on a field trip, headed to a Boston courthouse for a program called Discovering Justice.
For Jasmyn and Aisosa, the camp is a life-altering experience:
"It's a really affordable camp," Aisosa says. "I really like how you're able to do a lot of things here."
Affordable is an understatement. Though a camp official says it cost over $3,500 to fund each camper, the campers only pay a $5 application fee.
Over the years, the camp has been made possible through fundraising and generosity. Support has come in many forms: vans donated by car dealerships, sailboats funded by a family with a love of sailing, even dental screenings, cleanings and treatments provided free by a dental office.
But the closure of the bridge presented a particular financial challenge. But McNally says the camp's supporters rallied around the crisis.
"We raised $5.5 million at our gala this year, which is an all-time record," McNally says. "They knew this was important and we needed to make sure that we prevailed despite the obstacles."
Part of that money will go into an endowment. There, it will help bridge the challenges not just for this year, but for many years to come.
This segment aired on August 20, 2015.