Forecast: Humid, Mostly Sunny Today Before Showers This Weekend
If you want relief from the humidity you are going to either have to be patient or drive hundreds of miles. Dew points which measure the amount of moisture in the air area not going to fall to comfortable levels (under 60 degrees) for about another week.
Along with the humidity, temperatures will continue to run above average, but not at heat wave levels. Rather, highs will be mainly in the 80s inland with some 70s at the coast. Even if it only reaches the upper 70s, the humidity will be so high it will free in the 80s.
All this moisture has allowed some fog and low clouds to form overnight. This will "burn off" or dissipate this morning leaving us with another mostly sunny day. If you are at the beach or headed there, the sun will eventually win out making for a great afternoon along the coast.
A frontal system back to the west has some much drier and cooler air behind it. This front won't ever really make it through the area rather it will stall in our region and eventually just wash out. This term means the cooler air behind it, will just end up mixing with the warm air ahead of the front so our air mass won't change.
With the front so close to the region this weekend, clouds are going to be a problem. No longer will we have the abundant sunshine we have seen this past week and the chance of showers will present throughout the area. The map below shows where the clouds will be heaviest this weekend.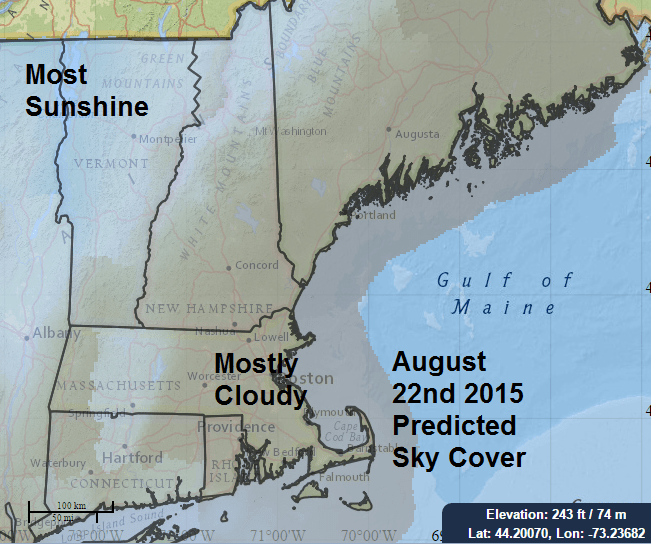 Driest North and West
The best weather this weekend will be across northern Vermont where it not only will be sunnier, but it will also be drier. Across Maine, eastern New Hampshire and much of southern New England clouds will dominate the skies both days.
Not A Washout
The map below shows how much rain is forecast for Saturday afternoon. While there are showers in the forecast and some may produce heavier downpours, I don't expect rain all day. Sunday will still be unsettled, but less of a chance of rainfall.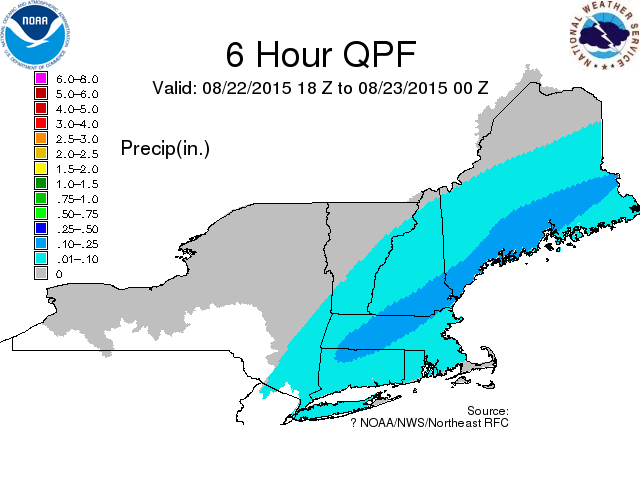 Tropical System
There is a tropical system forecast to move from Bermuda to off our coast next week. This isn't the same storm known as tropical storm Danny. Presently, the tropical system will stay far enough off the coast to not bring rain, but could create rip tides at the beaches.
---
Today: Early clouds and fog then becoming partly sunny. Highs in the low to mid 80s.
Tonight: Muggy and warm with more clouds. Lows in the mid to upper 60s.
Friday: Lots of clouds, muggy and warm. Some showers with a few downpours. Highs in the lower 80s.
Saturday: Mostly cloudy, some showers. Highs in the upper 70s to lower 80s.
Sunday: Muggy with clouds, some sun and scattered showers. Highs in the upper 70s to lower 80s.