Can Walking Your Dog Be Art? Tours And An Exhibit At DeCordova Unleash Pedestrian Powers
Resume
What does walking your dog have to do with contemporary art making?
Well a lot, according to an ideally set exhibition at the deCordova Sculpture Park and Museum titled, "Walking Sculpture: 1967-2015."
It explores the creative and political power pedestrian movements can unleash, and curators have organized some novel outdoor events around their lush campus to get visitors on their feet — or paws, as it were.
On a recent sunlit, summer evening, chief curator Jennifer Gross wrangled about a dozen dogs of all sizes — and their humans — at the deCordova's entrance. Her big, white, furry best friend, George Elliot, knows the trails around the park well and was eager to lead the way.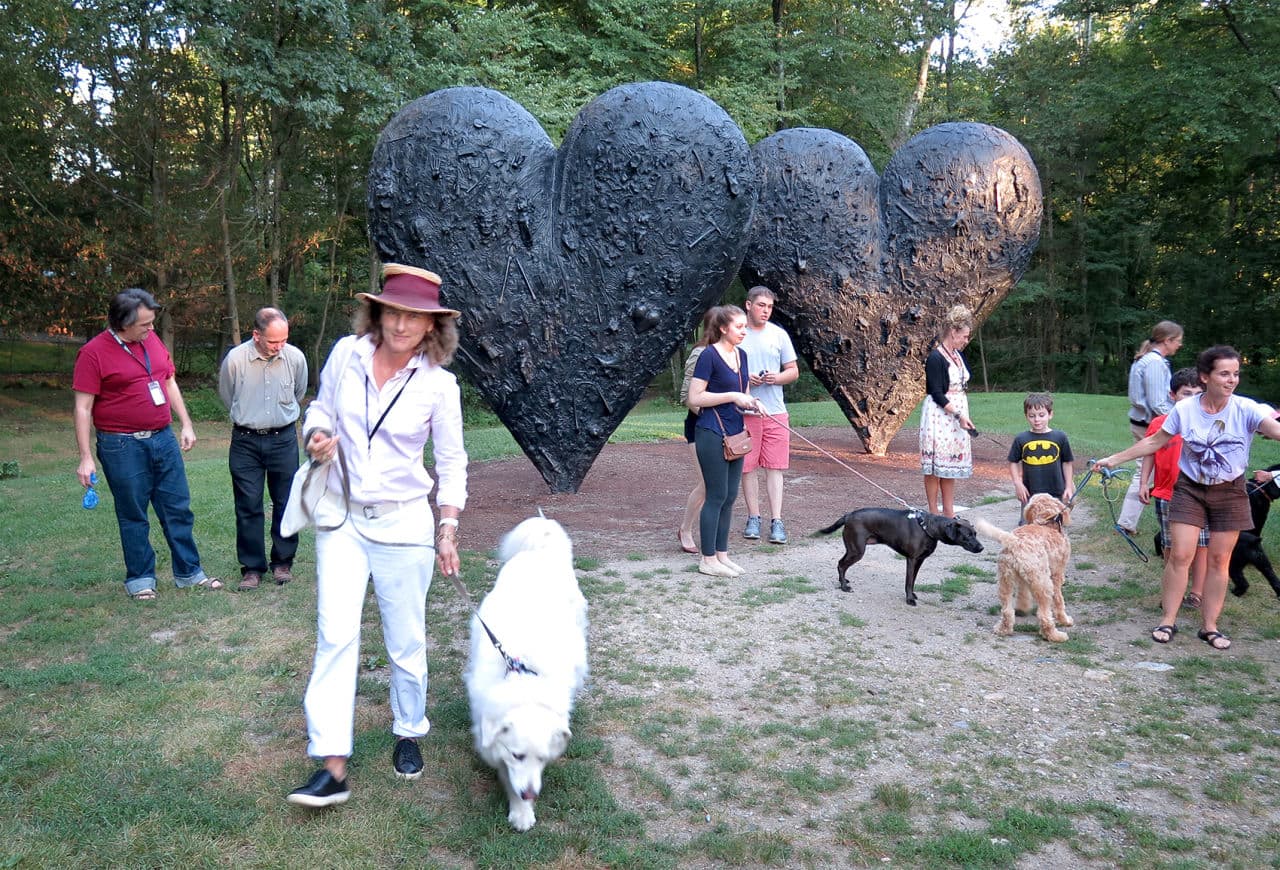 "I find that when I'm walking the dog, which is such a rote activity, you know it happens a couple times a day," Gross said, laughing as we set out on the first leg of our walk. "I absolutely see things in the world — both natural and cultural — that I would've missed before."
And that's the point of the ambulatory experiences the deCordova team dreamed up for their current indoor museum show, "Walking Scuplture." The on-going series has already included a literary walk, a botanical walk, tightrope and stilt walking, mushroom foraging with artist Wendy Jacob participating in the exhibition, and, on my visit, Gross' dog walk.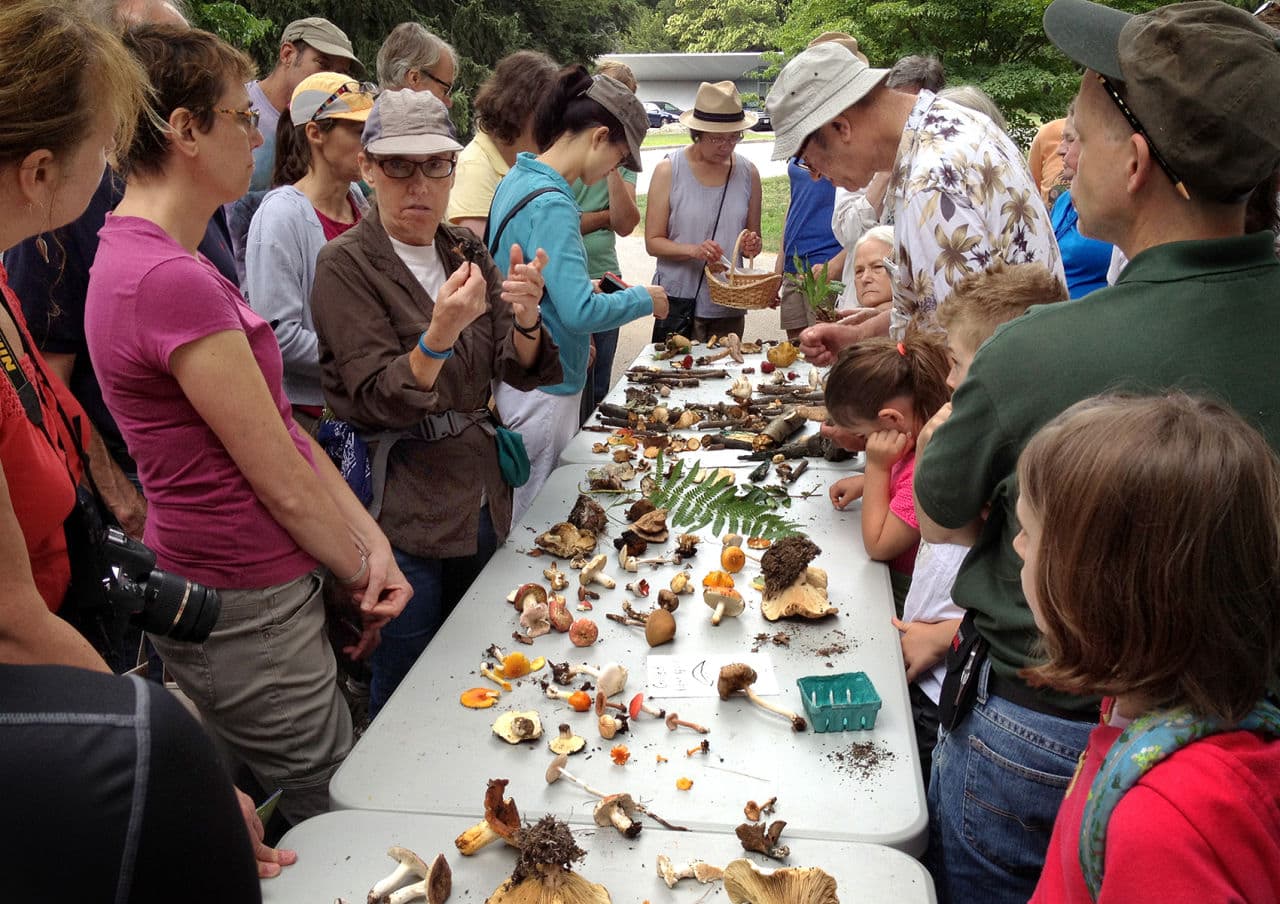 From beneath her wide-brimmed hat Gross mused, "For some of the artists, it is a very powerful form of moving through the universe — either socially or politically — but also walking is a gift we give ourselves."
Lexi Lee Sullivan, the show's curator agrees with her colleague's sentiments. Standing inside the museum she concurred, "Even down the road, [Henry David] Thoreau used to advocate walking four hours a day for health and spirit. So there is this fascinating cultural history that can be told through walking."
In the gallery, Sullivan (another proud dog owner) brings up philosophers like Friedrich Nietzsche, Jean-Jacques Rousseau and Socrates for embracing walking's creative powers. She says the early 20th century Dadaists were the first artists to use perambulation as a strategy. But the curator decided to start her show's narrative in the 1960s.
"Because there was so much civil and political unrest worldwide — obviously here in the states with Dr. King and the Civil Rights movement — walking was a really potent symbolic form," Sullivan said, then asked, "so how were artists also using that language of political resistance in their own work?"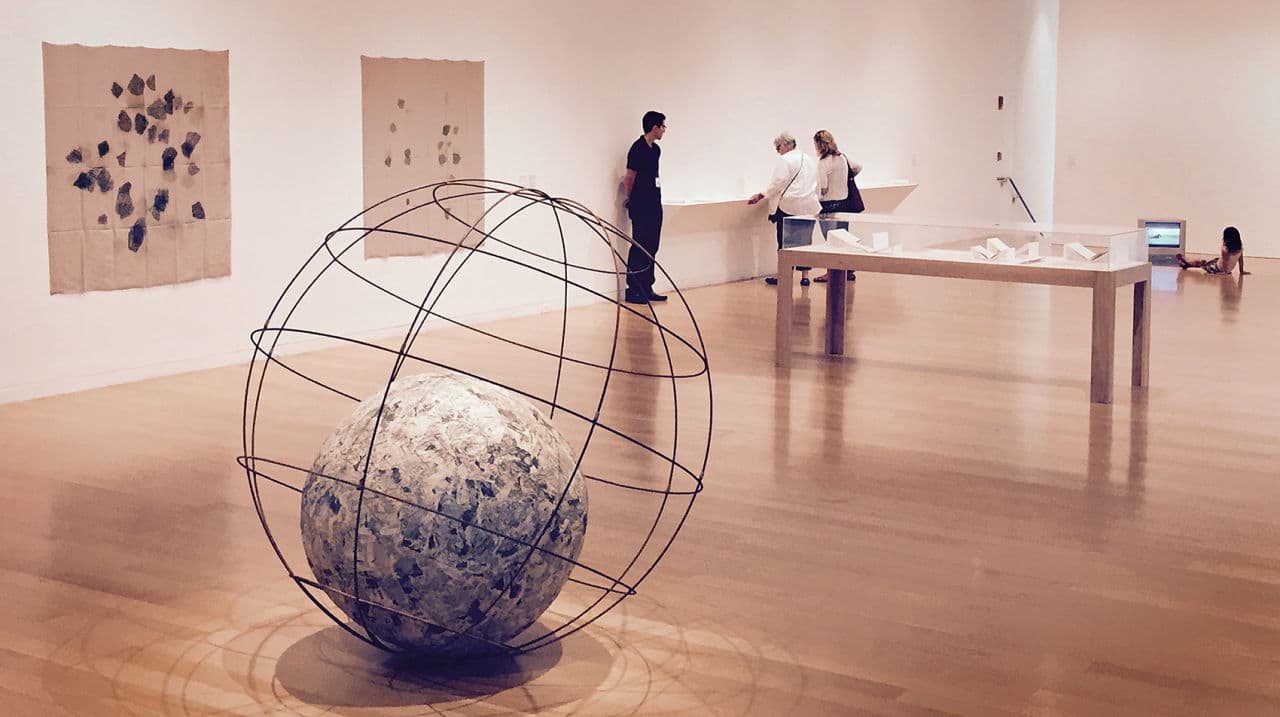 Works by 19 international artists are highlighted in the exhibition, which takes its name from Michelangelo Pistoletto's 1967 performance called "Walking Sculpture." Sullivan calls it the heart of the show. First, Pistoletto made a large, paper mache ball out of newspaper. Then he and his wife rolled it through the streets of Turin, Italy. They captured their performance -- which was a reaction to the commodification of art -- on film. It plays in the gallery alongside one of the artist's signature globes (he's made a suite of them over the years).
"They jaywalk with it, they roll it over cars and then it sort of transitions to later in the night where all of a sudden it becomes this object. And they're passing it around this riotous crowd and really testing what the art object is," Sullivan described as we watched the grainy, black-and-white footage on a flat screen monitor. "He's taking art into the space of the street," she added.
Artist Sharon Hayes took to the streets of New York City in 2007/2008 where she walked from Manhattan's New Museum to historic public speech sites and delivered her own message to the world. The audio plays through a speaker in the gallery.
"She went to Confucious Square in Chinatown, to Christopher Street and she spoke with a bull horn to the larger public this love letter that she had crafted," Sullivan told me.
Other artists expand on the walking idea to tell their stories. There's a video of artist William Pope L., who is black, crawling the entire length of New York's Broadway. His project, titled "The Great White Way," pokes at the famed theatre district's luminous nickname. He's wearing a Superman costume and the act was a grueling feat.
Sullivan explained how Pope L.'s  project aims "to draw attention to ideas of race and urban disenfranchisement."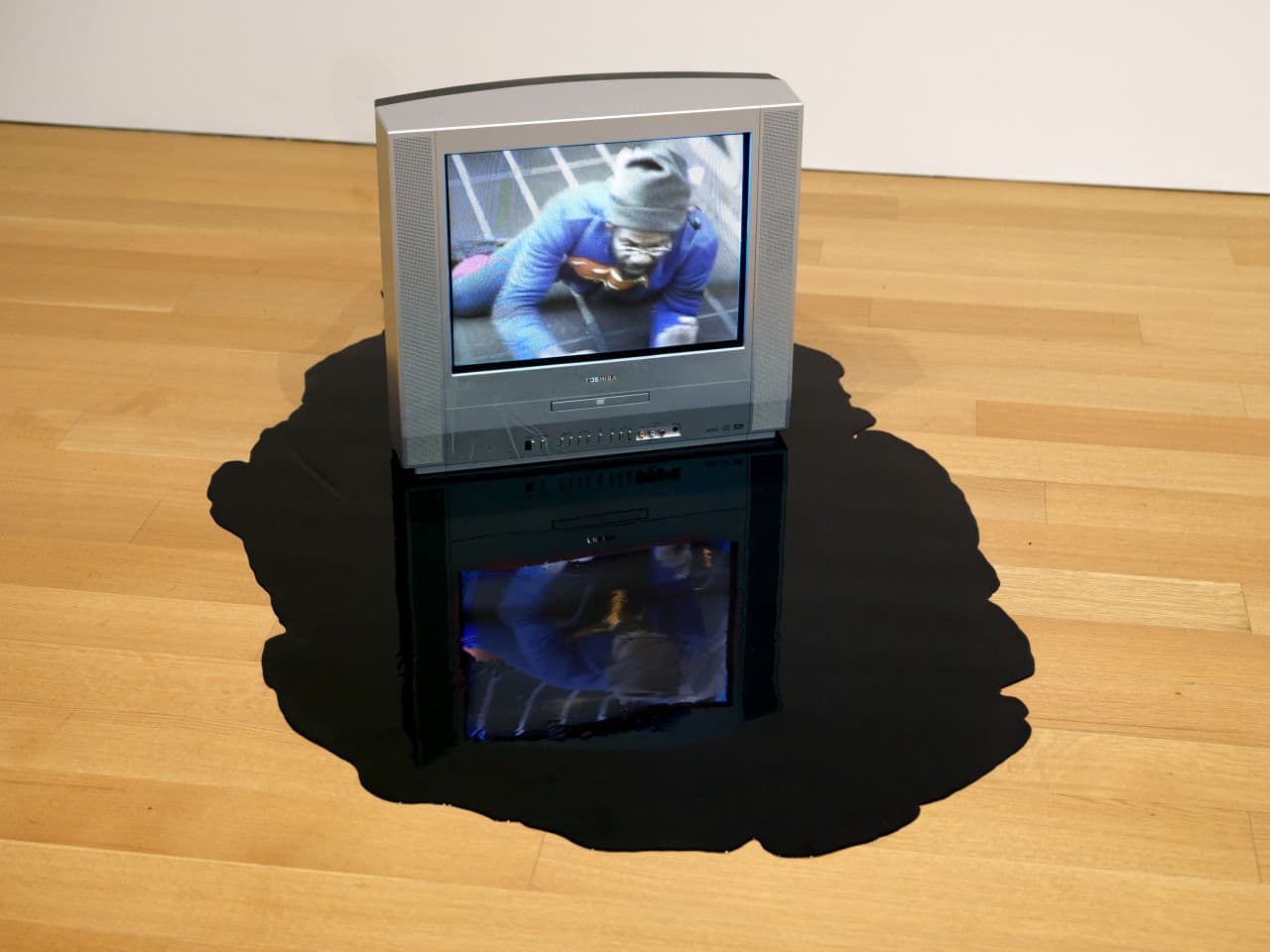 Running plays into the exhibition's thesis, too. In response to post 9/11 security measures, artist Catherine D'Ignazio ran all 26 evacuation routes out of Boston, which she found confusing. Along the way the artist recorded her panting. In the gallery the labored sound is paired with a map she created that delineates her experience.
"And it's anxiety-producing, I think, to hear someone breathing that way," Sullivan said.
Back outside the museum, the sound of dogs panting in the sculpture park was a happy one. The walkers — both four-legged and two — started tapping into some of their own creativity. A boxer strode around proudly with a video camera strapped onto her body. The perky pup came with deCordova membership coordinator Amber Price.
"Her full name is Brunhilda, but we called her 'Woobie,'" Price explained, "and she likes to have a GoPro on her back so we can all see what she sees — so she's got 'Woobie vision.' We're going to get a dog's eye view of the park."
Visitor Karen Krolak did the walk with her husband and their Jack Russell mix who has the unusual name, "kwaq7aj'" (pronounced quacks).
"There's something about seeing the museum from a dog walk's perspective that I don't know that I've ever thought about before," Krolak reflected, "but now it kind opens up what's going on in the inside exhibit."
Krolak — who's an artist herself — hasn't seen the walking show inside the museum. At least not yet.
"I'm actually really interested in it," she told me. "A lot of the work that I do with dance has lately been starting with a lot of walks."
Krolak and her partner then tried coaxing their little dog to sing, which they say she does quite often. To get her going they started making some pretty silly sounds, but kwaq7aj' apparently had mic-fright.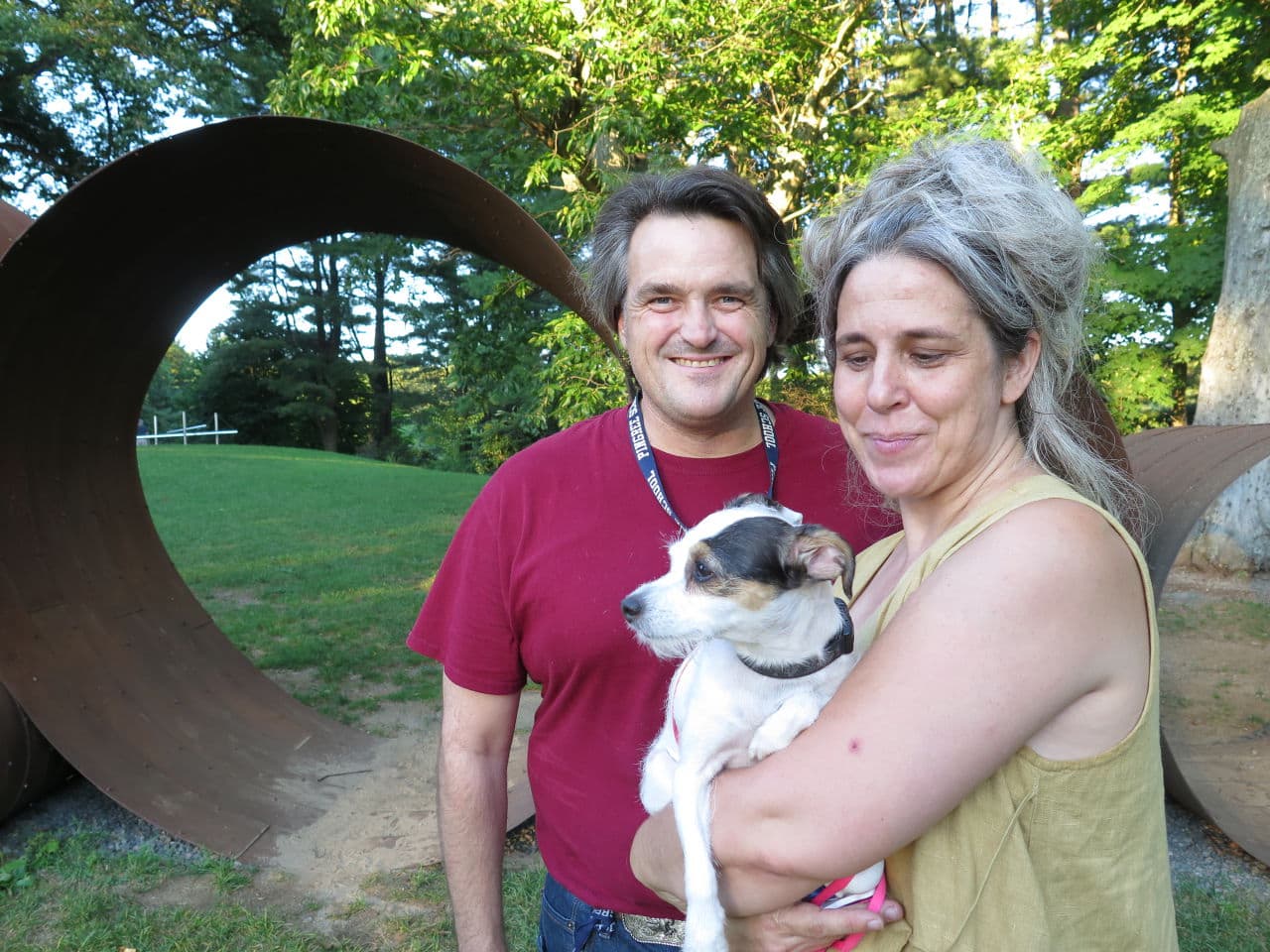 The doting couple's friend Barry Duncan — a master Palindromist – concocted a few new ones about the deCordova's dog walk. Here's what he came up with:
Stray, by arts.
Go, Dada dog!
Risk cab? No. Sit? I'm a canine, men. In a cam? It is on back, sir.
"Dined." Dusk. Sudden ID.
Step, pup, pets.
One sum: animal, I, art. Now a paw on trail am in. A muse, no?
Toil? Ego? G. Eliot!
9K? K? Lawn walk: K-9.
Pant, nap. Sore? Hey, Batman am, "Ta. Bye." Hero's pant, nap.
Path's on! At end, I'd net a nosh, tap.
Rub we now one WBUR?
At the stroll's end, the cultured beasts were given bones and a drink. And word has it curators are installing a permanent water bowl outside the museum sometime in the near future.
---
There are several upcoming events related to the deCordova's latest exhibit. A literary walk will take place at 6:30 p.m. on Wednesday, Aug. 26, as well as a walking sculpture tour at noon on Sunday, Sept. 13. A walking tour on Saturday, Sept. 19 at 10:30 a.m. will discuss how hiking trails are created. On Sunday, Sept. 13 from 11 a.m. until 2 p.m., artist Hannah Barco will showcase a walking-inspired endurance performance in the galleries. Lastly, there's a night walk at 7 p.m.; RSVP is required.