Abortion Opponents Protest At Boston Planned Parenthood Amid Nationwide Demonstrations
Play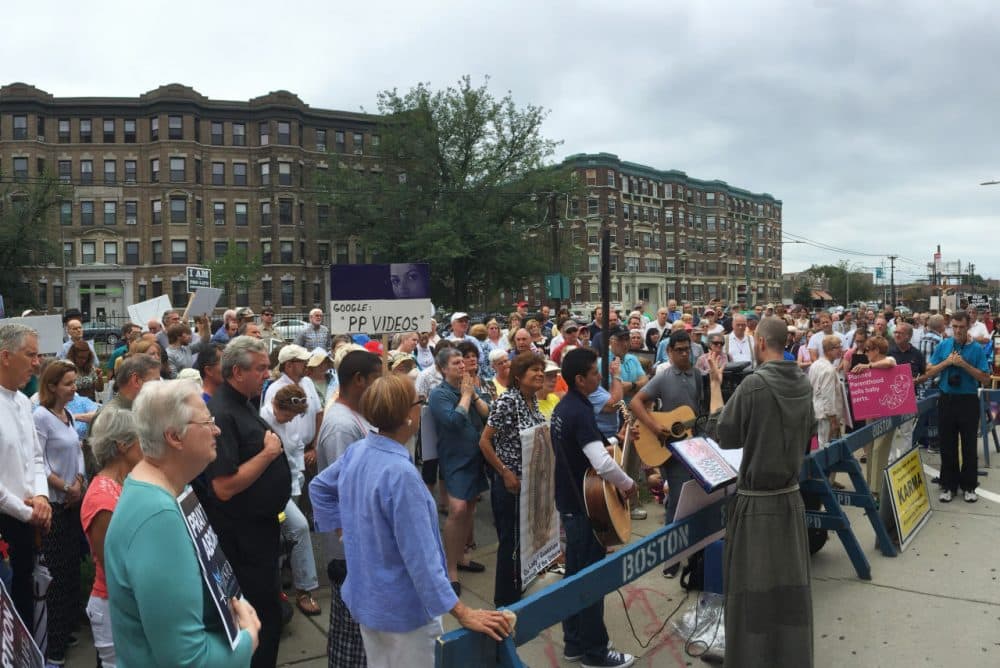 This article is more than 7 years old.
Hundreds of abortion opponents protested outside the Boston Planned Parenthood clinic Saturday, bearing crucifixes and graphic images, and calling for an end to government funding for the organization.
Standing on Commonwealth Avenue in Allston, protester Joan Bailey, of Braintree, got the news that she'll be having her first grandchild. She held up her phone with an ultrasound image on the screen.
"God is so good, because two minutes ago I just got a picture of [my daughter's] unborn baby," said Bailey, the director of Friends of the Unborn, a shelter for pregnant women. "She's eight weeks pregnant, I just found out here at Planned Parenthood."
The Boston demonstration was one of approximately 300 organized across the country. The protests come after anti-abortion advocates released footage of Planned Parenthood officials discussing the harvesting of fetal tissue for research.
The videos raised several issues, including whether it's ethical to use fetal tissue for research and whether Planned Parenthood's actions are legal. (While donating fetal tissue is legal, selling it for profit is not. Planned Parenthood says it only charges to cover its own costs, which is legal.)
In Massachusetts, Attorney General Maura Healey conducted a review of the Planned Parenthood League of Massachusetts, at the request of state Rep. Jim Lyons, Jr., an Andover Republican.
Healey found the organization was compliant with state and federal law.
"Although donation of fetal tissue is permissible under state and federal law, PPLM does not have a tissue donation program," Healey said in a statement. "There is no evidence that PPLM is involved in any way in the buying or selling of tissue."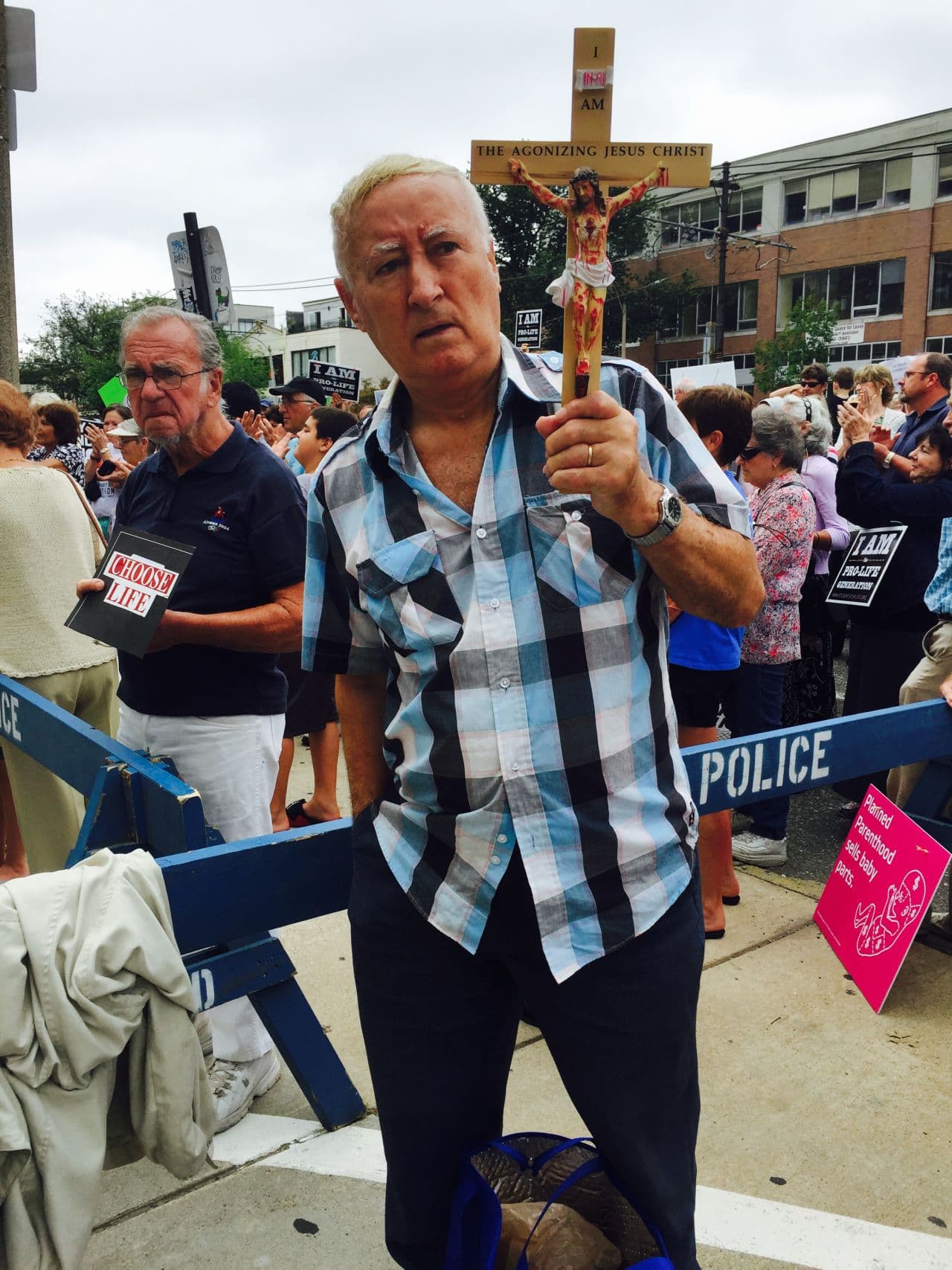 Judi Scherban, of Norwood, a regular protester at the Planned Parenthood in Allston, compares abortion to the Nazis.
"I don't understand how people are not as upset about what's happening here, as historically they're upset at what Hitler did," she said at the protest Saturday.
Planned Parenthood defended itself from what protest organizers say is the largest coordinated day of protest against the group.
Tricia Wajda, director of public affairs for Planned Parenthood League of Massachusetts, said in a statement that the "protests are designed to shame the patients who seek basic health care services from Planned Parenthood and to intimidate the health care professionals who work here. Women should be able to get health care without fear of violence, harassment or intimidation."
The group says it provides health care to nearly 30,000 people in Massachusetts, with services including abortion, contraception, breast and cervical cancer screening and STD testing.
Pro-abortion rights advocates want an end to public funding for Planned Parenthood. In 2014, the group received over $528.4 million in government dollars.
C.J. Doyle, executive director of the Catholic Action League of Massachusetts, said in a statement that Planned Parenthood's "respectability ... has cracked."
"We now know that Planned Parenthood not only perpetrates over 300,000 abortions each year, but harvests the organs of the unborn children it destroys," Doyle said. "Whether this trafficking is called a sale or the coverage of expenses, PP is compensated for this harvesting."
Planned Parenthood has tissue donation programs in California and Washington. The organization says the program facilitates medical research and improves fetal health.
Correction: An earlier version of this story identified Joan Bailey as a Quincy resident, but she is from Braintree. We regret the error.
This article was originally published on August 22, 2015.
This segment aired on August 23, 2015.