Schooner Delivers Maine Produce To Boston Harbor The Old-Fashioned Way
Resume
A 90-year-old schooner with North Shore origins is headed back home, laden with three tons of Maine-grown farm produce.
The Adventure, as she's called, set sail from Portland, Maine, at first light Friday morning.
The project is called Maine Sail Freight, and while it's part historical re-enactment, organizers say they're also out to make a serious point about food systems and regional economics.
An 'Extraordinary' Sailing Craft — With Lots Of Cargo Space
Shortly before noon Thursday, the Adventure chugs into Portland's working waterfront, with Capt. Stefan Edick at the helm.
"Adventure is a 122-foot-long knockabout schooner, which means she has no bowsprit, and was a design innovation from the 1890s," Edick says.
The Adventure was built in Gloucester in 1926, and Edick says she was the most successful fishing vessel to sail out of that port.
Now, she's owned and operated as an educational nonprofit and listed as a national historic landmark.
"She's an extraordinary sailing craft," Edick says. "She has an enormous amount of sail area, she is a fast and powerful vessel that's very maneuverable under sail."
She also has a lot of storage space below decks. Once, it was used for cod, but today it's a different cargo.
"We have many products from many family farms in Maine," says Severine Fleming, who manages the Sail Freight project. She's also director of Greenhorns, an advocacy group that supports America's new generation of young farmers.
Soon after the Adventure's arrival, Fleming discusses with Edick how best to load up the cargo. "We're bringing dry beans, maple syrup, pickled beans, pickled fiddleheads, sea salt, seaweed, Maine-grown biscuit mix and grains," Fleming says. "So, basically, everything non-perishable."
The cargo — worth about $70,000 — will be unloaded in Boston Harbor on Sunday. About a third of the goods have already been sold to customers in the area, but the remainder will be transported a few blocks by bicycle to the city's public market.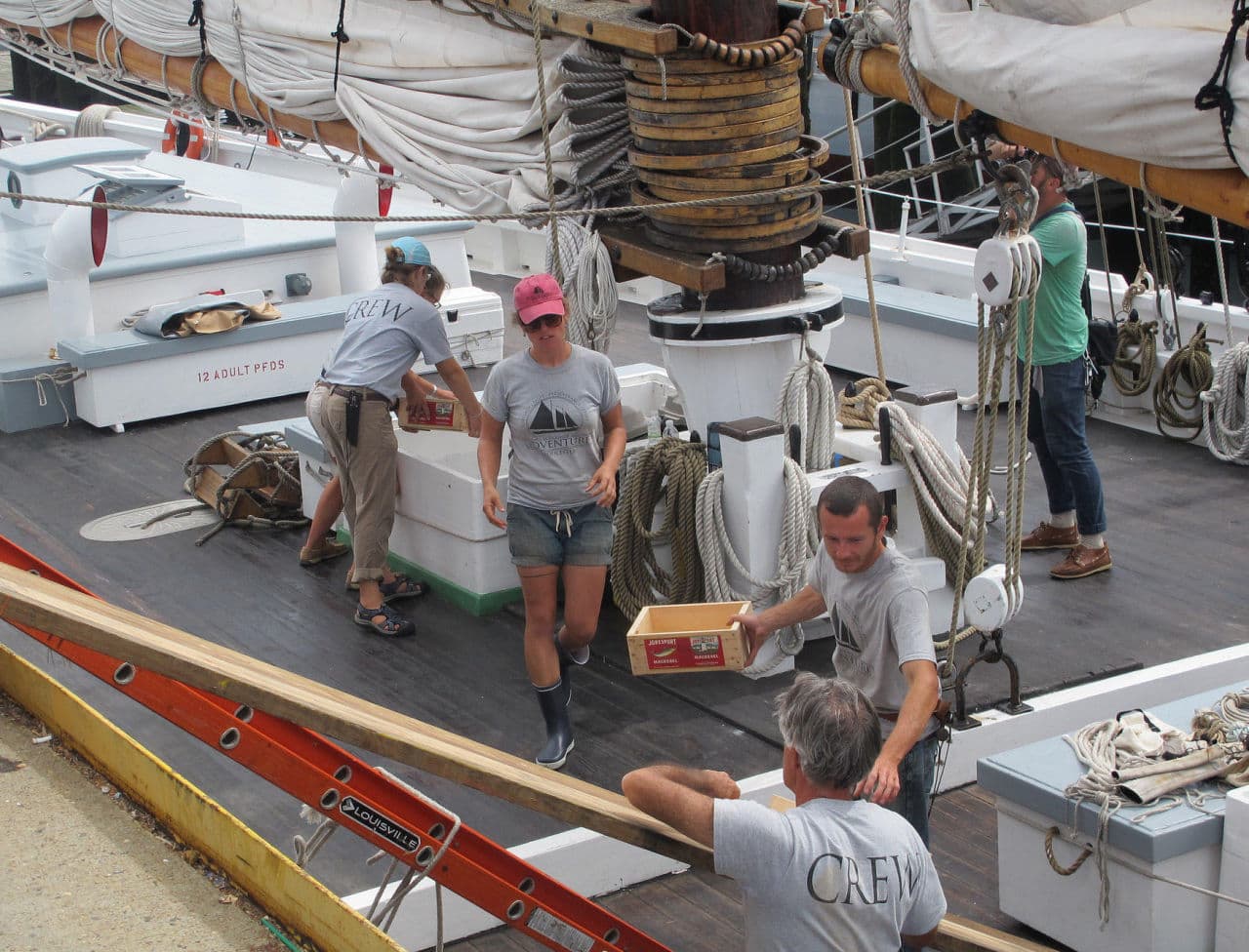 Local For 'New' Business Models
Leah Cook is with Fiddlers Green Farm, which is supplying much of the produce for the project. She says the idea is to educate people about local food systems and how relevant they are, even in a globalized economy.
"I think it's important to be thinking creatively about transport and about provenance," Cook says, "so where our products are coming from and where they're going is something that's pretty important to us as Mainers who have multiple businesses producing food."
Meanwhile, at the Portland waterfront, 6,000 pounds of farm goods are stacked up waiting to be loaded onto the Adventure.
First Mate Bill Burke gives a safety briefing. "Some of these boxes are light, but some are heavy," he says. "We all have 10 fingers to start."
Listening attentively are about a dozen volunteer stevedores who have turned out to help load. Among them is Jim Cornish, a heavily bearded farmer and teacher from the Midcoast. This project is important to him, he says, because it offers lessons from the past. "The ocean's always going to be here, and the wind's always going to blow. We don't know the same thing about fossil fuel or nuclear power or whatever else."
"Do I think this is sustainable in that we're going to start moving the bulk of our food around by sail? No I don't," says Stephanie Welcomer.
But the University of Maine business professor says the Maine Sail Freight project does an important job of demonstrating how reliant all food production and distribution systems are on a fossil fuel-based transportation model. "And as we know, with climate change it's important to think about how we can reduce our reliance on fossil fuels."
And this, she says, involves coming up with new business models for the 21st century.
This story originally appeared on Maine Public Broadcasting Network.
This segment aired on August 28, 2015.