Mixed Reaction To Simmons' All-Women MBA Moving Online
04:49
Play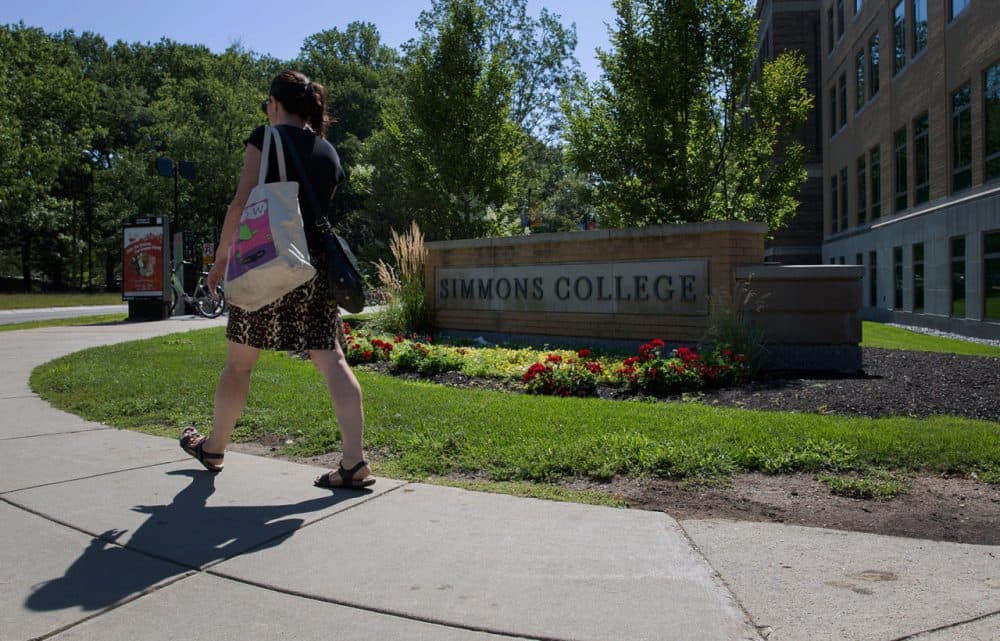 This article is more than 5 years old.
There is mixed reaction from Simmons College MBA graduates and faculty as the school moves its MBA program -- the only one in the country exclusively for women -- online and makes it co-ed.
The college says declining enrollment prompted the change.
Simmons says its decision to move its MBA program online is to some extent the result of a marketing strategy that did not focus on attracting a national student body. Simmons, a small college in Boston's Fenway neighborhood, has about 1,700 undergraduates — all women.
On Thursday, Simmons President Helen Drinan said the business school is well-known in New England, but not in the rest of the country.
"We recruit pretty successfully in the greater New England region, but when you reach outside that region, we're just not a household word," Drinan said in a telephone interview.
Simmons has offered two other graduate programs online: family nurse practitioner and social work. For the nurse practitioner program, Drinan says there are 150 students in Boston, but more than 1,000 students in the rest of the country online. Drinan says the social work program has 400 students in Boston, 500 in the rest of the country.
"That kind of growth is just not achievable through your regular traditional on-the-ground marketing," Drinan said.
While Simmons has struggled with enrollment in graduate programs, undergraduate education is thriving. Drinan said Simmons is welcoming a record freshman class on Saturday.
"When they arrive for move-in day, 484 students," Drinan said. "Truly the largest class we've ever had in our history. The most diverse. Just about the brightest class we've ever admitted. And it's going against the trend of women's colleges having difficulty bringing in large classes."
But Drinan said women find it increasingly difficult to show up for graduate school while working and raising a family.
Simmons MBA and management consultant Liz Levin said yes, it's tough, but it's worth the effort to physically attend an all-women's business school. She attended Simmons while working full time and raising two children with her husband.
"It was the one place that I could actually have wonderful conversation about all kinds of matters with some great women and I could be able to see who I was and how I wanted to make my own decisions," Levin said.
Drinan found a skeptical audience of 60 students and alumnae this week when, in a two-hour meeting, she announced the decision to move Simmons' MBA program online. Recent alumna Erin McElrath was there.
"The mood in the room was not exactly happy," McElrath said. "Alumni and current students feel like they've been kind of slapped in the face."
McElrath worries that Simmons' move to online education will devalue her own MBA, which she earned on campus.
"If an employer decides to look at us for a potential position and they find out that the degree program that we went through is online, are they really going to do the research to determine whether or not we did the degree online?" McElrath asked.
"If an employer decides to look at us for a potential position and they find out that the degree program that we went through is online, are they really going to do the research to determine whether or not we did the degree online?"

Erin McElrath, Simmons alumna
McElrath said if Simmons had been online, she never would have applied.
Simmons MBA and management consultant Deb Taft welcomes the move online because it will be combined with immersion weekends of in-person education.
"The piece that makes it Simmons and allows Simmons' distinct characteristics to come through is probably going to come through, mostly, in these immersion weekends," Taft said.
But Naa-Sakle Akuete, who chose Harvard Business School, believes a few weekends a year are unlikely to give what many business students want: connections.
"And the network is really hard to build online when you're not living in a same space as people and seeing them every day and interacting with them in classes," Akuete said.
The disappearance of Simmons as a women-only school of management means there will be no such school left in the United States.
Susan Duffy, director of the Center for Women's Entrepreneurial Leadership at Babson College, said these days, a women-only business school may not be what business women are looking for.
"People take MBAs because they are ready to make a move in their careers, because they are going places, and those places they are going are usually not segregated by gender," Duffy said.
Simmons says its co-ed online MBA program begins in the spring.
WBUR's Curt Nickisch contributed to this story.
This segment aired on August 28, 2015.