At Norwood Rally, Trump Vows To Deport 'Illegal Immigrants,' Stresses Friendship With Tom Brady
01:36
Play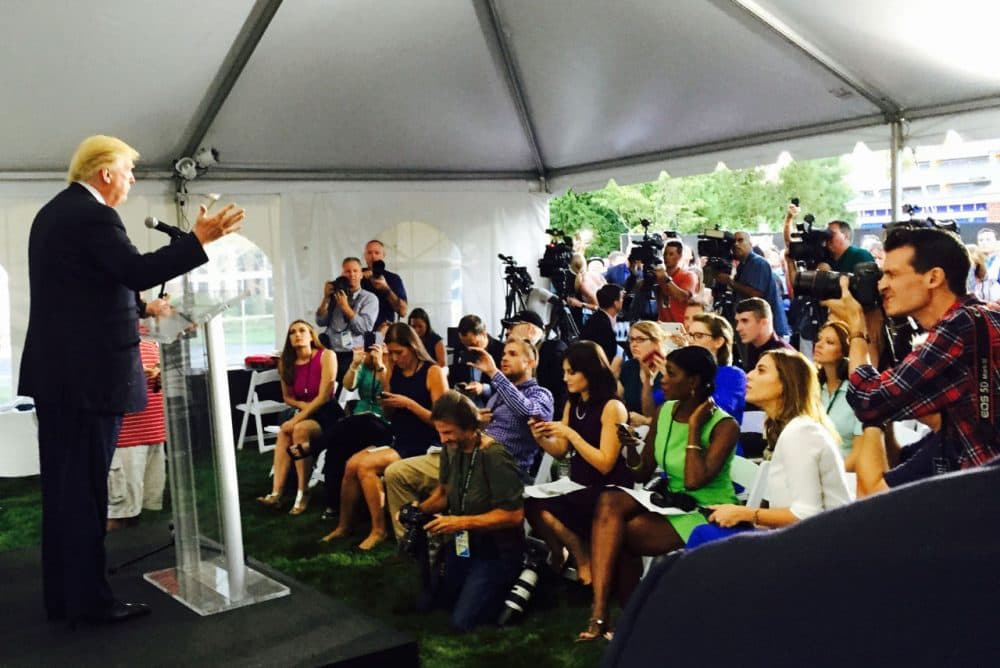 This article is more than 5 years old.
Republican presidential candidate Donald Trump repeated his pledge to crack down on undocumented immigrants, and this time he did it just south of Boston.
"If I get in, [illegal immigrants] are going to be gone so fast out of this country, they are going to be gone so fast," Trump said to emphatic cheers, on the lawn of the Norwood estate of car dealer Ernie Boch Jr. "You take a look a look at what's happening, you have illegal immigrants in gangs that you wouldn't even believe. They're going to be gone."
A few dozen pro-abortion rights and immigrants' rights protesters lined the streets outside the gates of Boch's mansion Friday evening — chanting "Let's dump, Donald Trump!" — to speak out against the man who has establishment Republican candidates trailing him by double digits.
The event was hosted at the luxurious estate of Boch, dubbed "Ernie's Summer Bash 2015." Boch said he hosted the event to give himself and his friends a chance to see if Trump is "real."
"This started out bringing a world figure to my house, to listen to him, have my friends listen to him, and decide ... if this is what we want. Is he real? Is he not?"
"The more I listen to him, the more I like him," Boch said.
Even before hearing Trump's private address, Boch concluded his fellow magnate is the man to fix the economy.
"This gentleman can put the economy together," Boch said, "because with the $18 trillion debt we have right now, there is no way that we are going to successfully fix this economy."
Trump arrived in a black SUV, with throngs of fans, supporters and bodyguards surrounding him as he made his way toward the waiting press corps.
He took his familiar swings at at fellow Republican candidate Jeb Bush and Boston Mayor Marty Walsh, while playing to the Massachusetts crowd by praising Patriots' quarterback Tom Brady, coach Bill Belichick and owner Robert Kraft.
"Leave Tom Brady alone, right?" Trump said to a cheering crowd. "We love Tom Brady. As you know he's a very good friend of mine."
Trump insisted the event wasn't a fundraiser. But a sign at the entrance read: "Please have checks made payable to Donald J. Trump for President, Inc. or cash ready on entry."
The more than 1,000 attendees paid at least $100 admission to support the billionaire contender for the Republican nomination.
Louella Cardoos of West Roxbury had Trump autograph a copy of TIME with his face on the cover.
"Turn around, your beautiful back," Trump said, signing the magazine on Cardoos' back.
"I love you and you're going to get in," Cardoos said.
"Thank you, baby," Trump replied.
"Oh my God, it's like a dream come true," Cardoos said after their exchange, holding up the magazine. "I always wanted to meet him, for years and years and years. And when Obama ran, I was praying that [Trump] would run, because he's going to make the change in the United States of America."
This segment aired on August 29, 2015.