Commentary: Who Created The Donald And Sustains Him To This Day?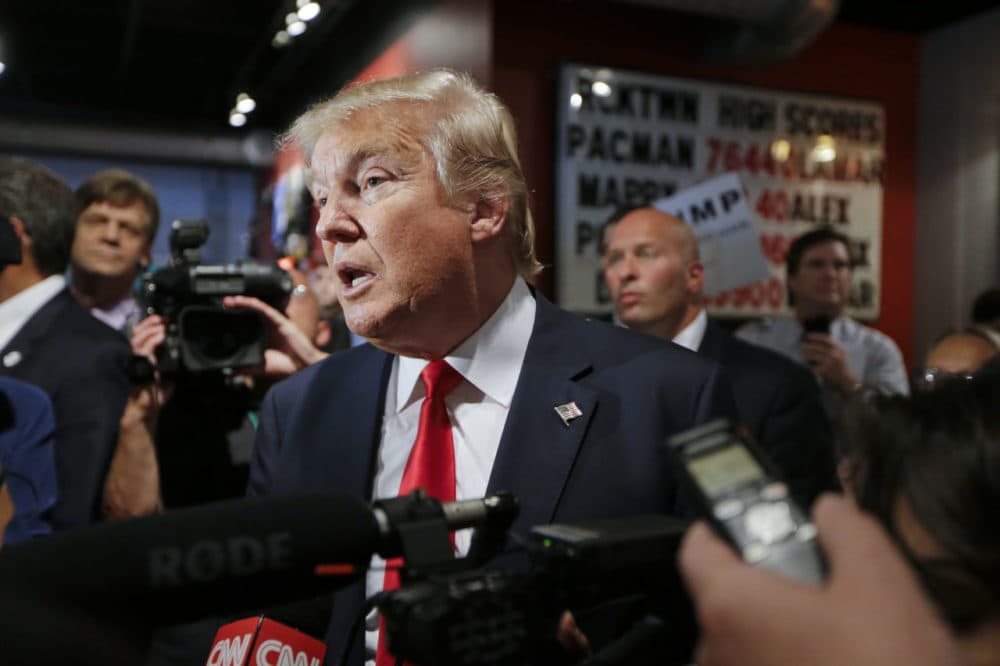 This article is more than 5 years old.
Regardless if they find Donald Trump annoying, phony, hilarious, offensive, egomaniacal, a voice for the disaffected or just plain nuts, old and new media alike have turned him into a modern folk hero. He dominates coverage of the 2015-16 presidential campaign season.
On the Sunday morning talk shows he is either the first or second subject of the hour. He is all over Fox News (to be expected), as well as CNN and MSNBC. The evening TV network news shows on PBS, ABC, CBS and NBC carry clips of or comments from the Donald. Often they catalog the latest bizarre thing he said, most recently that Hillary Clinton's top aide gave top secret information to her husband, the disgraced former New York Congressman Anthony Weiner. Trump offered no proof, no paper trail, no means of verifying his claims, but old and new media reported it and went to Hillary Clinton's campaign for comment.
Asserting that Trump is driving the coverage of the campaign, making immigration a major, if not exclusive issue in the Republican campaign, today's media have shoved other candidates and issues to the back of the bus or kicked them off the bus altogether. They get zero national attention, unless one of them — usually Jeb Bush — says something stupid or tries to outdo Trump, as Scott Walker did in urging a wall across the U.S.-Canada border. In my opinion, we Americans surely appear to Canadians like thugs, white-collar criminals, drug addicts, murders, cheats, Kardashians and Trump acolytes.  If anyone should want a fence or wall it's our friends to the north.
Meanwhile, back in the U.S., NBC's "Meet the Press" had its biggest audience in more than a year for Chuck Todd's interview with Trump on the candidate's private plane. This, in turn, led ABC's "This Week" and CBS' "Face the Nation" to allow Trump to be interviewed by phone the following week.
The Associated Press found, "After CNN turned Jake Tapper's interview with Trump into a prime-time special last week and earned its best ratings at that hour in a month, the network repeated it two nights later. Two Trump interviews on Sean Hannity's Fox News Channel show this month both brought in around 2.2 million viewers, well above his typical audience."
Trump is the major reason why Fox's Aug. 6 debate reached an astounding 24 million people, making it the most watched program in Fox News' history. Nielsen Social TV ratings ranked the debate the number one event on Twitter with 3.3 million tweets and 393 million impressions, beating Jon Stewart's farewell episode. Co-sponsored by Facebook, 10 million Facebook video views were up 190 percent over the daily July 2015 average.
He's getting a lot of coverage, because he's getting a lot of good poll numbers, in Iowa and New Hampshire, in other states and nationally. It's a self-fulfilling proposition. His coverage comes from poll ratings, which in turn give him more coverage and his poll numbers keep climbing and on and on it goes.
Hardly a day passes without a Trump story — or outrage — appearing in The New York Times, Washington Post, Wall Street Journal or Boston Globe. Regardless of the ridicule, he's adept at side-stepping criticism. Asked to explain how he'd build a 2,000-mile wall with Mexico, he casually said the ancient Wall of China is 13,000 miles; surely we can build one "only" 2,000 miles. China's wall is actually 5,500 miles long and took 200 years to build, we find out later.
Conservative talk radio can't get enough of Trump, both hosts and callers. According to BuzzFeed, the Internet news company, "Rush Limbaugh's is still the most-listened-to talk radio program in the country, pulling in 13.25 million weekly listeners, according to estimates in Talkers magazine, an industry publication. ... Talkers puts Sean Hannity in second, with 12.5 million. Mark Levin ties with Glenn Beck (a Trump critic) for fourth, with 7 million. Michael Savage has more than 5 million, according to Talkers' estimates."
That's a lot of talk, favorable and not, devoted to Trump.
Members of the news media that condemn Trump and his ideas would be wise to remember the legendary comment by Pogo, the Walt Kelly cartoon character:
"We have met the enemy and he is us."
Dan Payne is a Democratic political analyst for WBUR and a regular contributor to the Boston Globe.